It's no secret that more and more people are taking sustainability into account when making shopping decisions. There's a lot that goes into making more eco-friendly shopping choices, whether you're trying to find clothes made from earth-friendly materials or replace single-use items with reusable ones. A big factor, though, is not only what you shop for, but where you shop.
Supporting small and local businesses is great for your local economy and the planet, since it reduces the massive amounts of carbon emissions that go hand-in-hand with shipping. But in a world where Amazon is as ubiquitous as it is, sometimes it can be hard to only shop at your downtown stores.
Whether it's something you can't find anywhere else, or something you need in a pinch, Amazon's convenience is very tempting. But if you're trying to keep your impact to a minimum — even when you are shopping at Amazon — there are a few tips you can use.
We talked to an Amazon representative and sustainability experts to explore what tools you have at your disposal to lower your impact when shopping at Amazon. Here's what you need to know.
Amazon Climate Pledge Friendly
If you've shopped for eco-friendly products on Amazon, you've probably seen a little green badge on items like Blueland cleaners. "The Climate Pledge Friendly badge is intended to help customers discover more-sustainable products on Amazon, identifying products that are certified by one or more of the program's qualifying sustainability certifications," says Saige Kolpack, PR manager of sustainability at Amazon.
This badge is awarded to items that have one or more certifications from a list of over 40, including two certifications Amazon created, Compact by Design and Pre-owned Certified. "There is a high standard set with Climate Pledge Friendly with certifying bodies that are rigorous and transparent," says Kolpack. "Additionally, each organization that is part of Climate Pledge Friendly was vetted by sustainability and science experts within Amazon and third-party consultants to ensure they are reputable, transparent and scientifically defensible."
To find products marked as Climate Pledge Friendly, you can browse the badge's main page, select it as a filter on the left sidebar when searching for a product or add "Sustainability" to "Your Interests" in your Amazon account.
These badges can help you identify products that have some sort of sustainability certification awarded to them, and you can always click on the badge itself to find out which certifications the item has. Dr. Anne Goodchild, director at Urban Freight Lab at the University of Washington, says this feature can be useful to online shoppers, but to remember that it's not the be-all end-all. "Of course these certifications are imperfect," Goodchild says, "but they provide some assistance to shoppers looking for easier access to information."
Although the badge designates products that do and don't have third-party certifications, it doesn't differentiate products for how many or what sort of certifications they have. "I think certifications can be one of many helpful tools to help consumers be conscious of their environmental impact," says Dr. Kaitlin Mattos, assistant professor of environment and sustainability at Fort Lewis College. "It would be nice if Amazon were to use gradations or levels of the 'Climate Friendly' badge (like the bronze, silver, gold or similar that other certifications use) to distinguish those products with multiple certifications."
If you take a look at laundry products for example, both Tide laundry detergent and Blueland laundry tabs are marked as Climate Pledge Friendly, even though Blueland's product has many more third-party certifications (not all listed on the product's Climate Pledge Friendly description), including EWG Verified (Tide scores an F), Leaping Bunny cruelty-free, EPA Safer Choice and much more, not to mention Blueland is a Certified B Corporation. At a cursory glance, the Climate Pledge Friendly badge could make you think both products are equally sustainable, when that's far from the truth.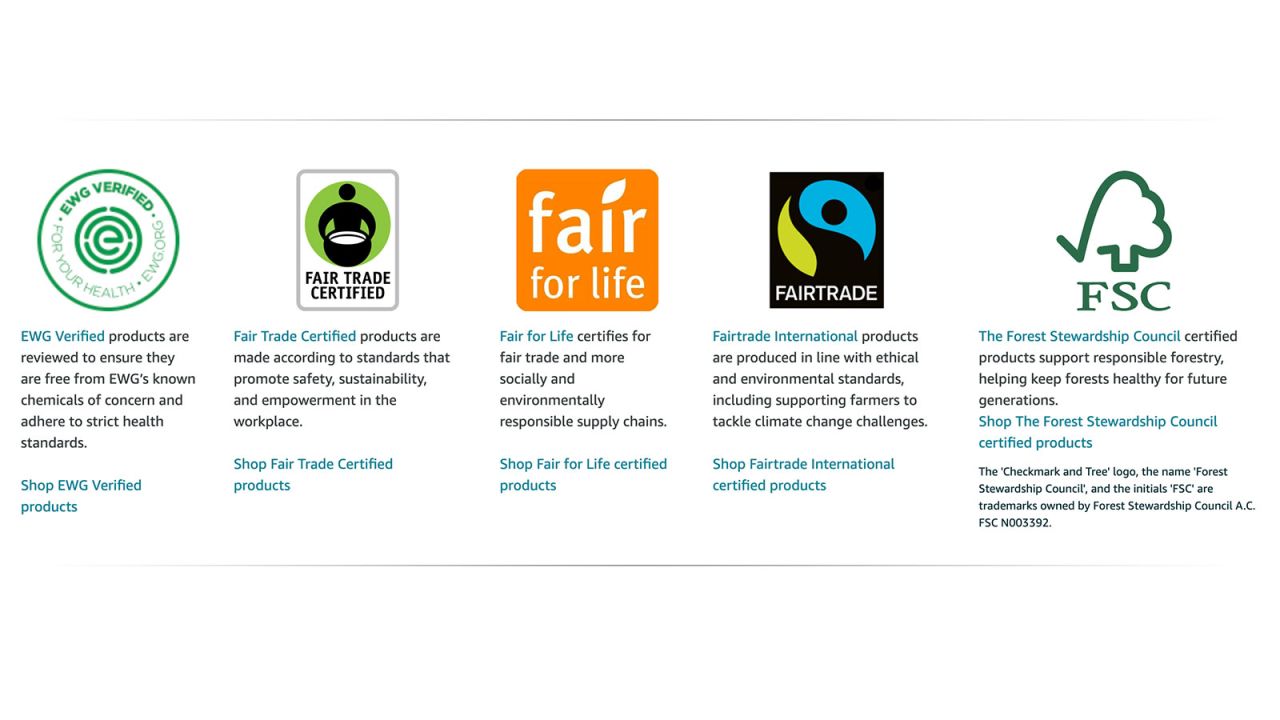 It's clear that while the badge can help consumers narrow down their choices, it can't replace rigorous research. "Unless consumers look into the details of that certification, they may incorrectly think that more icons is better, even if a product isn't eligible for a certain icon," says Mattos. "Some of these icons can be incredibly overwhelming too, and could lead to oversimplification of the purchasing process. For example, if a consumer sees a certification and [thinks] a product is great, but they don't notice the 30 other certifications that the product doesn't have."
On top of this, Mattos points out that while these badges can be helpful, shopping at Amazon as a whole involves many more environmental issues. "If Amazon starts advertising that their product comes in less packaging, you might think 'Great, Amazon has fixed their problem, so now I can order more things from them again,'" Mattos says. "And you might change your behavior back because one problem is fixed, even though the large carbon footprint, inefficiencies in delivery, lack of local business support and community investment, and overconsumption are still existing problems with their practice."
Mattos also says to stay wary of buying more things than you need just because they're labeled as eco-friendly in some way. "You might buy more than you need because you are 'supporting environmental businesses' or because the certification makes you feel like you're doing good things for the planet, when not buying could be even better," she says.
Amazon Day Delivery
Beyond using Amazon's Climate Pledge Friendly badge as a starting point for research, another way you can reduce your impact is by taking advantage of Amazon Day Delivery. This Prime-exclusive shipping option combines all the Amazon Prime products and orders you've made in a week and delivers them on one day, instead of spreading them out throughout the week.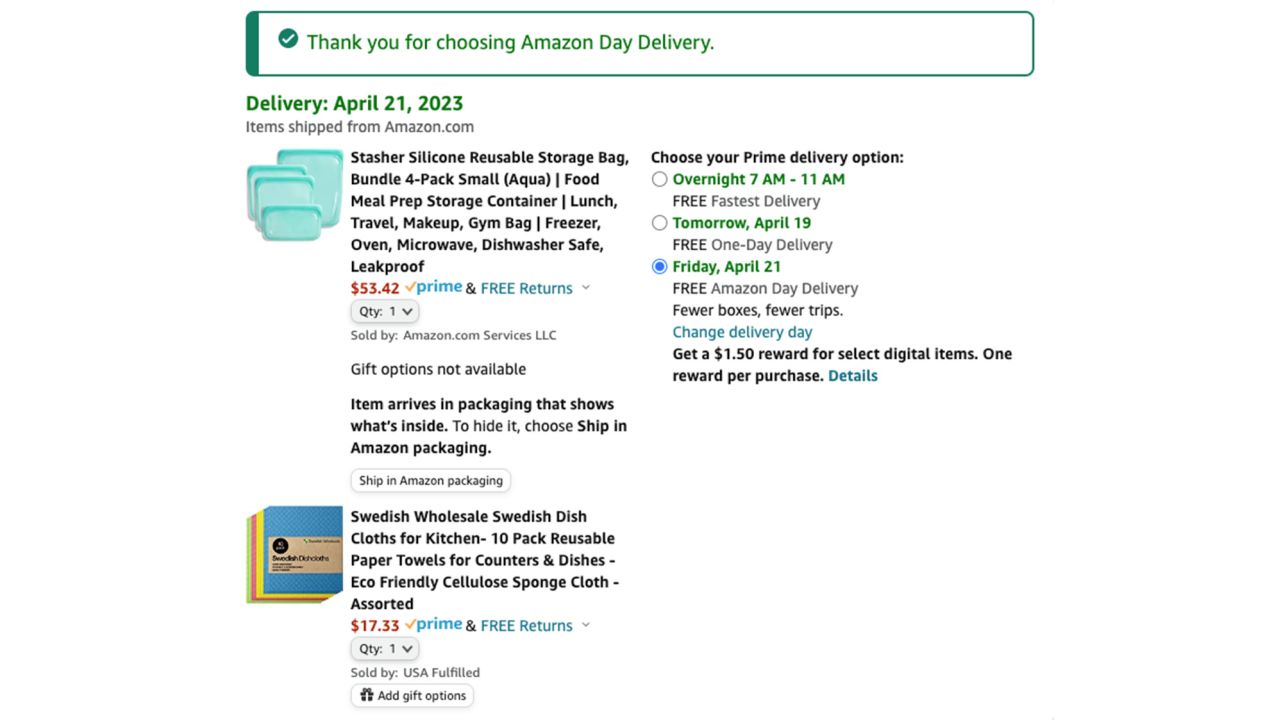 "On average, Amazon Day uses 30% fewer boxes and last year, Amazon Day users saved 136 million boxes," says Kolpack. Goodchild recommends shoppers use Amazon Day Delivery to cut down on deliveries, and Mattos is in agreement. "I think this is a nice option, but that Amazon could do even more to slow down and improve their environmental footprints and invest in their employees and communities than just offering this one option," she says.
Amazon Pre-Owned Certified, Renewed and Warehouse
Perhaps one of the better things you can do when shopping on Amazon is peruse its numerous sections for used and pre-owned goods. We've covered why shopping secondhand is better for the environment, so if you're looking for something on Amazon, check to see if you can find it used first.
Amazon has multiple ways to shop for used items, the first being a certification folded into the Climate Pledge Friendly badge, Amazon Pre-owned Certified. "Buying pre-owned extends a product's life, reducing e-waste and raw material extraction," says Kolpack. "In order to qualify, the product must be within an approved list of categories that ensures the embodied carbon benefit received through the purchase of Pre-owned Certified products rather than new is not generally offset."
To shop for Pre-owned Certified products, you can check out this page, which collects all items that have earned the badge. There's a lot of overlap between this and Amazon Renewed, which includes refurbished products that, according to Kolpack, "have been inspected and tested by qualified suppliers to work and look like new. Plus, they are backed by our 90-day Amazon Renewed Guarantee," she says. Amazon Renewed includes a wide variety of products from tech and gaming to small appliances and home improvement. It's a great way to not only extend the life of a product, but save some money while you're at it too.
Lastly, Amazon has even more pre-owned products available at Amazon Warehouse. Amazon Warehouse has items that have been renewed, as well as used or open-box items that Amazon puts through a quality check. Amazon Warehouse has varying designations for how "used" an item is, ranging from "Renewed" (where an item is "inspected and tested by Amazon or an Amazon-qualified performance-managed supplier, to work and look like new") and "Used - Like New" to "Used - Acceptable," which means the product has cosmetic damage and might be missing multiple parts, but still functions correctly.
Goodchild likes the idea of heading to these pre-owned sections of Amazon when you're looking for something to buy, "Shoppers should use using the old mantra 'reduce, reuse, recycle,'" she says. "While there are some complexities, in general, buying pre-owned items is a great environmental choice."
Mattos also encourages the use of Amazon's secondhand sites, but only when you absolutely need something. "This is great because it reduces material use, manufacturing energy/water/pollution and waste production in one fell swoop," says Mattos. "However, energy costs inherent in shipping and transportation can negate some of these benefits. Using local 'preowned' community stores is probably still likely to be overall more friendly than online options. But if your local community doesn't have an item and you need it, then this is a better choice than buying new."
The bottom line
Sustainability is a complicated subject and there's never a one-size-fits-all answer. However, Mattos has some advice that can help walk you through some of these buying decisions. "Not buying stuff you don't need is always going to be the most environmentally friendly. So first reduce what you buy — use less, repair things, make them last as long as they can, share with neighbors, build your community, live with less," she says. "Then reuse stuff by thrifting, searching for local swaps or garage sales or 'buy nothing' groups or used items. And then, if you determine that you must have an item and you can't find it anywhere else, consider using these certifications and services that big companies like Amazon are offering to make the best environmental decisions you can as a consumer."