Ina Garten is a one-woman culinary powerhouse, and in the wake of Covid-19-induced social isolation, she's hosting a show that reinforces the power of human connection through food. In "Be My Guest With Ina Garten," now streaming on Discovery Plus, she cooks halibut with roast butter with Julianna Margulies and bakes cookies with Willie Geist, while sharing childhood anecdotes and family memories. It's intimate, funny and deeply personal for the longtime Food Network host of "Barefoot Contessa."
"I've been doing the cooking show for 20 years and that's my limit for most things," says Garten, whose next book, "Go-To Dinners," is out this October. "At some point you just feel like, 'I just gotta shake this up.' What would I love to do? What would be really fun to do? I love to talk to people. I love to connect with them."
She doesn't leave anything to chance when she's hosting. "There are a lot of little things that I do that make people feel really welcome and the first one is music. The second thing is just greeting people," she says.
She forgoes a formal dining room, opting instead to serve dinner in the kitchen, which feels homier. "It's beautiful linen and candles and I set the table in the kitchen, and it's a small kitchen," says Garten. "It's not some huge thing. I set it the way you would set a dining room table. So it's good silver, it's nice china, it says you're family, we're eating in the kitchen like family, but you're special because I've made an effort to make it beautiful."
"One of the things that's really important is how you seat the table. I like a round table because then everybody is equidistant from everybody else,"says Garten. "And I seat the two most talkative people opposite each other, because if you seat them next to each other, the conversation happens over here and everybody else isn't included."
As for who gets asked to dinner, don't hold your breath: "The first rule is that I only invite people I love. I never accept an invitation to somebody's party if I don't want to invite them back."
Here's what Garten serves up to have a winning dinner party.
Instead of one overwhelming flower arrangement, Garten likes to have a variety of blooms housed in vases of different shapes and sizes.  She suggests moving them around, until you're happy with how the buds look (and make you feel).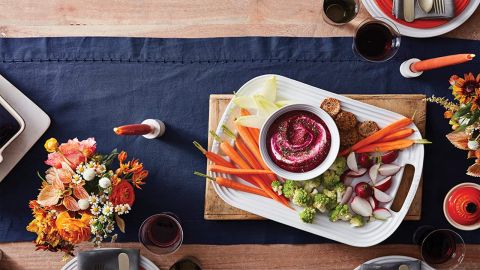 When it's time for the main course, Garten doesn't do the plating herself, but lets her guests help themselves. "I do platters and I do it on the kitchen counter. I just think platters are great because people can take as much or as little as they want. If something's vegetarian, they can just take the vegetarian things and not the meat," she says. She uses white platters because they let the food be the star.
$36.99 at Amazon & from $49.99 at Amazon
You won't see any torn-up paper towels or raggedy paper napkins when Garten is hosting. "I do like real napkins. And I like the napkins that you don't have to iron. So I get these linen napkins that you put in the washing machine, and you put them in the dryer for five minutes and then just fold them up," she says. The same goes for tablecloths, which she prefers over placemats.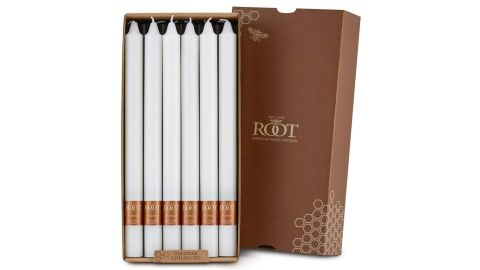 Garten jokes that she'd be the first in line to buy a sauteed onion scented candle, should one ever make it to market. But until then: "I don't use scented candles in the house so much, I use just white candles. Just simple, nothing scented, because I don't want it competing with the food," says Garten.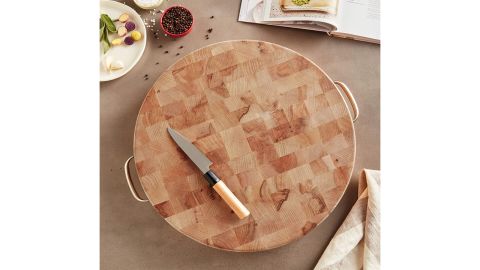 Like most of us, Garten kicks things off with finger foods."I have a really nice board that I like to put cheese and grapes and cashews and things like that on the board, maybe fig preserves and let everybody help themselves, which I think is nice," says Garten, who opts for a circular plate because it's more inviting and encourages folks to interact. "I like to have a round board."
Garten's silverware of choice, the brand she uses on a daily basis, is called Chambly. It's understated and simple, but hard to source. This one, made from stainless steel, is a solid dupe. "It's just plain flatware," she says.
If you, like Garten, want your culinary creation to make a statement, keep the plates as simple as possible. "I definitely like white. The plate is really about what makes the food look best and I like it set against a white background. I never like plates that have patterns on them," she says.
Sure, you can splurge on gossamer-thin wine glasses that will most likely shatter after a few uses. Garten opts for a more user-friendly approach. "I usually use stemless wine glasses from Riedel," she says. "I think they're really simple and they're really pretty. And I always put a big glass and a small glass on the table and if I'm serving white wine, then I serve the white wine in the small glass and the water in the big one. And if I'm serving red wine, I just reverse it. So it's basically the same glass all the time."
After Garten blends margaritas, she serves them using a simple, classic glass pitcher like this one. It's sleek and holds 90 ounces of cocktail.