Window washing can be a frustrating chore, but it's one that pays off because clean windows will greatly improve the appearance of your home.
Drew Pavlacky, a technical leader at Andersen Windows & Doors, says, "While window cleaning can be intimidating, with a few tips and the right tools, the process is straightforward." We asked Pavlacky and other experts to share their best tips for keeping glass windows and doors sparkling clean.
Window washing tools
Before cleaning the glass, Pavlacky says that it's important to identify if your glass windows or doors have special glass coatings. "While the interior and exterior energy-efficient coatings are highly durable," he explains, "coatings may be damaged if abrasive cleaners or hard objects are used for cleaning."
Pavlacky recommends that you avoid using the following tools and cleaners as part of your window cleaning process:
Do not use metal razor blades to clean glass or remove paint or stains from glass surfaces. Scratching of the exterior glass surface could damage the special coatings.
Do not use metal razor blades to remove the protective film; instead, peel back protective film at a corner using a fingernail or clean plastic scraper.
Do not use abrasive cleaners or cleaning tools like scrub sponges on any glass surface.
Do not use newspaper to dry the glass surface, as the ink may discolor the surrounding materials.
Katie Jennings, a senior research manager at
Seventh Generation
, says, "The best tool for cleaning windows is a microfiber cloth. First, go over the window and seal with a dry microfiber cloth to remove dust. This will remove large debris. Then spray with a glass cleaner and wipe from top to bottom for a streak-free shine."
"It's important before cleaning your windows to remove dust, dirt, smoke, film, soot and salt spray," Pavlacky says. Use a vacuum cleaner fitted with a soft brush attachment to quickly remove heavy buildup on windows.
From $3.99 at Amazon
After wiping loose debris from the glass, "apply a cleaning solution, such as mild soapy water, diluted vinegar or a liquid window cleaner, and wipe in a circular motion," Pavlacky says.
From $13.99 at Amazon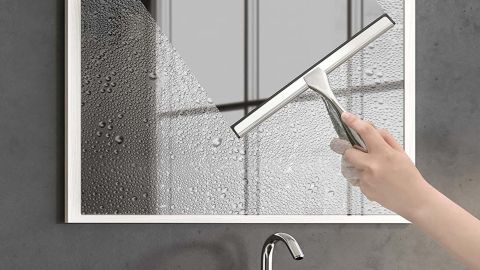 Remove the cleaning solution with a squeegee or a clean, lint-free cloth. For the best results, Pavlacky says, "you should never clean glass in direct sunlight, as the heat from the sun can cause the cleaning fluid to dry, which will result in streaks or water spots."
How to clean outside windows
"Clean the exterior once a year in the spring," Jennings says; interior windows should be cleaned more often — she suggests regular weekly or monthly cleaning, or when windows are visibility dirty from dust, fingerprints and what she calls pet "nose art" buildup.
Windex brand's outdoor glass and patio cleaner is designed to attach directly to a garden hose for window cleaning that doesn't require a ladder. The sprayer is fitted with a dial that allows users to easily switch between rinsing and cleaning; to use, start by rinsing the windows with water, followed by a 15-second application of the cleaning solution, then rinse again and allow to dry.
When it comes to cleaning exterior windows in high-rises and other hard-to-reach windows, "a magnetic window cleaner is a great option," Jennings says. "Simply spray the cleaning pad with your favorite glass and window cleaner, attach the pad through the window and use the magnetic handle to safely clean your exterior windows."
How to clean window screens
Jennings recommends including window screens in your annual spring window cleaning efforts. "For good measure," she says, when you're cleaning exterior windows, "take the screens off and spray with a hose to remove dust and pollen."
While most window screens can be cleaned with just a hose, very grimy screens may require the use of a scrub brush. "When cleaning," Pavlacky says, "remove the insect screen from the window or door if possible and then wash the insect screen with a soft bristle brush and mild soapy water, rinsing with fresh water once finished."
How to clean window blinds
Cleaning the slats of window blinds can be a tedious chore, but these smart tricks can help to take the frustration out of the job.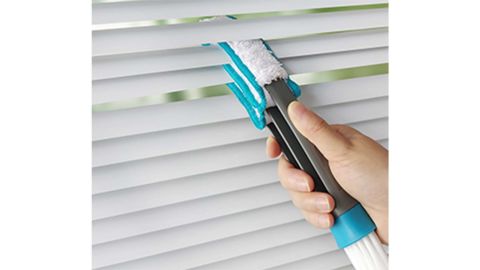 Cleaning blinds, shutters and other slatted window treatments can be a tedious job. This blinds dusting tool has three microfiber "fingers" to pick up dirt, dust and hair. The microfiber dusting head is removable and machine-washable for easy cleanup.
Aleta Chase, a senior director at Bissell, says of cleaning blinds and other slatted window treatments, "You see them every day, and when that sunlight hits them just right, you're easily reminded of the amount of dirt built up on your home's blinds. Even though you look at them all the time, if you're being honest, how often do you think about cleaning them?" Chase recommends using a cordless stick vacuum that doubles as a handheld tool for cleaning blinds, including those in high-reach areas.