When it comes to keeping home workout equipment clean, there's good news and there's bad news.
The good news is that cleaning exercise equipment is very easy — a spray here, a wipe there, and you're done! The bad news is that you actually have to do it. "A few factors, such as frequency of use and intensity of your workouts, will influence how often you should clean your equipment," Angela Bell, a cleaning expert with Grove Collaborative, says. "In other words, how sweaty is it getting?"
Sweat can harbor bacteria and fungus, so Bell says that more is better when it comes to cleaning at-home workout gear. This is especially true if you share equipment with others — you should give weights and machines a wipe-down after every session. Even if you work out solo, during cold and flu season, wiping your equipment after every use should be the norm.
With the help of experts, we've identified the best products and methods to use to keep all kinds of at-home gym equipment clean and in good working order, from exercise mats to Pelotons.
How to clean an exercise/yoga mat
Lululemon, maker of our pick for the best yoga mat, recommends following these steps when cleaning a mat:
After using the mat, mist the entire surface of the mat with a mild all-purpose spray cleaner
Wipe the mat with a dry microfiber or lint-free cloth
Allow the mat to air dry completely before rolling
Store the mat away from direct sunlight
Lululemon Yoga Mat Spray Cleanser ($14; lululemon.com)
While yoga mat sprays are not necessary, they are formulated with a mat's grip and stickiness in mind, which can be important if you clean your mat after every use as recommended by experts.
Umbra Skinny Sleek & Stylish Small Garbage Can, 2-Pack ($13.98; amazon.com)
Don't forget a garbage can! You produce trash in a home gym, and you'll be glad when you have a place to dispose of it. This small trash can won't take up a lot of space, and the second bin in the set can be designated for recycling or tapped to hold items like foam rollers and exercise mats.
Disinfecting handheld weights
It can be easy to overlook cleaning handheld weights, but it's important to do so regularly to stave off germs that can cause colds and other illnesses — especially if you share equipment with other members of your household.
Method All Purpose + Antibac ($4.09; grove.co)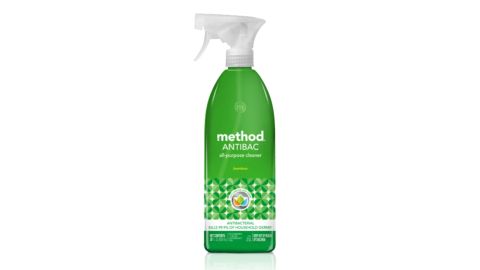 Bell recommends using an antibacterial spray cleaner or wipes to quickly clean handheld weights and other small workout accessories.
Seedling by Grove Tree-Free Compostable Wipes ($4.95; grove.co)
"Wipe down hand weights often and during cold and flu season," Bell reminds us, "or with shared equipment, get in the habit of wiping weights down after every workout."
How to clean cardio equipment, including Pelotons
Cardio equipment like treadmills, rowing machines and bikes, including the uber-popular Peloton, should be wiped down regularly — ideally after every use. Doing so will keep sweat, hair, dust and other environmental pollutants from building up on the machine. While this may sound like a drag, the post-workout cleanup can be as simple as wiping the machine down with a dry microfiber cloth.
Mr. Siga Microfiber Cleaning Cloth ($11.99; amazon.com)
Microfiber cleaning cloths can be used dry to wipe away hair and dust, or used in concert with an all-purpose disinfecting spray for a deeper clean.
OdoBan Eucalyptus Disinfectant Spray ($3.78; homedepot.com)
On its blog, Peloton offers a collection of cleaning tips from users that the brand points to when asked how to care for its bikes and treadmills. One user noticed that the Peloton showroom used OdoBan spray disinfectant to wipe off display models, so she decided to do the same, and notes that it makes cleaning the bike mat a cinch.
Pampers Sensitive Water-Based Baby Diaper Wipes ($10.97, originally $12.99; amazon.com)
Another Peloton devotee got a cleaning tip from her delivery guys: Use baby wipes to clean the bike. They used baby wipes to clean her machine after setting it up in her home, and recommended she do the same after every ride.
Clorox Fresh Scent Disinfecting Wipes, 2-Pack ($13.10, originally $14.40; amazon.com)
Cleaning wipes come in all kinds of forms, including the ubiquitous Clorox wipes, which one Peloton user realized were the perfect size to stash in a basket she keeps next to her bike to hold her shoes and other riding accessories.
Windex Glass and Surface Pre-Moistened Wipes ($3.99, originally $10; amazon.com)
While microfiber cloths are a great choice for cleaning all kinds of screens, from built-in ones on cardio machines to your own cell phone or tablet, screen-cleaning wipes are a convenient way to wipe fingerprints, sweat droplets and spittle away in just seconds.
Handcraft Tea Tree Essential Oil ($16.95, originally $24.95; amazon.com)
From time to time, however, your cardio machine should also be deep-cleaned. "Tea tree is a powerhouse essential oil," Bell says, "boasting antifungal and antibacterial properties that make it perfect for sweaty surfaces." She recommends making a solution of warm water, a few drops of natural dish soap or castile soap and 15-20 drops of tea tree oil, and following these steps to deep-clean cardio equipment:
Unplug any power sources before cleaning
Soak a cloth in the cleaning solution, making sure to wring it out well before wiping down your treadmill, bike or rowing machine
Use caution not to get any electronic pieces wet and always let the machine dry thoroughly before the next run, bike or row
For the treadmill belt, let the top of the belt dry before turning on the machine and advancing the belt to ensure you clean the entire treadmill surface
Odor control for home gyms
Let's face it, your home gym smells like a petting zoo. Home ventilating systems aren't designed the same way as in commercial gyms, requiring a little extra work on your part to keep your workout space from smelling like a middle school locker room.
Honeywell QuietSet Whole Room Tower Fan ($60.99; amazon.com)
Air circulation is key to controlling odors, especially in small spaces. Installing a tower fan, like this Honeywell model that's our pick for best fan, in the corner of your home gym will keep airflow moving, helping to keep sweat and other smells from taking over the room.
Canister-style odor absorbers are a super-smart choice for a home gym because all you have to do is take the top off, put it down and let it do its odor-absorbing thing, keeping odors at bay without requiring any extra work from you.
Breathe Green Bamboo Charcoal Bags Odor Absorber, 9-Pack ($24.99; amazon.com)
Marilee Nelson, a cleaning expert and co-founder of Branch Basics, recommends using Breathe Green bags for absorbing and removing odors, allergens and pollutants. Unlike many other odor-eliminating products, they are fragrance-free and have moisture-absorbing properties, which helps to keep mold and mildew growth at bay.
Ozium Air Sanitizer Spray ($7.09; amazon.com)
While odor absorbers have a place in a home gym, there are times when fast relief from terrible smells is needed, and that's where spray air sanitizers come in. Ozium is a spray odor eliminator that works quickly to nuke smells, but caveat emptor: It has a scent of its own that not everyone will like.
NonScents Carpet Odor Eliminator ($11.95; amazon.com)
"Cleaning your gym area regularly goes a long way in preventing odors," Bell says, and this is especially true if your gym is carpeted, since the fibers will trap smells. To keep carpet smelling fresh, Bell says to use baking soda or carpet freshener and let it sit for 15 minutes before vacuuming.