A useful way to approach spring cleaning is to look up, then look down: Places in our home — like baseboards, moldings, window casings and ceiling fans — that fall outside our sightline are typically overlooked during regular cleaning, making them the type of jobs that end up on spring-cleaning checklists.
Even though these things fall outside of our sightline, there are plenty of good reasons to clean them. Ensuring that surfaces like vents and ceiling fans are free of dirt and dust is critical to allergy management, and cleaning architectural details like window casings and baseboards will improve the overall look of your home.
We spoke to experts who shared their tips for cleaning hard-to-reach places, from baseboards and moldings to ceiling fans and window casings, and rounded up the best tools for the job.
Clean baseboards without breaking your back
The basics of cleaning baseboards — use dry microfiber for removing dust, or damp microfiber for wiping away grime, splatters and other more stubborn buildup — are straightforward. But bending down to reach them can be backbreaking work, unless you know about these clever tools.
$34.98 $28.98 at Amazon
Tom Barber, a senior vice president of marketing and product development at Casabella, says, "Use a large dust mop for baseboards and moldings." He recommends using a microfiber mop head, which grabs more dirt and dust than a regular mop or broom, and looking for a swivel style that allows the mop to get into tight spaces.
For a more DIY approach, use a rubber band to fasten a dry or damp microfiber cloth around the bristles of a broom. Turn the broom sideways to sweep along narrow baseboards.
$10.99 $9.99 at Amazon
Aleta Chase, a senior director of air and vacuums at Bissell, has a general tip for cleaning baseboards: "First things first, make sure cleaning the baseboards is last on your cleaning list." Chase says that cleaning agitates dirt and debris that accumulates on baseboards, which is why you should save that chore for last. "Once all the other cleaning is done," Chase says, "grab your vacuum and its attachments. Use a dusting brush attachment to clean along baseboards and into the corners where all that pet hair and dirt loves to gather."
The best way to clean moldings, window casings and cabinet tops
Moldings and window casings pose the opposite problem of baseboards: They're high up, making it hard to both reach and see what you're cleaning. We spoke to experts who offered these smart tips.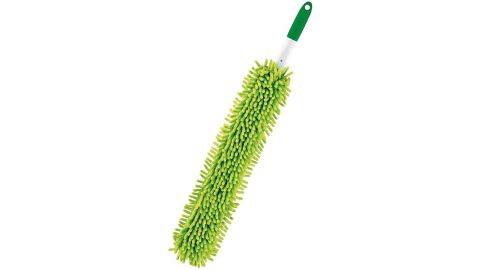 When it comes to cleaning moldings and window casings, skip the ladder and get a telescoping cleaning tool. Brian Sowinski, a marketing director at Libman, says, "For nooks and crannies up high, use a microfiber duster with an extended wand."
Over time, a film of dirt and dust from outside builds up on window casings and tracks that may call for more than just dry dusting. "Make a cleaning solution consisting of a one-to-three-part solution of water and distilled white vinegar; spray the solution on the window casings and tracks," Sowinski says. "The gentle acidic vinegar will loosen tough stains, making them easy to wipe away with a clean, dry cloth." The same method and cleaning solution can be used for cleaning dirty cabinet tops.
Vacuum cleaners can be used for cleaning plenty of hard-to-reach places in your home, and attachments — either ones that come with your machine or that are purchased separately — are the key to getting the most out of those machines. Chase recommends using an extension wand attachment to clean cobwebs in ceiling corners and dirt on windowsills or in sliding door tracks.
Take the tedium out of cleaning vents and window blinds
The slats of vents and window blinds can be maddening to clean, but these smart tools can help to take the frustration out of the job.
Cleaning blinds, shutters and other slatted window treatments can be a tedious job. This blinds dusting tool has three microfiber "fingers" to pick up dirt, dust and hair. "The built-in detail brush cleans around tight window corners and crevices," Sowinski says, "and the microfiber head is also removable and machine washable."
"Vent brushes are long and narrow," Sowinski says, "and are designed specifically for vent and air duct cleaning." He adds that these narrow brushes can be used to clean window blinds too.
An easy way to clean a ceiling fan
Ceiling fans attract an incredible amount of dust, dirt and other debris that we often don't notice because it falls outside our line of sight. But all that dust can trigger allergies, and impair the proper functioning of the fan.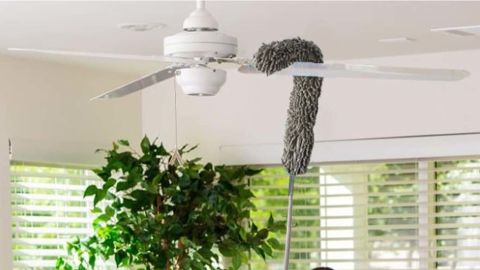 Using a flexible duster with an extended wand will allow you to quickly clean ceiling fans, as well as the ceiling itself, with ease.
When it comes to buying add-on attachments, check the size and brand compatibility to make sure it will work for your particular vacuum. This multi-angle dusting brush attachment pivots to make cleaning high-up spots a breeze. "Add a dusting tool," Chase says, "and go to town on dust in places like bookshelves, mantles, side tables, lampshades and pantry shelves."
How should painted and tile walls be cleaned?
While most cleaning should be done from the top down, when cleaning a wall, work from the bottom up. This will prevent water from dripping down the unwashed part of the wall, creating streaks which can be hard to scrub off.
Clean painted walls with a sponge mop and a solution of 1/2 cup household ammonia, 1 teaspoon of dish soap and 1 gallon warm water. Soak the mop in the solution and wring it out very well so that it is damp but not dripping. Wash the walls from the bottom up, changing the cleaning solution as it gets dirty to prevent streaking.
$67.96 $43.63 at Amazon
If the walls are very dusty, use a dry mop to pick up dust before using a cleaning solution. Spin mops can be used both dry and wet, making them a versatile choice for cleaning painted and tile walls.