Tile is one of the most durable and easy-to-clean flooring types, which is why it's such a popular choice for highly trafficked rooms in the home like the kitchen, bathroom and entryway.
But tile floors need to be cleaned and maintained in order to look their best, and there are some things to avoid when it comes to caring for your tile floors. To help break down how to care for your tile flooring, we spoke to experts about how and how often to clean tile, how to keep grout from going dingy and what to do when tile and grout floors are in need of a deep cleaning.
How to clean tile floors
Gina Perry, a senior merchant for cleaning at The Home Depot, says, "For best results, clean tile and grout regularly to prevent buildup of dirt, mold or mildew." Perry recommends the following steps for regular cleaning of tile flooring.
Sweep the tile and grout with a broom to remove dirt.
Vacuum with a brush attachment to remove dust and remaining particles.
Thoroughly sweep and vacuum immediately before mopping tile floor. There are a number of cleaning solutions that can be used on tile floors, from diluted dish soap to commercial tile and grout cleaners. Perry recommends rubbing alcohol for cleaning dirty grout and tiles. "It kills mold and mildew spores, helping to keep the tile and grout clean," she says.
$9.99 $8.97 at Amazon
Leah Bradley, a senior brand manager at Bona, says, "A hydrogen-peroxide-based cleaning solution offers a deep clean for grout, and effortlessly removes stubborn stains from surfaces. Additionally, hydrogen peroxide is a natural alternative to harsher chemicals like bleach."
When it comes to choosing a commercial floor cleaner, it is important to avoid the use of acidic cleaners, as they can dissolve or cause pitting in the grout. Wax- or oil-based cleaners that leave a film that attracts dirt should also be avoided when cleaning tile floors.
How to clean grout
Regularly mopping tile floors will also keep grout lines clean, but if deeper regular cleaning is needed in heavily trafficked areas, Perry offers step-by-step instructions for cleaning grout.
Put on gloves to protect your hands when cleaning grout and tile.
Apply a commercial grout and tile cleaner to dirty grout following the manufacturer's instructions.
Perry also offers a recipe for a DIY grout cleaner that can be applied with a toothbrush or grout brush: Make a paste of 3/4 cup baking soda, 1/4 cup hydrogen peroxide and 1 tablespoon of mild dish soap.
Use a sponge, cleaning rag or microfiber cloth to rinse and wipe each area after cleaning. Be sure no residue is left from the grout cleaner. If you are cleaning grout and tiles on a floor, mop the entire floor when finished.
How to deep clean grout
Grout that has become badly discolored over time will need a deeper cleaning. "Oxygenated cleaners can offer a deeper clean for tile floors helping to loosen dirt and grime," Bradley says. If the thought of deep cleaning grout has you imagining hours spent scrubbing with a toothbrush, fear not — this technique takes the heavy lifting out of deep cleaning grout by having the oxygenated bleach do most of the work for you.
$19.98 $17.13 at Amazon
Mix a scoop of OxiClean with a quart to a gallon of hot water.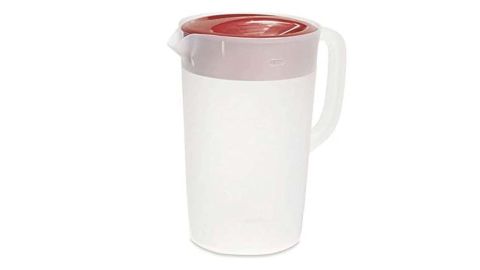 Working in sections back of the room towards the door, pour a thin layer of the OxiClean solution on the floor; mixing it in a measuring cup with a lip or in a pitcher will help you to control the amount of solution being applied to the floor, as will pouring the solution on the floor in an S-shape and using the brush to spread it out.
Use a scrub brush to spread the solution out evenly across the floor, giving it a light scrubbing to work the product in.
$9.99 $6.99 at Amazon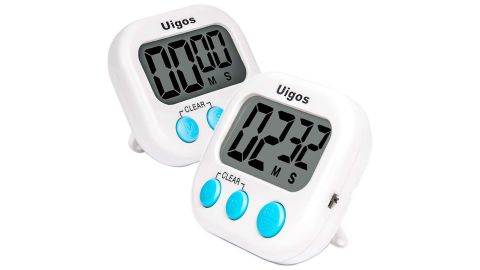 Leave the solution undisturbed on the floors for 30-60 minutes.
After allowing the OxiClean solution to penetrate dirt and grime, use a mop to wipe the solution up, then give the floor another pass with clean water to remove residue. As the grout dries, it will brighten back up to its original color.
How often to clean tile floors
The frequency with which tile floors are cleaned depends on how often the space is used; high-traffic tile floors should be cleaned once a week, while floors that only see moderate traffic can be cleaned every other week. Bradley says, "lesser-used areas, like a guest bathroom, can be cleaned monthly."
Perry recommends cleaning tiled floors in the bathroom once a week and kitchen tiles biweekly. The key to maintaining tile floors is regular cleaning, "Also avoid letting dirt or grime build up — clean as often as is needed," Bradley says.