Angela Bell, a cleaning expert at Grove Collaborative, has some housekeeping advice for the holidays. "Take care of your future self by cleaning as you go. It can feel like a lot at the time, especially if friends and family are around, but it is worth it down the road," she says.
The holidays are messy, what with cooking and entertaining and guests who are in and out of the house. The time just before the holiday season begins, then, is when to prepare your home for what's to come; deep cleaning can feel like a daunting task to take on when your to-do list is probably already getting out of hand, but it's something which will, in Bell's words, be worth it down the road.
We spoke with experts about what to clean before the holidays, how to make those jobs easier and more efficient, and what tips and tricks they have to offer for keeping your home clean and tidy without feeling like you're constantly doing chores.
What to clean before the holidays
The experts we spoke to agreed on what to clean before the holidays; they suggest focusing on the entryway of your home, the kitchen and the bathrooms, and the living room, dining room or any other space where you will do most of your holiday entertaining. "During the holidays, our kitchens and dining rooms take center stage, so make sure to prepare them accordingly," Bell says.
"Focus on the areas your guests see, such as the powder room, entryway, guest room, living room and kitchen," Marissa Hagmeyer, a co-founder of Neat Method, says, "so you feel confident when you entertain and have guests stay with you."
And, if you'll be hosting overnight guests during the holidays, Bell says that this is the time to give the guest room a little TLC. "In my home, holiday hosting often means the guest room finally gets a much-needed once-over," she says. She suggests freeing up drawer or closet space; dusting baseboards, windowsills and light fixtures, which can get overlooked in less used rooms; and doing a load of laundry. "Stored linens can end up smelling less than fresh," Bell says, "so launder anything that has been sitting around for a while."
Hagmeyer, who also serves as a spokesperson for Swash laundry detergent, suggests giving your laundry room itself some attention. "Even though visitors might not see your laundry room, this is also a good area to keep tidy," given that during the holidays we typically do more laundry than usual because guest linens or towels need to be washed.
Bring order to the entryway
Cleaning up the entryway to your home is a fairly quick task that will pay off in a big way when holiday visits are in full swing.
Neaties Heavy-Duty Plastic Hangers, 12-Pack ($17.99; amazon.com)
Create extra space for guests to put their coats by storing unused or off-season coats, shoes and accessories. Gather extra hangers for use in the front of the closet to make it easy for guests to hang up their coats; because winter and dress coats are heavy, look for sturdier hangers that can bear their weight.
JackCubeDesign Steel Umbrella Stand ($37.90; amazon.com)
If you live in an area with inclement weather, have a stand ready to hold wet umbrellas and a good entryway mat on which people can dry their shoes.
Quickie Stand & Store Upright Broom and Dustpan Set ($10.99; amazon.com)
Bell suggests keeping some cleaning supplies handy for inevitable messes. "Have a light broom and dustpan nearby for the entryway," she says, "to clean up anything from nature that is dragged in on shoes." Will you be hosting canine friends? Leave an old towel near the door to wipe off wet or muddy paws.
Ultrasonic Aromatherapy Diffuser ($39.95; grove.co)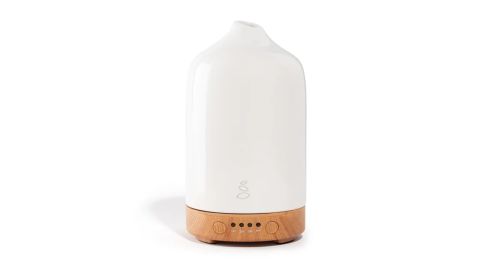 To make your entryway extra inviting, Bell says to use an essential oil diffuser in your entry area. She also adds an au courant suggestion for appointing your entryway: "Recently, I have added a large bottle of hand sanitizer to my entryway essentials."
Prepare the kitchen for its busiest season
Even if you're not hosting a holiday meal or party, your kitchen is probably going to see some extra action around the holidays. "During the holidays," Bell says, "our kitchens and dining rooms take center stage, so make sure to prepare them accordingly."
Coleman 50-Quart Rolling Cooler ($49.99, originally $87; amazon.com)
According to Leanne Stapf, chief operating officer of The Cleaning Authority, the first order of business when it comes to preparing your kitchen for the holidays should be cleaning the refrigerator. "Prep your fridge," she says, "and clean it out!" To create even more space as the holidays approach, she suggests moving soda, beer, wine and other drinks into coolers.
Stapf also recommends maximizing the workspace you have to prepare holiday dishes by decluttering the countertops. "Move anything that has a standard spot on the counter like bread boxes, fruit bowls and tea pots to a location off the countertop," she says. "The more space, the better."
Easy-Off Oven Cleaner Spray ($6.88, originally $7.99; amazon.com)
If the oven hasn't been cleaned in a while, this is a good time to tackle that job using an oven cleaner like Easy-Off; once clean, Stapf suggests lining the bottom of the oven with tin foil to make cleanup easier if something drips or spills over in the oven while cooking.
Glad Tall Kitchen Trash Bags ForceFlex Plus ($18.89; amazon.com)
She recommends a similar approach for the garbage can: "Line the trash cans with extra bags," she says. "During prep and cleanup, you'll be surprised at exactly how much gets thrown away. If you line the trash can with extra bags, once one bag heads for the dumpster you'll be ready to start filling again immediately!
Glad Large Drawstring Recycling Bags ($12.83; amazon.com)
For those hosting large gatherings, Stapf says to strategically place trash cans and recycling bins in places where guests can easily access them. "Keep a few extra trash cans around where the bulk of the party is taking place — your guests will be more likely to throw out their paper plates or drink cans if they're close."
Deep clean the bathroom
It is a nearly universal rule that any guest who enters your home will ask to use the bathroom. Leading up to the holidays, it's a good idea to deep clean bathrooms that guests may be using, and establish some methods for quickly cleaning those highly trafficked spaces throughout the season.
Mrs. Meyer's Multi-Surface Cleaner ($4.29; grove.co)
"I like to have a small 'cleaning kit' in just about every room," Bell says, "making it easy to access what I need to clean up a mess or do a quick once-over. Store essentials in a decorative basket or cleaning caddy. Multipurpose spray is a hero here, as it can be used on many surfaces for a quick refresh."
Grunge Buster Grout & Tile Brush ($6.95; grove.co)
Deep cleaning a bathroom is a chore that will be made much easier by using the right tools for the job. Bell suggests the Grunge Buster Grout and Tile Brush, which she calls "a must for tubs and showers." She says, "A well-designed toilet brush is highly underrated."
Toilet Brush With Replaceable Head ($29.95; grove.co)
As part of the deep cleaning, Bell says, "Don't forget to wash shower curtains and bath mats while you are at it."
Freshen up guest rooms, living rooms and laundry
The run-up to holiday season is also a good time to give spaces like guest rooms and the living room some attention to clean and freshen them up. Focus on tasks like decluttering, dusting and vacuuming to create a welcoming environment for family and friends to gather.
Microfiber Cleaning Cloths, 3-Pack ($9.95; grove.co)
Bell recommends using a microfiber cloth as an all-in-one tool for cleaning hard surfaces in guest bedrooms and living rooms. "Used dry," she says, "it removes dust and pet hair. Use it paired with a multipurpose spray cleaner to wipe down sills, baseboards and light switches."
Duster Attachment With Handle ($22.95; grove.co)
For cleaning hard-to-reach places like ceiling fans, light fixtures and baseboards, she recommends a duster with a reusable head, which will also make short work of dusting shelves that are filled with books or knickknacks.
Molly's Suds Oxygen Whitener ($12.99; grove.co)
Laundry, too, can make a major difference in these spaces; consider washing throw blankets, vacuuming and spot treating upholstered furniture, and whitening sheets and towels that have gone a bit dingy. "Molly's Suds Oxygen Whitener is a great presoak to get whites white," Bell says.
If this all sounds like an overwhelming amount of cleaning, Hagmeyer offers this important piece of advice: "The holidays can be a busy, stressful time, so don't bite off more than you can chew. Start with a few small spaces and focus on just one area at a time to make a big impact!"