At its most basic, laundry is pretty simple: Put clothes in washer, put clothes in dryer, fold. But, pardon the pun, there is almost always some wrinkle — a stain here, a lingering odor there — that requires you to do more than just the basic wash-dry-fold.
Our laundry expert, Jolie Kerr, has more than a decade of experience in the field of fabric care — if something is in need of washing, or a stain needs to be removed, chances are she knows how to do it. To inform this collection of articles, she calls upon her extensive knowledge and seeks out other experts to help you choose the right products and tools for the job. Here are Kerr's guides to how to clean everything and how to organize everything too.
After washing your sweaters, you'll want to lay them flat to air dry. This tool helps you do just that, and it folds up for easy storage.
A divided hamper allows you to separate laundry as it goes into the hamper, rather than having to paw through a huge pile of dirty clothes on laundry day to separate lights from darks, or clothes from towels.
Switching to cold water is a shift in the way we do laundry, and these Tide Pods are not only specifically made for that purpose, but also make sure you're using the exact right amount of detergent, an error lots of people make.
Our experts say that if all of your sheet sets are dark-colored, you may want to consider a detergent for darker fabric that is intended to reduce fading, like this one.
One of our experts recommends using a mesh lingerie washing bag to extend the life of sports bras, adding that, "removing the cups from sports bras will also help to keep their shape and stay in great condition."
One of the experts we spoke to gave Rowenta irons high marks, and notes that choosing a specific model is less important than the brand.
The Dash steamer features an ironing soleplate that can be used for pressing when steaming alone isn't enough. It is small and lightweight enough to toss into a gym bag so you can freshen up your post-workout outfit before heading to work or out for dinner, or to pack in luggage when traveling.
Laundry disinfectants are products that are designed to kill certain bacteria on fabrics when used in washing machines.
Dirt and grime, including body soils like dead skin and oil, are protein stains and should be treated using an enzymatic stain remover like this one.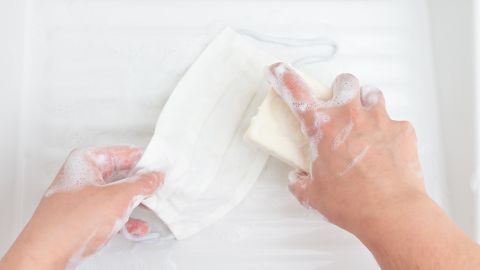 Felicia Linsky, an award-winning Hollywood makeup and spray tan artist, says her go-to stain remover for makeup is OxiClean's gel stick.