There are a ton of great products that drop every week — and we're here, as always, to keep you up to date on the best of them. Each week, we'll be rounding up a short list of our favorite product drops from the last seven days for you to shop as you sip your morning coffee or take a quick break from work (trust, it's the only list you need for staying up to date on these things).
This week brings the drop of a caffeinated skin care line from Florence by Mills, a gorgeous new shade of Staub cookware available at Sur La Table, new Spanx tops, a collection of seriously glam loungewear from Lunya in collaboration with artist Kristen Giorgi and much more. Take a look below for more on these (and to shop them before they sell out).
Artist-designed luxe loungewear
It's one thing to lounge around in sweats but quite another to swan around in dreamy silk separates, and after a couple years of a lot of at-home time, we sort of love feeling like the queens of our castle. It's no surprise we're currently obsessed with the brand-new collaboration between "luxury rest brand" Lunya and Atlanta-based artist Kristen Giorgi. The result is a collection of a silk high-rise pant, a silk short, a silk tee and a silk slip dress in a dreamy geometric pattern nodding to Giorgi's original artwork in blush pinks and shades of brown. There's also a comfy organic pima tee if you want to switch up the silk. The best part is that the whole collection is machine-washable, so while this might be a splurge, you don't have to pick up a dry cleaning tab on top of it.
Blueberry-colored classic cookware
Sur La Table is a haven for all home cooks, and now the retailer has teamed up with Staub, makers of excellent enamel cast-iron cookware, for a brand-new blueberry colorway. It gives your kitchen a juicy pop of color that makes us feel a bit like we're cooking in a chic French country house. The new launch paints the hue on all of the classic Staub pieces that are already on your wish list, including the 10.5-inch grill pan for spring veg; the 5-quart tall cocotte for braising, stewing and roasting; skillets for frying and searing; and the incredibly practical four-piece stackable set that includes a grill pan, braiser, cocotte and lid.
Easy-to-wear, elegant wardrobe essentials
Cuyana's beautiful, modern pieces have been on our radar for ages now, and the brand's just announced an addition to its lineup that's perfect for a spring wardrobe refresh. The new stretch collection features super-easy-to-wear pieces made from 96% recycled polyamide that can be worn for Pilates class and then out to brunch after. Each one elevates your favorite wardrobe essentials from basic to luxe, such as a Stretch Scoop Neck Tee with a square, scooped neck that's classically beautiful, a Stretch Cropped Top with an eye-catching cutout in pastel shades and live-in-able Stretch High Waist Leggings.
Rainwear for spring showers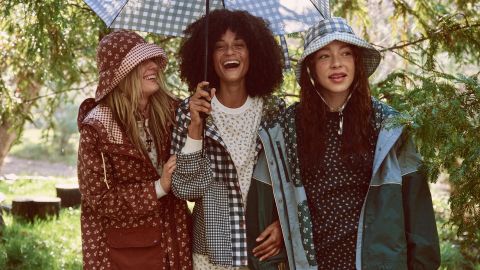 With spring comes the rainy season (how else do flowers get so gorgeous?), and The Great + Eddie Bauer's new collaboration is the perfect way to gear up for it in style. The two brands have created a collection of rainwear that's anything but basic — think a mac in gray gingham, a colorblocked rain jacket in a light yellow and white and short (read: easy-on) rainboots, umbrellas and rain hats in cheery gingham and floral patterns that complement the rest of the pieces.
Caffeinated skin care for a little extra boost
Millie Bobby Brown isn't just an actress on "Stranger Things" — she's come out with a darn good skin care line that's vegan, clean and cruelty-free. Even better, it's just expanded to include five products that all have a little caffeine in them for brighter eyes in the morning, whether it's a Monday and you're heading into work or you're in recovery from a long Saturday night. The new line includes a brightening eye cream that bids adieu to dark circles, a hydrating serum with hyaluronic acid, a coffee mask-and-scrub combo, a java lip scrub and de-puffing eye gel pads that, adorably, are whale-shaped. You can shop them all at florencebymills.com, Ulta or Target.
Light-as-air tops in 4 different shapes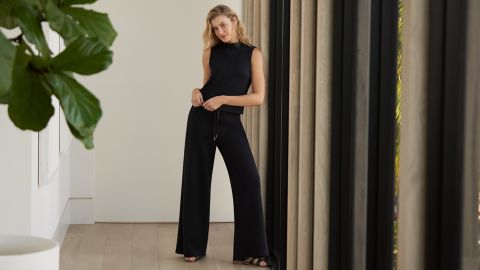 Spanx's much-loved AirLuxe collection is getting a rebrand as AirEssentials, and for the occasion, the brand is dropping four new styles of tops made from the same super-light, super-soft fabric you've loved on other pieces (this writer lives in the wide-leg pants and sweatshirt). The four new styles include a mock neck, puff-sleeve top with elbow-ish-length sleeves, a peplum top and a wear-all-the-time short-sleeve tee, meaning there's one for every wardrobe occasion from work to the moment you clock out for the day.
No-meat links for breakfast or anytime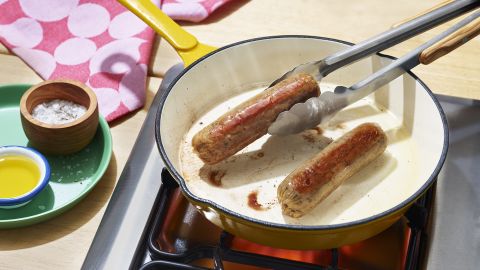 Sometimes you just need a good sausage for some hardy comfort food, but what makes them even more comforting is when there's no meat involved. Impossible just launched a line of plant-based sausages that "look and cook" like the real deal. They also have 30% less fat than leading pork sausage links, meaning they're as good for your heart as they are for the planet. Shop them now in Bratwurst, Italian and Spicy so you're all prepared for grilling season.
Tropical-themed rugs you can throw in the washer
Ruggable's rugs are famed for both their style and genius. They come in two parts: a nonslip pad and a washable cover that adheres to it. When you need to wash it, just separate the two and throw the cover in the washer, and when you want to change up your look, just buy a new cover instead of a whole new rug. There's never a chance to get bored with Ruggable either, especially with the launch of tropical designs to go with the rest of its outdoor rug range (that is still just as washable as the indoor collections). New patterns include bold florals, classic black-and-white stripes and a modern blue-and-gray plant array. And like the rest of the outdoor collection, they're mold-, mildew- and stain-resistant, and can be brought into the great indoors for even more versatility.