Let's face it: We're all incredibly busy. The holidays, however, are a great excuse to reach out and reconnect with loved ones. And truly there's no better way to do this than via sending a tangible card.
Regardless of what you're celebrating — be it Christmas, Hanukkah, Kwanzaa or another holiday — sending a snail mail card to friends and family is a meaningful way to reestablish your connection and let them know you're thinking of them. Luckily, there are lots of options to choose from online, from photo cards and pre-boxed sets to corporate-friendly options for businesses, and we've rounded up our favorites below.
What to write in a holiday card
The key to really nailing your holiday card's sentiment this year is deciding what vibe you want to give out for 2021, so that the card can authentically represent where you are right now. Are you sending out general best wishes to your loved ones (i.e. "Season's greetings!" or "Happy New Year!"), or do you prefer honing in on a religious holiday (i.e. "Merry Christmas!")? Do you want one short and sweet tagline, or are you leaning towards sharing a full update on what's new with you these days? Is a thoughtful message the end goal, or something sillier and laugh-inducing?
The good news is that there is no right answer! But making these decisions in advance will certainly cut down your shopping time, and you'll be freed from decision paralysis down the road. Once your messaging is decided upon, then comes the fun part — choosing the design!
Holiday photo cards
Minted Cedar Pine Frame (starting at $81 for 25; minted.com)
We love the wintry ambiance this ultra-traditional card evokes. Surround your photo with the pretty board of garland, berries and foil-pressed branches. Available in six colorways, the Minted card is ultra-customizable — choose from multiple greetings (like Joyful Blessings or Happy Holidays), 10 foil colors, five card silhouette shapes and five paper grades.
Minted Holiday Shine (starting at $81 for 25; minted.com)
Let the photo do the talking with this simple but chic card option from Minted. Featuring a full-bleed image, the card's message — "Happy Holidays" — can be overlaid in one of ten foil colors. Also available: three silhouette shapes and three grades of paper.
Paper Culture Organic Cutouts (starting at $12.95 for 10, originally starting at $25.90; paperculture.com)
If an eco-friendly holiday card option is important to you, look no further than Paper Culture — the company plants a tree for every order, and all its materials are printed on 100% recycled paper. We love the modern photo shapes and the fact that one of the best holiday songs ever is featured prominently on the card.
Paper Culture Modern Menorah (starting at $12.95 for 10, originally starting at $25.90; paperculture.com)
Celebrate the Festival of Lights with this pretty card that can feature a photo on the front, framed by a menorah-shaped border, while the back has room for another image and a custom message. Available in two colorscapes (light blue or a tangerine yellow) and two sizes (4x6 or 5x7), the cards can also feature rounded corners for a fee.
Artifact Uprising Multi-Image Vertical Holiday Card (starting at $19.50 for 10; artifactuprising.com)
This scrapbook-style card is a great option for anyone who simply has too many photos to choose from! Fill the grid with nine favorites and choose from six greetings — from Cheers and Happy Hanukkah to Married and Bright and Warmest Wishes — and then add your own personal message to the back of the card.
Minted Theorem (starting at $66 for 25; minted.com)
Spread the Kwanzaa love this season with this card that beautifully illustrates the Seven Principles of the holiday. We love playful drawings and the customizable nature of the 5x7 card — choose from several colorways, silhouettes and card stocks — and the fact that your photo will stand out.
Artifact Uprising Hand-Lettered Holiday Card (starting at $19.50 for 10; artifactuprising.com)
Keep it clean and simple with this crisp card from Artifact Uprising that can be orientated in a portrait or landscape position and can feature foil for a slight fee. Choose from six greetings (we're partial to "Merry Little Everything") and feel good about the fact that each card is printed on 100% recycled paper.
Shutterfly Happy Hopes Holiday Card (starting at $30.80 for 10; shutterfly.com)
Sometimes you just need a little glitter in your life, and this card fits the bill with glitter galore! Once you choose from a "Joyful Holiday Wishes" or "Merry Christmas Wishes" greeting and silver or gold glitter, you'll be good to go. More to know: You can round the card's edges for 22 cents each.
Minted Geometric Frame Card (starting at $66 for 25; minted.com)
Bright colors and bold patterns are the perfect accent to your Kwanzaa celebration this year, and this card from Minted will also put your photo front and center. Customize the back of the card with a personal message and up to nine additional images.
Boxed holiday cards
Rifle Paper Co. Christmas Eve Scene, Set of 8 ($20; riflepaperco.com)
No photo to upload? No problem! Rifle Paper Co. has you covered with this sweet drawing evoking the coziest Christmas scene ever. The card's interior is blank, leaving room for a handwritten note to a loved one.
Rifle Paper Co. Twelve Tribes, Set of 8 ($20; riflepaperco.com)
Fear not, Rifle has lots of beautiful Hanukkah box sets options on its site too, and we love this one, which features a gold foil menorah front and center alongside festive drawings.
Hallmark Boxed Handmade Christmas Cards Assortment, Set of 20 ($19.63, originally $24.99; amazon.com)
Nearly 2,500 Amazon reviewers agree this is the holiday card set to buy. Comprising 20 cards — that's less than a buck a card, people! — the set covers all the holiday mainstays, from Santas and Christmas trees to snowflakes and jolly snowmen.
Paper Source Confetti Happy New Year Card Set, Set of 10 ($18.95; papersource.com)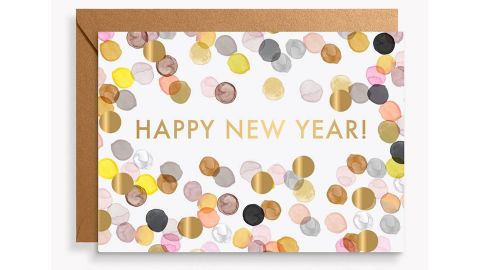 Let's give them something to celebrate this holiday season with this festive and fun watercolor confetti card. We're huge fans of the gold foil lettering and the fact that each card is paired with an antique-looking envelope.
IraFrames Modern Minimal Holiday Cards, Set of 7 ($26; etsy.com)
Minimalist lovers will appreciate this stark-but-pretty set of seven 5x7 cards that are printed on linen card stock and come with fancy, gold-lined envelopes. Say it with us: Done and done!
BlueberrySprinkles Christmas Card Set (starting at $9 for 6; etsy.com)
Another minimalist but gorgeous option is this set from Etsy. Embossed with pretty winter scenes complete with snowflakes, snowpeople and ornaments, this is a fantastic option if you want to handwrite each of your cards this year.
Papier Penguin Flat Holiday Card, Set of 10 (starting at $17.60, originally starting at $22; papier.com)
Keep it light this holiday season with this adorable set of illustrated cards featuring a chubby penguin in a cute little red hat. Our favorite part, however, is that the sets can be customized with your name on the front of the 5x7 card and a message and photos on the back. If you're more of a cow person, check out this equally whimsical card set option.
Business holiday cards
Minted We Did It Together (starting at $66 for 25; minted.com)
It takes a village, and this card nails that sentiment perfectly with the all-hands-on-deck illustration by Minted artist Sarah Knight. The cards can be personalized with your company's name, and then you can customize even further by choosing the silhouette shape, a flat or folded design and four paper type options.
Minted Thanks to You (starting at $66 for 25; minted.com)
Show your company's gratitude with this holiday greeting card that hits all the right notes — chic, sleek and professional. Available in six colors, from a moody pine green to a cheerful red, the card is sure to be well-received.
Paper Culture Remote Greetings (starting at $12.95 for 10, originally starting at $25.90; paperculture.com)
In the digital age of 24/7 video conference calls, this card is sure to get some laughs out of your clients. Fill the grid with staff photos on the front of the card, which comes in two size options, and you can add a personal message to the back.
Paper Culture Corporate Report Cards (starting at $12.95 for 10, originally starting at $25.90; paperculture.com)
Add some fun into your business holiday card this year with this playful bar graph. We love the cheery colors and patterns, and the fact that company logos can be added — and that the bar graph's values can be customized to fit your brand or industry.