CNN —
Finding the blanket that's perfect for you is no easy feat. Do you run cold? Do you run hot? Are you a restless sleeper? Are you a restless sleeper who also runs hot? Lots of questions arise once you start thinking about introducing a new blanket into your life, and thankfully there are just as many options out there to fit everyone's specific needs.
To help you navigate the blanket landscape, we rounded up some of our favorite options on the market below — from electric and fleeces to lightweight comforters and luxurious throws — based on blankets we tested and loved, and products that have amassed thousands of rave reviews. (To be sure these were indeed highly rated products backed by real consumers, we used third-party tools, including FakeSpot, to filter out any products or sellers with reviews that were deceptive. To read more about how to avoid falling victim to fake reviews when shopping, read our guide here.)

Ahead, some highly necessary coziness.
Electric blankets
Sunbeam Heated Microplush Blanket (starting $39.96; amazon.com)
If you're one of those people who is always cold, it may be time to invest in an electric blanket, and this quilted fleece option from Sunbeam is an Amazon favorite. Boasting more than 5,500 positive reviews, the blanket includes multiple heat settings and a 10-hour auto shutoff functionality, and it also comes in six colorways over four sizes (twin, full, queen and king).
According to one happy reviewer, "This is the most WONDERFUL (and reasonably priced) electric blanket that we have purchased in the last 12 years!!" Looking for a heated throw? Sunbeam makes one of those too -— check it out here.
Serta Super-Soft Reversible Electric Throw Blanket ($49.95; amazon.com)
We don't know about you, but anything lined with a Sherpa fabric is A-OK by us — including this beloved electric throw blanket by Serta. With more than 6,200 positive reviews, the 50-by-60-inch blanket has five heat settings and a four-hour auto shutoff functionality, and it comes in 13 colors and patterns.
Sable Electric Throw ($43.99; amazon.com)
Amazon's No. 1 bestseller in the electric throw blanket category, this 50-by-60-inch blanket has 10 heat settings, a one- to three-hour auto shutoff capability and more than 3,100 reviews. It's so good, in fact, that one reviewer declared, "This throw is saving my marriage."
Weighted blankets
20-Pound Gravity Blanket ($189; gravityblankets.com)
The National Sleep Foundation recommends that adults get seven to nine hours of sleep per night, but millions of Americans out there suffer from disorders like sleep apnea or restless leg syndrome that make catching z's incredibly difficult. Weighted blankets, however, help. With nearly 2,000 positive reviews, the Gravity Blanket is probably one of the most well-known options on the market, and it's received myriad accolades for its efficacy (it was named one of Time's Best Inventions of 2018, after all!).
Users love its luxe microfleece duvet cover; the even weight distribution, thanks to the gridding stitching that keeps the beads in place; and the fact that it comes in single (aka twin) and queen/king sizes ideal for couples. "Since the day I have received it I have been blown away by the quality," writes one reviewer, adding, "It evenly distributes the weight and has made a huge difference for my anxiety."
YnM 15-Pound Weighted Blanket ($69.90; amazon.com)
This cotton weighted blanket had us at the reviews — more than 24,000 Amazon customers have raved about the product's prowess. Available in 14 weight options (starting at 5 pounds and capping out at 35), the blanket is also available in 35 colors and patterns, ranging from neutral stripes to kid-friendly penguins.
Bearaby Cotton Napper ($249; bearaby.com)
Marrying the on-trend look of a chunky knit blanket with the medical benefits of a weighted blanket, the Bearaby Cotton Napper is far and away the most chic weighted option on our list (and on the market!).
Boasting more than 775 positive reviews and a 4.9-star rating, the 40-inch-by-72-inch Cotton Napper is made solely of ultra-soft organic cotton (no glass bead fillers), and it comes in 15-, 20- and 25-pound increments across eight colorways. Trust us when we say this blanket will look right at home in even the most upscale living spaces. More to know: We also love the kiddo-appropriate, 8-pound Nappling, which comes in four sweet colors and is perfect for lulling busy babes to sleep.
Cooling weighted blankets
Weighted Idea 15-Pound Cooling Weighted Blanket ($49.90; amazon.com)
Nearly 10,000 Amazon customers say this ultra-cool weighted blanket is worth a shot, and given that it's under 50 bucks, we have to agree with them. Available in 13 weight and size increments and 15 colors, the cotton blanket is soft and breathable, making it suitable for all seasons.
YnM 7-Pound Cooling Weighted Blanket ($55.90; amazon.com)
The maker of the beloved Amazon weighted blanket mentioned above, YnM also sells a cooler version, swapping out the cotton fabric for a silky bamboo viscose. (Everything else, including the small inner compartments for even weight distribution, is the same.) Writes one reviewer: "[This] cooling blanket is remarkable — I'm never too hot or too cold. It retains very little or no heat. It always feels cool to the touch and while it's heavy it doesn't make me warm."
Fleece blankets
L.L.Bean Wicked Plush Throw ($29.95; llbean.com)
You can never go wrong with an ultra-cozy fleece blanket, and this one from L.L.Bean is as good as they get. Fluffy and almost velvety in texture, L.L.Bean's bestselling throw has more than 330 positive reviews, ranging from customers calling it "blanket heaven" to "best throw ever."
Available in size large (50 by 60 inches) and extra large (60 by 80 inches), the Wicked Plush comes in eight colors and is one of the cheaper blankets on our list.
Threshold Microplush Bed Blanket (starting at $23; target.com)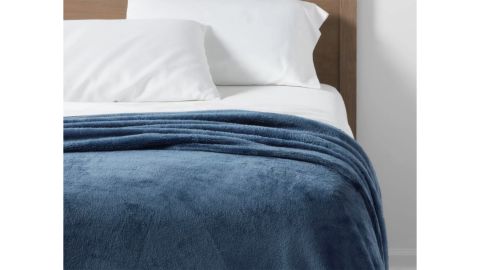 If you've never picked up a throw blanket while cruising through the aisles of Target — well, you're missing out. The store is chock-full of quality options at affordable prices, and that includes this fleece bed blanket by Threshold. With more than 1,600 positive reviews, the microplush coverlet comes in four sizes (not to mention a dozen colors!), fitting twin-, full/queen- and king-size beds.
Bedsure Fleece Blanket (starting at $14.99; amazon.com)
When a $15 blanket has more than 42,000 positive reviews on Amazon, you simply click "Add to cart," right? Right. The hardest part is choosing between the five sizes and the two dozen color options. Soft, cozy and warm, this blanket is perfect for layering on your bed or stacking by the couch for easy access on chilly movie nights.
Outdoor blankets
Yeti Lowlands Blanket ($199; yeti.com)
Influencers near and far rave about the durability and portability of Yeti's outdoor blanket, and we understand why — waterproof and ultra durable on one side but padded and comfy on the other, this outdoor blanket truly offers up the best of both worlds. We love that the soft side also repels dirt and pet hair; simply shake it out, and the debris falls right off.
Available in four colors, the 78-by-55-inch blanket has a giant footprint, easily accommodating sprawled-out families at the beach, at the park or in your backyard for some winter stargazing. More to know: The blanket (which has a 4.8-star rating and 400 reviews) can be thrown in the washing machine and comes with a handy matching carrying case.
Rumpl Original Puffy Blanket ($99; rumpl.com)
From a Kickstarter to a recent appearance on "Shark Tank," Rumpl is disrupting the blanket category with its "sleeping bag blanket" made with innovative, recycled materials typically found in premium sleeping bags. Full of insulation that will keep you toasty, whether bingeing Netflix inside or sitting fireside outside, the weather-resistant, water-repellant blankets come in a variety of supercool patterns too. The brand also offers kid sizes and Sherpa-lined indoor blankets that are equally cozy and warm.
Throw blankets
Brooklinen Throw Blanket (starting at $170.10, originally $189; brooklinen.com)
Like something you'd find in a Swiss ski chalet, Brooklinen's luxe wool throw is going to keep you snug as a bug on a winter night. Made in Germany by a 100-year-old family mill, the thick, sturdy blanket has an upscale yet utilitarian vibe that we are more than a little obsessed with. Our favorite details include the brown suede sewn-on tag and the contrasting colored fringe.
Uniqlo Heattech Blanket (starting $59.90; uniqlo.com)
This isn't just any throw, folks. Uniqlo's Heattech blanket is made from a proprietary material that actually converts your body's moisture and turns it into heat. Say it with us: science! The blanket also repels static and is infused with argan oil, making it silky soft. The fleece-like material is thin and ultra-soft, comes in three colors and is available in twin and full sizes.
Boll & Branch Cable-Knit Throw Blanket ($125; bollandbranch.com)
There's something timeless about a cable-knit design, which is good, because Boll & Branch's knit throw will last forever. Made from ethically sourced organic cotton, the blanket has been one of our favorites for years. And despite being used 24/7, it still looks brand new. A bestseller for the sustainable brand, the blanket has nearly 200 positive reviews and a 4.8-star rating. One customer writes, "It's light enough to use on mild summer days and warm enough to be really cozy by a fire in the winter." We couldn't agree more.
Riley Chevron Throw ($89; rileyhome.com)
Cozy and stylish, this ultra-soft throw is the perfect way to up your living space's design aesthetic while also keeping you warm this winter. The bright pattern would be at home in beachy rooms, and it would also be a great added layer on your bed. Plus, the machine-washable blanket doesn't shrink or pill after being washed.
Italic Cashmere Ribbed Throw ($145; italic.com)
We're just going to go ahead and say it: Scoring a 100% Mongolian cashmere blanket at this price is a major coup. Similar to blankets that retail for $400, Italic's option is so much cheaper thanks to the brand's direct-to-consumer model that eliminates retailer fees and other markups. But back to the blanket itself — chic as can be with thin ribbing, the 50-by-60-inch throw is also incredibly warm and soft. Wrapping yourself in it simply feels luxurious. The hardest part is choosing between the cream and heather gray color options.
Project 62 Textured Faux Fur Throw Blanket ($24.99; target.com)
Not all luxuries need to cost a lot of money, and this blanket is proof of that. Coming in at just under 25 bucks, this faux fur throw from Project 62 is absurdly soft — so much so that our family members are often fighting over it. Thankfully, it's affordable enough that we can splurge on a few. Available in pink, gray, cream and navy, the reversible throw is a Target favorite too, with nearly 350 positive reviews.
Blanket for hot sleepers
Brooklinen Lightweight Down Alternative All-Season Comforter (starting at $116.10, originally starting at $129; brooklinen.com)
Hot sleepers, fear not, there are big, fluffy blanket options for you, too. This down-alternative comforter for Brooklinen was created specifically for hot sleepers and warmer climates. The cloud-like blanket is comprised of fibers made from recycled PET bottles, resulting in a lighter feel (not to mention a budget-conscious price!). The baffle-box design keeps the fill in place too, while the cotton sateen shell is crisp and cool.
The Buffy Breeze (starting at $179; thebuffyco.com)
Buffy aims to make home goods that are good for the Earth; the comforters are comprised of responsibly sourced recycled plastic, and the brand offsets all CO2 emissions from the supply chain. One of its latest products is the Buffy Breeze, a lighter comforter with a eucalyptus shell and filler that regulates temperature and cools. With more than 4,700 reviews and a 4.7-star rating, the Breeze has the same cloud-like fluff as the original Buffy Cloud comforter, but is less dense and warm.