CNN —
CNN Underscored has interviewed experts and found the best options to help you cope during this uncertain time. Find all of our coronavirus-related coverage here, and let us know your thoughts here.
Couples tend to worry as their special day approaches. Is it going to rain? Will the cake show up on time? Will Aunt Diane be OK with Uncle Phil's new wife being there? But this season's betrothed couples are grappling with something they never could have seen coming: rescheduling at the last second due to a pandemic.
This is something anyone who had been planning any sort of event — a birthday celebration, an anniversary bash, a retirement party — has now had to deal with, so the following guidance can be applied to those special occasions as well.
To be sure, this kind of abrupt postponement is enough to rattle even the most organized bride-to-be, like Nicole Iorio of Glendale, NY. Her April 24 wedding to Chris Fesler, a New York City police officer, was to be the grand culmination of a decade-long courtship. The excitement among their families and friends was building as the happy day was finally in sight.
Her venue has offered her the next available date — 14 months away. "I've cried a few times so far," Iorio says. But their loved ones are helping her and Fesler stay positive. "Everyone always checks in on us and asks how we're doing and whether we need anything," she says. "Sometimes all you need is someone to chat with. That makes me remember that, no matter when or where, they will still be there to celebrate with us."
Process your disappointment
In an unprecedented crisis such as the coronavirus pandemic, couples may feel guilty that their big concern is wedding plans. But experts say that initial feelings of overwhelming disappointment are normal and understandable.
"It is completely natural for couples to feel sadness and anger when their wedding has to be postponed through no fault of their own," assures Tara Flynn, a licensed mental health counselor in Babylon, NY, who counsels couples. "There are plane tickets purchased by relatives, a paid-up honeymoon, and the list goes on. Their feelings about their wedding and what is going on in the world are completely separate from one another."
Flynn advises couples to go ahead and grieve their "lost" wedding — but then start making future plans. "That gives you back some of the control you feel you lost," she explains.
And for Nicole Iorio, it's all about having perspective. "When all is said and done, I get to spend forever with my best friend," she says. "Besides, I've already waited 10 years, so what's one more?"
Postpone properly
Marti Heard, a wedding planner in Cincinnati, observes that couples are almost universally postponing their big weddings, even if they have to wait a year or more, rather than simply getting married at the courthouse and bagging the reception.
"This is an emotional moment that brides have dreamed of for a long time," notes Heard. "Nothing will stop them! The only cancellation I've had was because the groom is in the military and is called for active duty."
"It's still possible to have the celebration of your dreams," says Etsy trend expert Dayna Isom Johnson. Her top tip is to keep your vendors the same, if at all possible, rather than bringing in new companies. "This will make the date change as seamless and cost-effective as possible," she says.
She also urges reviewing each vendor's contract to be sure of what their postponement policy is, then calling each one to discuss next steps. Then, once you finalize your new date, send an announcement to guests and update your wedding site, if you have one.
Finally, "celebrate your original date," says Isom Johnson. One idea is to host a virtual gathering of close family, and/or your wedding party. Consider sending them microwave popcorn cobs or a cinch-to-assemble fun dessert to make over video chat, and whip up and enjoy a mojito or another fun cocktail together. "Honoring the day will bring closure, even if you just go on a hike together or bake a cake," says Isom Johnson.
Pick the right announcement
You'll find more "change the date" cards to pick from than you might expect, from understated and elegant to cheery and colorful. Downloadable designs can be a good choice. You can print them right then and there, and let guests know about the change in plans as soon as possible. And you can, of course, email them, spreading the word without leaving your home, a smart idea at the moment.
If you're wondering whether a funny announcement can be appropriate under the circumstances, the answer is yes. Trying to buoy your spirits — and those of your guests — can go a long way these days. "The best way to handle the ups and downs of life is a sense of humor," Heard says. "You can be funny while showing grace and tact. Your guests will understand and smile."
Here are 10 postponement announcements we just love.
Change of Plans by Foxwood Lane (digital download, $5; etsy.com)
Wedding Change the Date Card (100 cards, $109; papersource.com)
Lemonade by Sarah Curran Designs (digital download, $6.75; etsy.com)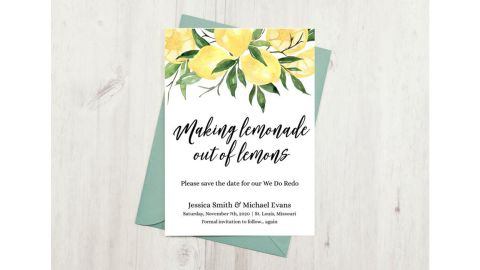 Bad Dancing by Amy Payne (100 cards, $154; minted.com)
Postponed by Sweet Cloud Design (digital download, $5; etsy.com)
Change the Date Announcement (100 cards, $120.81, foil additional; vistaprint.com)
Roll with it Postcard by Palm Paperie DIY (digital download, $7; etsy.com)
Boho Postponed (digital download, $5; etsy.com)
We Still Do Announcement by Peachy Prints UK (100 cards, $104.68; etsy.com)
Update by iDesign Stationery (digital download, $2.45; etsy.com)
Note: The prices above reflect the retailer's listed prices at the time of publication.