CNN —
The transition to quarantining this summer has allowed us to find ways to safely entertain ourselves while enjoying the sunshine. While restaurants, bars and other attractions are starting to open with limited capacity in certain areas of the country, many people naturally still want to avoid areas where germs and bacteria can easily spread.
A picnic is the perfect solution to that, allowing us to have a fun time while staying safe if we take the right precautions. Better yet, a picnic is the opportunity to create a stylish, curated event special enough to share on social media or celebrate any milestones this summer. If you want to do it right, you might find the below guidance from party planning experts helpful.
How to choose a safe picnic area
When venturing out of the house, you have to be very intentional about keeping a safe distance from others, in accordance with Centers for Disease Control and Prevention guidelines. "I suggest finding a spot in a park or beach that is far away from other people, and the best way to find that is to go deep into the park instead of hanging around the edges," says Seri Kertzner, the chief party officer of Little Miss Party Planner, a Manhattan- and Hamptons-based party planning business. She recommends finding a spot under a tree for ample shade. If there are no trees available, it's smart to bring your own umbrella.
Regardless of your picnic destination, it all comes down to sticking with your group and regularly washing your hands, using hand sanitizer, avoiding touching too much stuff and wearing your mask when not at your own private setup. Kertzner stresses the importance of spreading your blankets at least 6 feet away from other groups, sticking to your blanket whenever possible and staying mindful of this even while playing games or socializing.
What to bring to a picnic during Covid-19
Picnics are adorable, but you'll need to remember to bring more than just food and drinks to make it a success. According to Keren Precel, the founder and creative director of New York-based Simply Perfect Events, what you bring to a picnic nowadays isn't much different than what you'd bring before. Prioritize having ample gloves and face masks available.
"Being thoughtful and ensuring you remember all the essentials will make for a memorable, amazing picnic," says Kertzner. She recommends making a checklist before you leave to ensure you don't forget anything at home. She also advises that people avoid foods with ingredients that could spoil in the sun to give yourself one fewer thing to stress about.
During these times, it is more important than ever that we do our best to stay safe and avoid getting sick. Our two party planning experts advise that you keep these items with you for extra precaution while you're out of the house: hand sanitizer, antibacterial wipes, water, tissues, sunblock and bug spray.
Keep reading to check out some unexpected items that we think are going to make your next picnic the best one yet.
BruMate Stainless Steel Insulated Can Cooler ($24.99; amazon.com)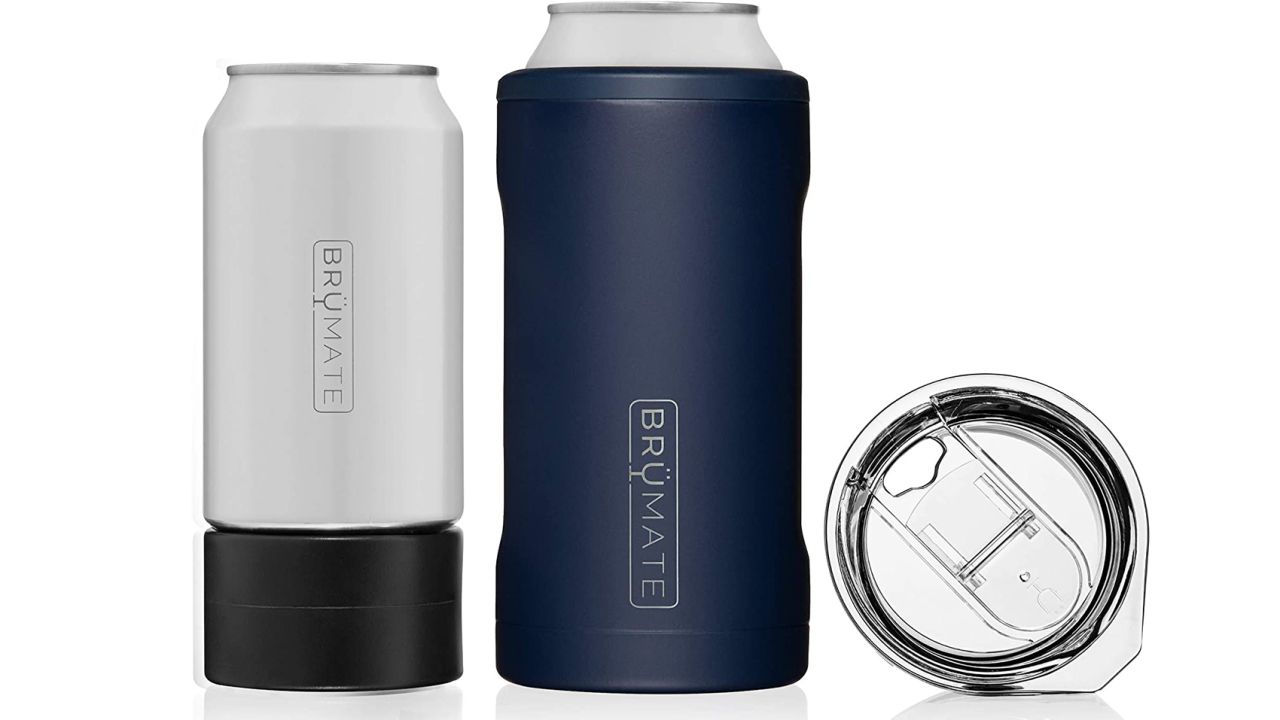 This stainless steel cooler is a must-have to keep your drinks cold on a sunny picnic day. It can hold a 12-ounce can or 16-ounce can, or be used as a 16-ounce tumbler. Don't worry, though — it also keeps hot drinks hot so you can use it during cooler months.
Variety 5-Pack of Triple-Layer Cloth Face Masks for Adults ($12.50; oldnavy.gap.com)
The gingham included in this set makes these face masks picnic-ready.
GoGirl Female Urination Device ($12.99; amazon.com)
It's totally unfair that women typically can't go to the restroom as easily as men. This female urination device is the perfect solution to that problem. Hide it discreetly in your bag and use it when trekking to the bathroom is a hassle.
Bamboo-X Disposable Wooden Cutlery Set ($13.45; amazon.com)
Precel suggests using high-quality disposable utensils to avoid too much cross-contamination. She also emphasizes investing in reusable items whenever possible, especially if you might picnic again. This environmentally-friendly set is both reusable and biodegradable.
Fujifilm SQ6 Instax Square Instant Camera ($100, originally $130; urbanoutfitters.com)
Sometimes iPhone pictures and Instagram Stories just aren't enough. Snap pics of your beautiful picnic and print the photos instantly using this Fujifilm Instax camera, which comes with color filters for an extra cool effect. Now each guest can have their own takeaway memento.
Coghlan's Pop-Up Trash Can ($14.99; amazon.com)
Parks and other outdoor areas are notorious for placing trash cans super far apart. Because you never know where the closest trash can will be, Precel recommends bringing your own trash bags or storage. Reviewers love this pop-up trash can because it folds down easily, has stakes to secure it to the ground and even has a zippered top to keep flies away. There's a pop-up recycle bin option too for all your cans and bottles.
BBQ Toolbox ($99; uncommongoods.com)
Take your menu up a notch with this BBQ toolbox. It's designed as a portable grill that opens into a grilling area, bun warming rack and storage. Just remember to pack charcoal for it and you don't have to worry about touching the communal grill your local park has to offer.
YF Mask Storage Clips, 5-Pack ($10.88; amazon.com)
Want to take off your mask once you're socially distanced at the picnic spot? Hand out these mask storage clips to fold up your mask and place in your bag until you're ready to use it again. Just be sure to remember which color clip you had so you don't mix up masks with your friends and family.
Or, you could try a face mask chain that lets your face mask hang from your neck.
DII Rustic Farmhouse Throw Blanket (starting at $14; amazon.com)
A rustic blanket is the first piece to create chic picnic vibes. It's big enough to suit a small gathering and decorations. Consider getting more than one if you have a larger spread in mind.
Reusable Shoe Poncho ($12; urbanoutfitters.com)
Nervous about the rain but don't want to sacrifice your 'fit? Pack these reusable shoe ponchos to keep your favorite shoes safe from water or other grime that may arise.
Oniva Picnic Time Collapsible Adventure Wagon ($187.08, originally $244.95; amazon.com)
Suddenly realize you have too much stuff but don't feel like taking trips back and forth to the car? Get a wagon. Kertzner recommends this one by Picnic Time because it's easy to pull and store after use. Just pull up the handle to make the wagon fold into a compact bag.
Who's Most Likely To ($16; urbanoutfitters.com)
You definitely want to make sure that you have proper entertainment. Who's Most Likely To is a fun way to bond with friends and laugh for hours.
Hiware 12-Pack Reusable Silicone Drinking Straws With Case ($7.99, originally $12; amazon.com)
Give your guests the option of drinking out of a straw under their masks with this colorful set. It's a large pack for cheap so each person can get their own. The straws are BPA-free and dishwasher-safe, and even come with a case and two cleaning brushes to make it easy to transport back home.
Compact Swivel Cheese & Tapas Board ($85; uncommongoods.com)
This high-rated cheese board is perfect for a quaint picnic celebration with the people you've been quarantining with. Collapsible with sockets for serving bowls and even a drawer with cheese knives, it provides the perfect equipment for the charcuterie of your dreams.
ValBox Gift Boxes With Twine, 12-Pack ($12.99; amazon.com)
Kertzner recommends packing individual meals for each guest using a kraft box like this one. "If you're going to be picnicking with other families, have everyone take care of their own meals so there is no cross-contamination," she says. These are simple yet cute and festive, and can be easily assembled.
UJoylify Durior Wicker Picnic Basket ($24.99; amazon.com)
No picnic is complete without a picnic basket. This one features a cream cotton liner with a lace edge that's a sophisticated departure from the traditional picnic gingham and will complement any theme.
Allcamp Outdoor Gear Large Size Picnic Basket ($24.63, originally $27.99; amazon.com)
For a more utilitarian option, this picnic basket is insulated to keep drinks and sandwiches cool, and folds flat for easy storage.
The Perfect Picnic Knife ($35; uncommongoods.com)
This multitasking knife saves you the stress of panicking that you forgot all your picnic tools. It includes a bottle opener, corkscrew and knife that can be easily tucked away again and again.
Simply Genius Pop-Up Mesh Food Covers, 6-Pack ($12.99; amazon.com)
If you're serving different kinds of foods, you won't regret protecting your dishes with these mesh screen tents. The white dome canopy covers protect your food from pests but are easy to open to access the food.
Apollo Walker Picnic Backpack (starting at $52.98; amazon.com)
A multitasking backpack is a must for easy transport of all your picnic supplies. Not only does this come with essentials like plates, utensils and plastic wine glasses, but it even features a detachable insulated bottle holder and fleece picnic blanket.
Sling Beer Cooler ($25; uncommongoods.com)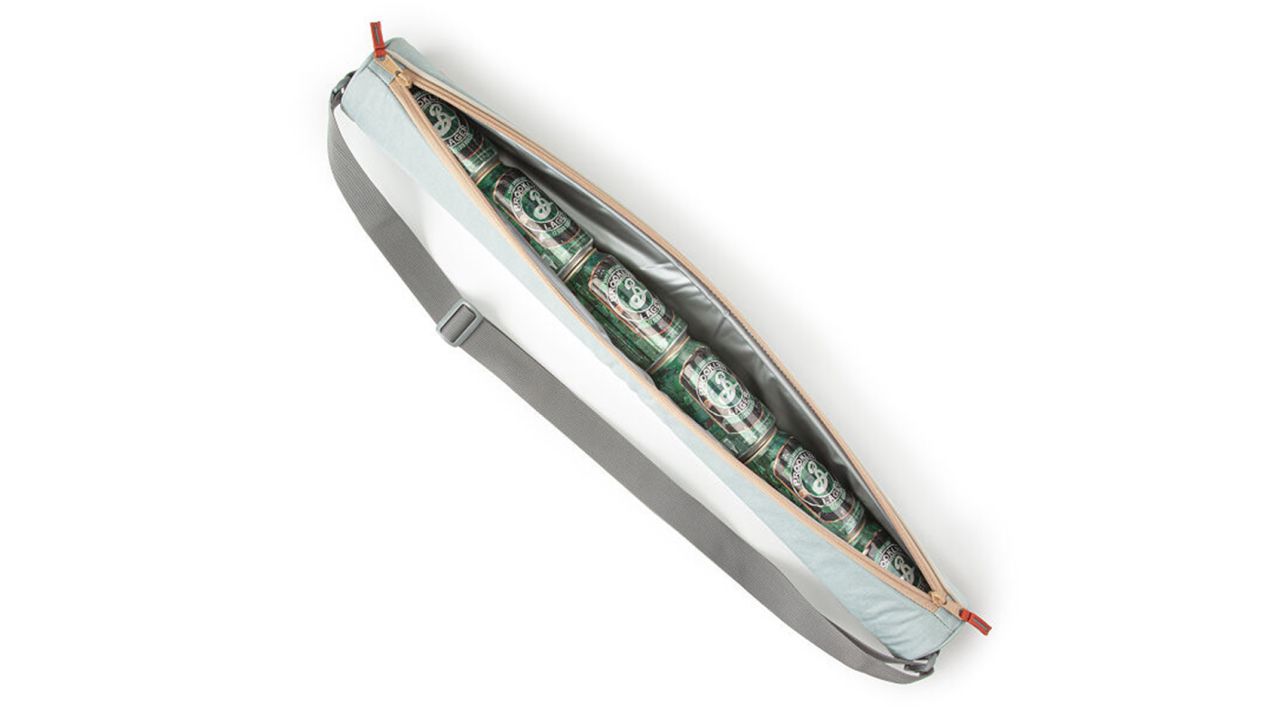 Too much stuff but not enough hands to carry everything? This portable party cooler makes carrying your six-pack that much easier for your next adventure.
Tirrinia Outdoor Folding Portable Picnic Table ($37.98; amazon.com)
Make your life easier keeping your wine and snacks stable with this portable picnic table. It features versatile holders that can accommodate cans, wine bottles or wine glasses and help prevent foods from rolling too much around.
First Aid Only All-Purpose First Aid Kit ($21.96, originally $23.75; amazon.com)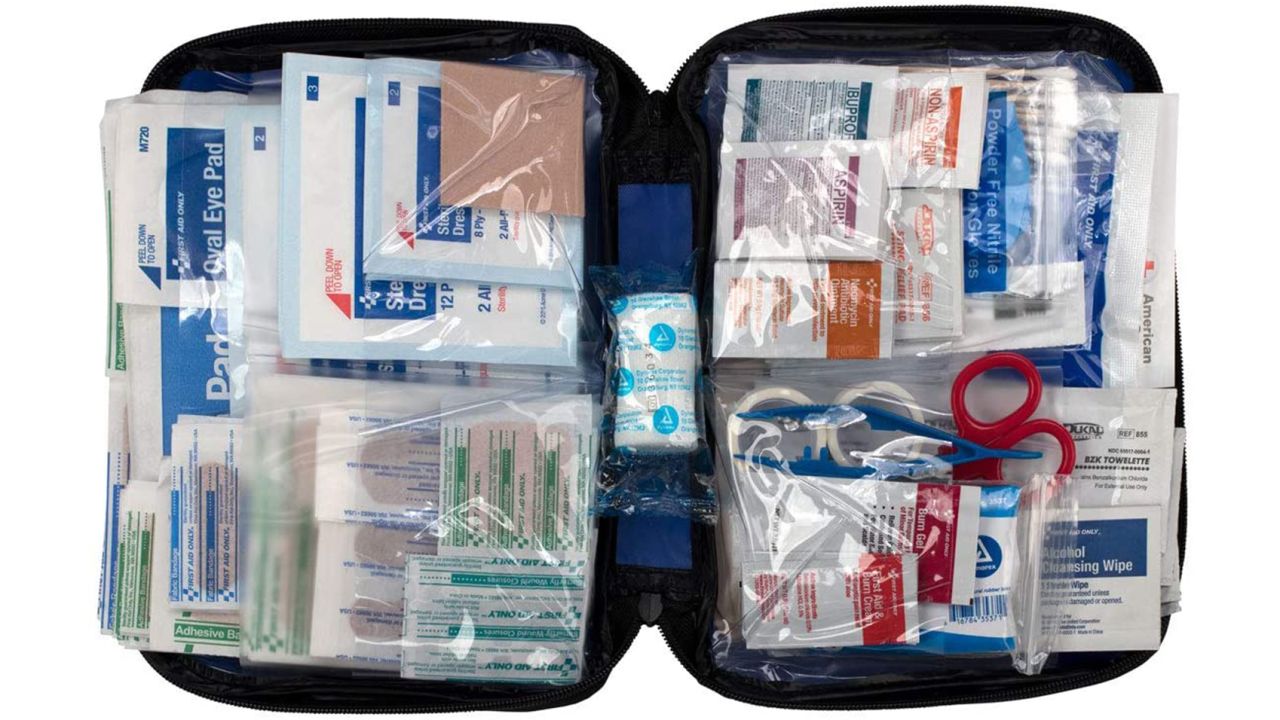 Be prepared for any emergency with this fully equipped first aid kit. It's so extensive that it has generated over 15,000 reviews.
Note: The prices above reflect the retailers' listed prices at the time of publication.