CNN —
Churro bites are a highlight of any visit to Disney theme parks. You may not be able to ride roller coasters in your living room, but you can bring the magic of Disney to your kitchen. This Disney churro bites recipe is going viral online and is a breeze to make at home with just a handful of ingredients.
There's hardly been a better time to fill your home with the scent of frying cinnamon. Let a fresh batch of churros transport you and your family to what is billed as "the happiest place on Earth." Shop the ingredients and tools below, and head over to Disney for the full recipe here.
Ingredients
What You'll Need
Calphalon Signature Nonstick 2-Quart Covered Saucepan ($74.99; bedbathandbeyond.com)
A good-sized saucepan is a kitchen essential for everything from boiling pasta to trying out a new dessert recipe. Nonstick pots are even better for this recipe because you want the ingredients to be able to form a ball.
Cuisinart Chef's Classic Pro Nonstick 12-Inch Skillet ($55.99; bedbathandbeyond.com)
When you're not deep-frying churros in it, this nonstick skillet is also the right size for eggs, pancakes, sautéing veggies and more.
Polder Glass Deep Fry/Candy Cooking Thermometer ($4.99; bedbathandbeyond.com)
Take the guesswork out of frying Disney churro bites (and anything else, for that matter) with a thermometer to let you know when the oil is just right.
Jamie Oliver Reusable Icing Bag and Nozzles ($14.99; bedbathandbeyond.com)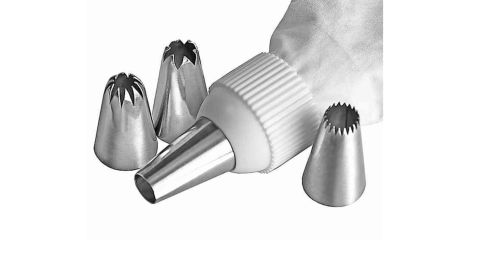 You'll need a large star tip to pipe out your churro bites. This reusable bag will save you the time of searching for refills while also cutting down on waste.
KitchenAid Stainless Steel All Purpose Strainer ($14.99; target.com)
A circular slotted spoon makes easy work of straining more fragile food items, like fluffy fried churros.
Rachael Ray Cityscapes Hot Chip and Dip Set ($39.99; bedbathandbeyond.com)
This platter and bowl from Rachael Ray work just as well for serving snacks to your family as entertaining company.
Oxo Good Grips 3-Piece Mixing Bowl Set ($22.39, was $27.99; bedbathandbeyond.com)
Mixing bowls that are easy to hang onto and clean are a baker's best friends.
Note: The prices above reflect the retailer's listed price at the time of publication.