As the seasons change, so does your wardrobe, but crisp weather shouldn't mean having to compromise on style or sustainability. That's where The Sak sets itself apart. This heritage handbag brand, known for its consciously handcrafted bags, just released its fall collection, including brand-new designs and fan favorites in soft, sumptuous suede.
So what makes this brand different from all other bag manufacturers? First and foremost, The Sak is officially B Corp certified, which means that it's met the highest standards for social impact and environmental consciousness. Its sustainability efforts extend to three distinct categories: the planet (having pledged to use only 100% sustainable materials by 2024), people (through fair treatment of all workers at every point in the supply chain) and product (by creating timeless, handcrafted bags you can feel good about). They're also dedicated to detailed, high-quality craftsmanship, which you can see reflected in every style.
These bags are a wonderful complement to your fall wardrobe because the colors are earthy, the textures are soft to the touch and the designs are as functional as they are gorgeous. Most importantly, they're either made from responsibly sourced leather or hand-crocheted with strings from recycled plastic.
Here are a few of the brand's featured favorites, perfect for your fall wardrobe: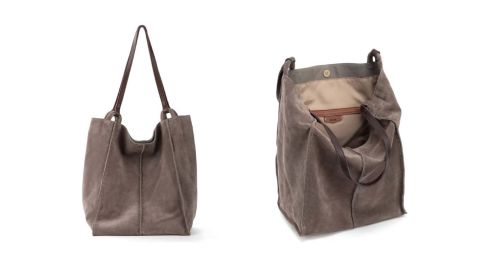 This is a taller take on the brand's bestselling Los Feliz tote. While it still retains its slouchy, relaxed appearance, its main compartment is elongated to fit even more of your essentials. Get it in four supple leather colors or a fall-friendly mushroom suede, all with its signature hand-stitching.
A brand-new style for the fall season, the Atlas Hobo in Mushroom is designed with function in mind. Its hand-crocheted exterior grounds any outfit, but it's still roomy enough inside and has designated pockets for your cash, keys and water bottle. It even folds flat so you can store it in a suitcase.
The 120 Hobo bag has earned a 4.8-star rating from almost 700 reviews — and now you can get it in new autumn-inspired shades: Mushroom and Moss Leaf. Past buyers love it for its laid-back feel, handcrafted look, sustainable materials and spacious, fully lined interior.
This bestselling bag was released earlier this year but in preparation for the fall, The Sak just released two new earthy colors in a soft, responsibly sourced suede. While its slouchy silhouette is plenty stylish, the secure zippered compartments, comfortable hand-stitched strap and lightweight yet roomy design make it practical enough for any outing.
This modern take on the classic tote is now offered in natural vachetta, an untreated leather with a stiffer texture, a luxurious touch and a versatile, goes-with-anything color. According to reviewers, the huge interior "holds everything [they] need" for work, errands or a weekend getaway, while the compartments are "perfect for organizing all [of their] stuff."
Elevate your everyday look with the Liv Satchel, which is a brand-new style that's both casual and sophisticated. It's available in five pebbled leather colors (all from a Gold-rated certified tannery), while its recycled lining has ample compartments for everything you'll need throughout the day. The best part? You can sling it over your shoulder or hold it in your hand.