If you missed out on the Fendi x Skims collaboration last month, you weren't alone. Purportedly, much of the Fendi-logoed collection sold out in 24 hours, with the brands raking in an outstanding $1 million in the first 60 seconds of its release. Let that sink in — $1 million in one minute. While that's a testament to both brands' devoted audiences, it's also proof that this collaboration is, as Kardashian would say, totally amazing.
Pairing the ingenuity of the Skims fabrics and designs with the street cred and luxury background of Fendi, the pieces — ranging from Fendi-embossed crop tops and bodysuits to leather dresses, puffy jackets and swimwear (which Kourtney Kardashian happily modeled on Instagram) — caught the attention of influencers across the globe, not to mention A-listers like Gwyneth Paltrow, Heidi Klum, Ashley Graham and, of course, Kardashian's own famous family.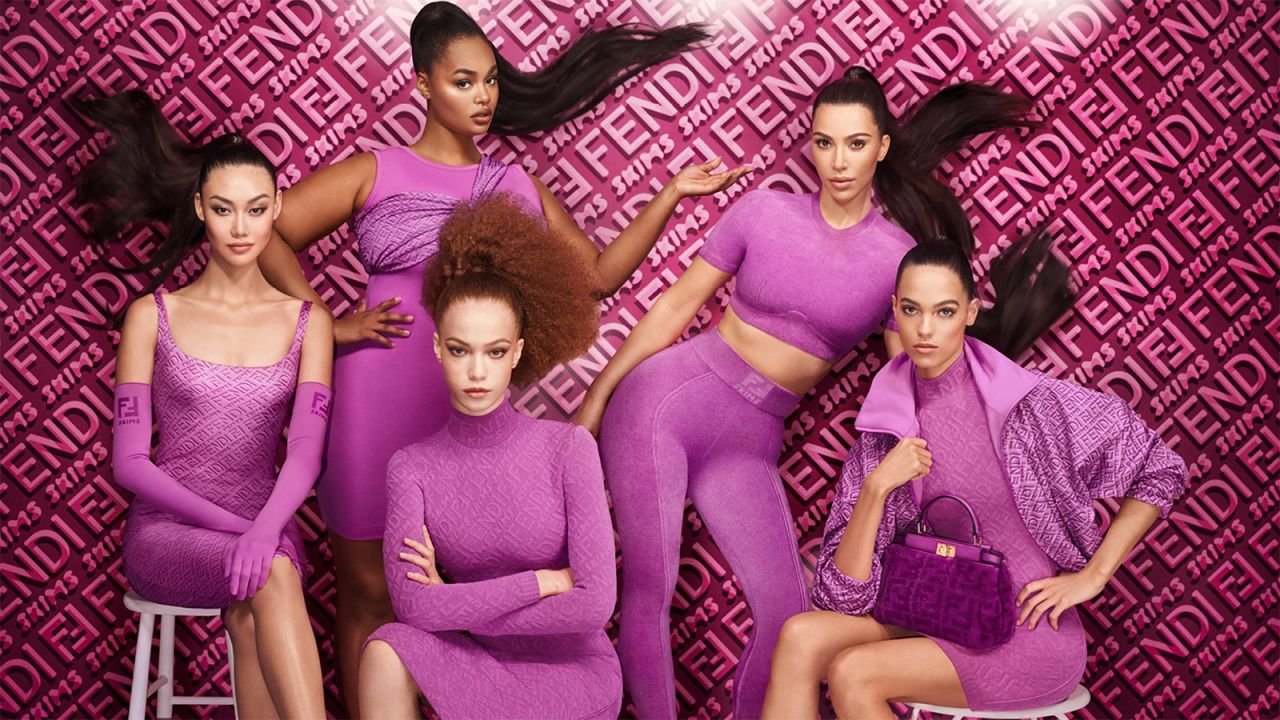 The good news is that Fendi and Skims are teaming up once again (and if you believe the industry rumors, it's for the final time) with a second drop of the collection that was released today. "A special, second release of best-selling styles from Drop 1: the logo printed bodysuits and underwear," Kardashian shared with her 268 million followers on Instagram last week, alongside images of herself donning several of the logoed pieces. "This is the final chance to own a piece of the groundbreaking collaboration between @Fendi and @SKIMS. Drops Friday December 10 at 9AM PT at www.fendiskims.com," she added in the post, which has since been deleted.
Focusing on the items that sold out in a flash — the extremely soft nylon jersey, logo-printed bodysuits and underwear — the latest drop is more affordable than the last, which went north of $4,000. Luckily, this current release is priced in the $100 to $200 range, which, while steep, is a lot cheaper than, say, those jaw-dropping leather dresses that rang in at $4,200. More to know: This collection continues to be incredibly size-inclusive, with every piece available in sizes ranging from XXS to 4X, and the colors are the beloved fuschia, red, tan, black, white and green.
Check out our favorite picks from this release below, and get shopping fast, because if history has taught us anything, it's that they won't be available for long.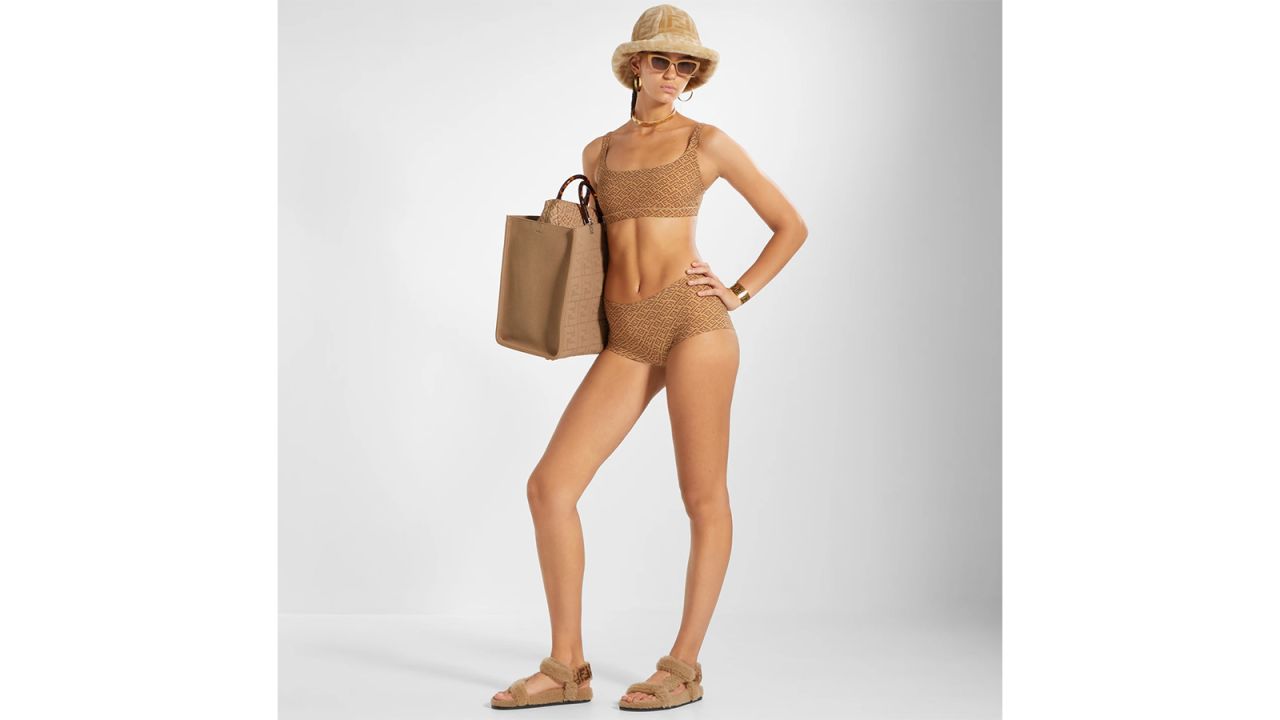 Modeled by Kardashian herself in a Skims Instagram sneak peek last week, we knew this scoop bralette was going to be part of the latest drop…and we were pretty stoked about it. Utterly sexy in design, the bralette is also ultra supportive. Show it off on the 'gram or wear it under a sweatshirt while running errands — either way it's a win-win of a purchase, and the best part is that you get two!
High Leg Bikini Pack ($100; fendiskims.com)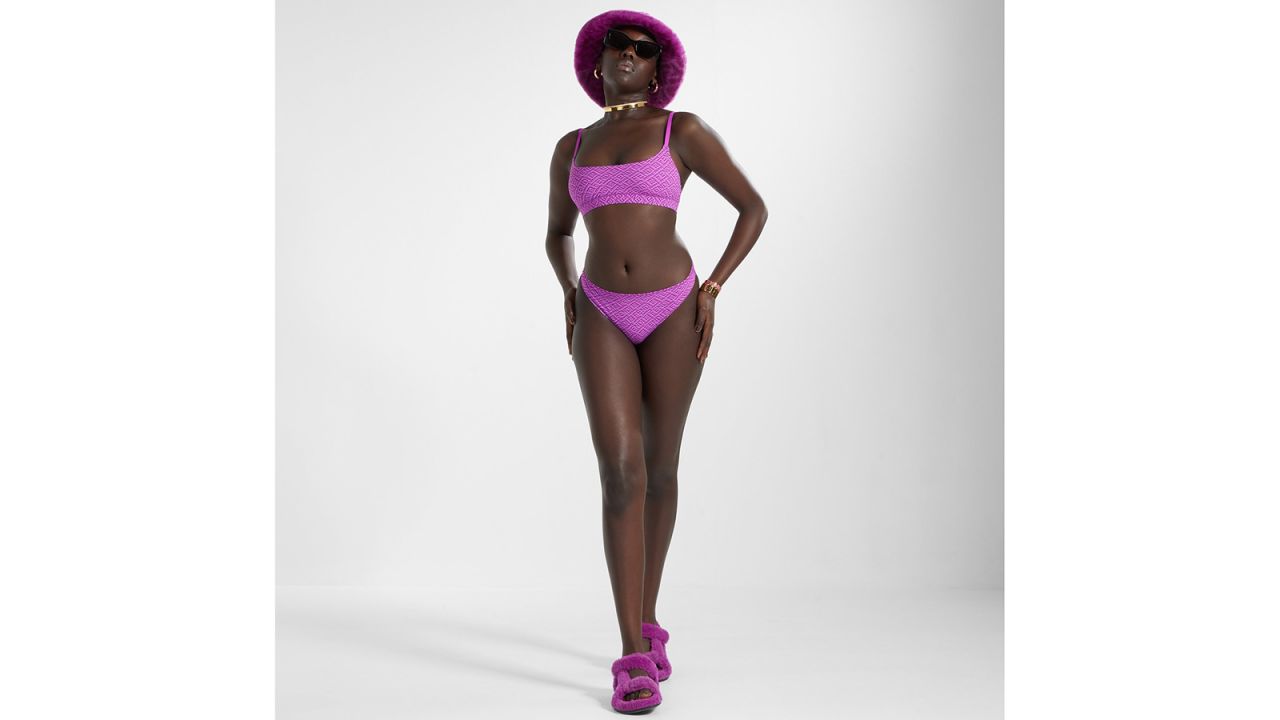 Now officially in cult-favorite status, the hybrid Skim/Fendi logo is lusted after around the world, even if it's on a pair of undies. Luckily, Skims makes some of our favorite underwear out there, so you know that these high leg bikinis are going to be ridiculously comfortable too.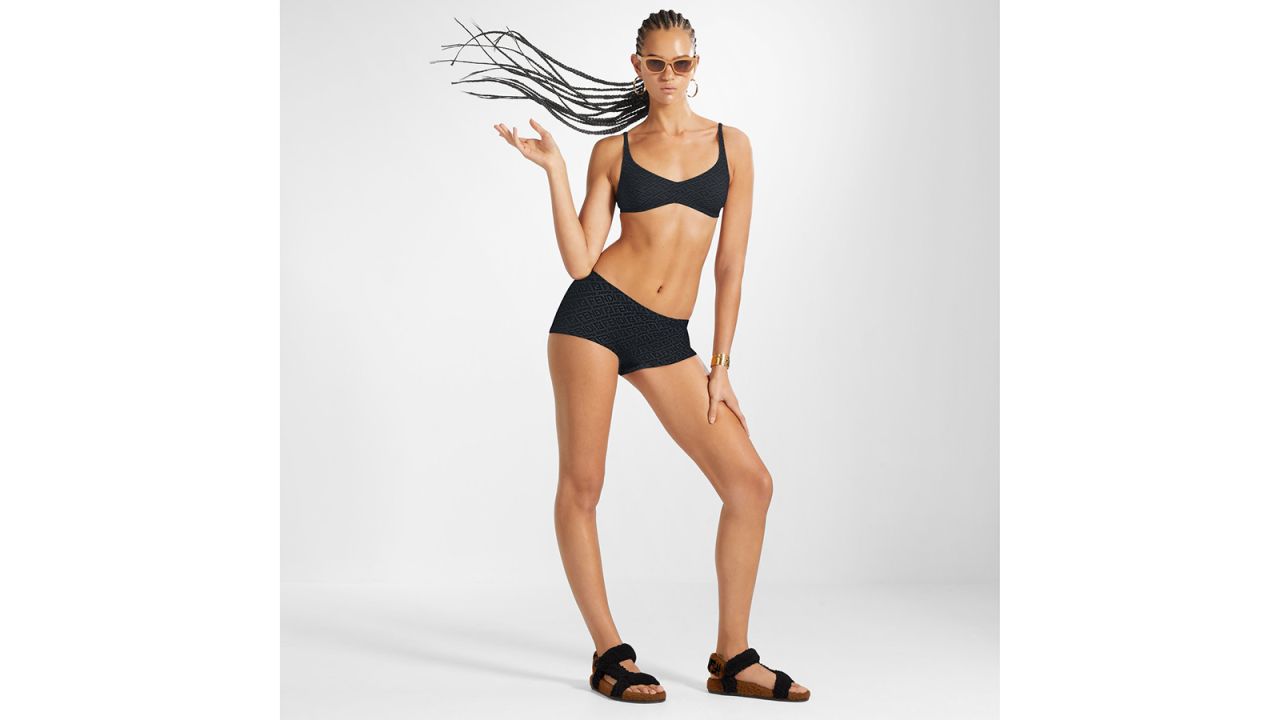 Like the scoop bralette but — you guessed it! — a tad bit skimpier, this pullover-style bra is the perfect mix of cozy and sexy all at once. Available in black and tan or fuschia and tan, the bras come in sets of two, which helps justify that price!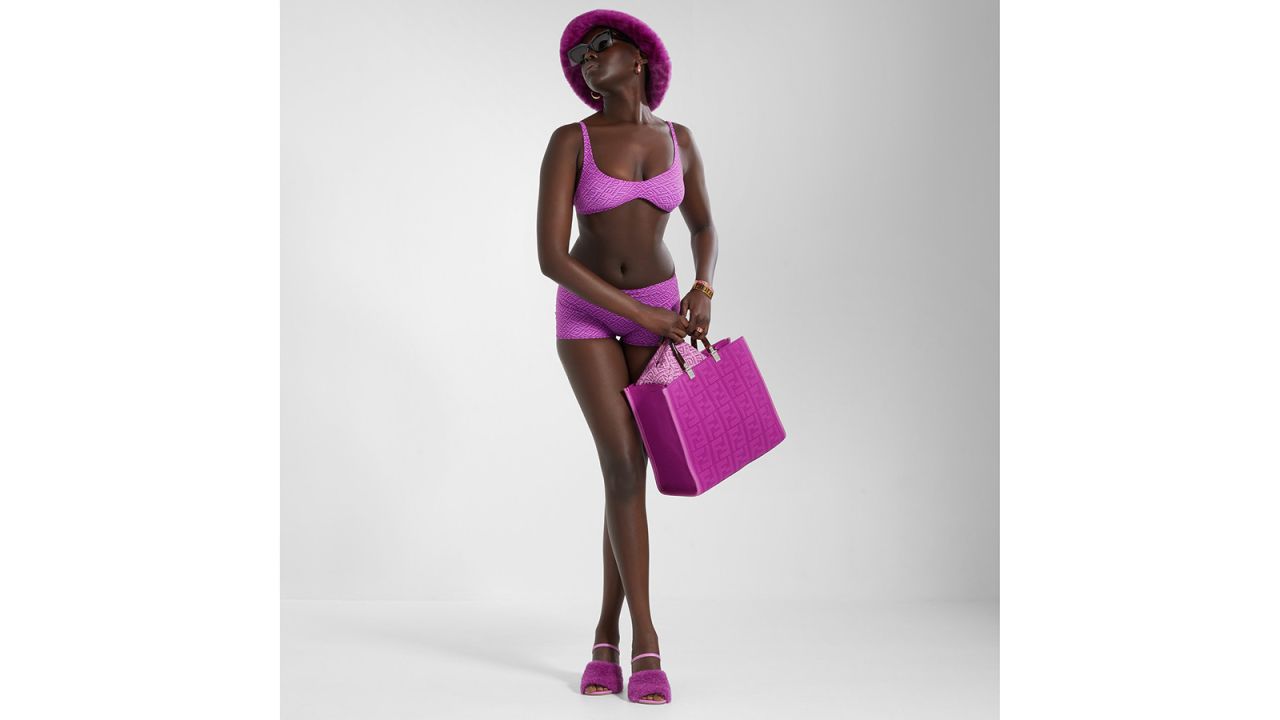 Boy shorts are never a bad idea — they're perfect under miniskirts or wearing with an oversized sweater while padding around the house — and this set bearing the hybrid logo is too cute for words.
Mock Neck Long-Sleeve Bodysuit ($175; fendiskims.com)
Let us count the ways we love a body-skimming (see what we did there??) bodysuit! Super flattering, this option boasting the hybrid logo makes your arms look thinner and your waist look smaller, which is a combination we're definitely on board with. Available in the brand's wide swathe of sizes (XXS to 4X) and in colors black, tan, red and fuschia, it's well worth the $175 price tag.
Sleeveless Mid-Thigh Bodysuit ($190; fendiskims.com)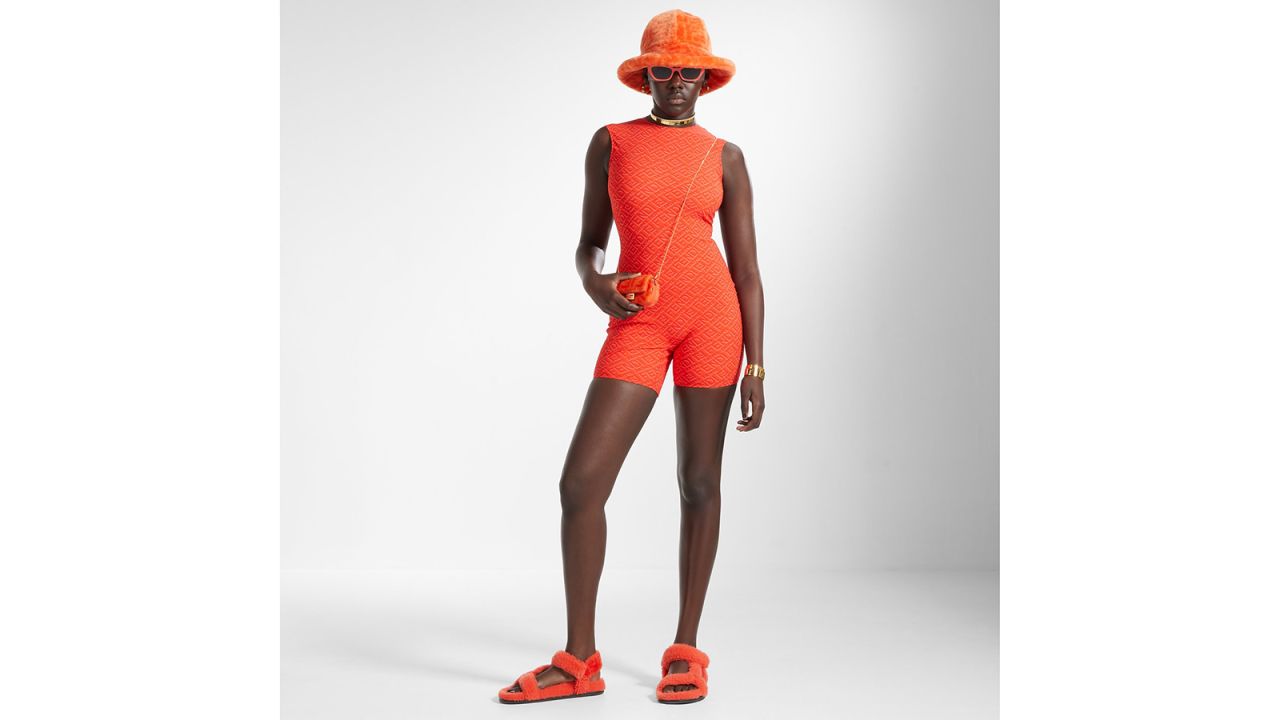 Influencers 'round the world proved that a mid-thigh bodysuit is totally suitable for daytime and nighttime wear, and we have to agree with them. Pair with heels or sneakers and you're sure to have a full-blown lewk.
Crew Neck Full Onesie ($325; fendiskims.com)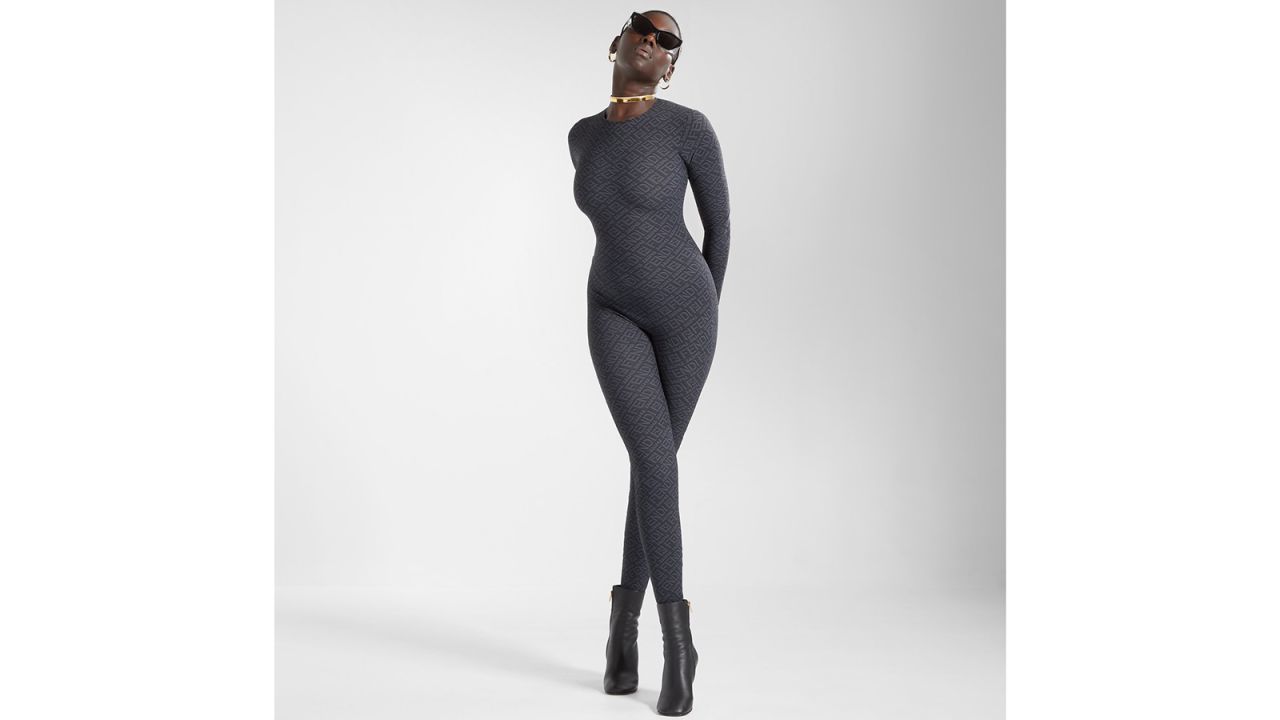 Modeled by Kris Jenner herself on Halloween, this bodysuit is a stunner in every hue, but we have to say that the black is ultra flattering. Probably the most conservative offering in this drop — it covers you from your neck to your toes! — this bodysuit is likely to be one of the most coveted too.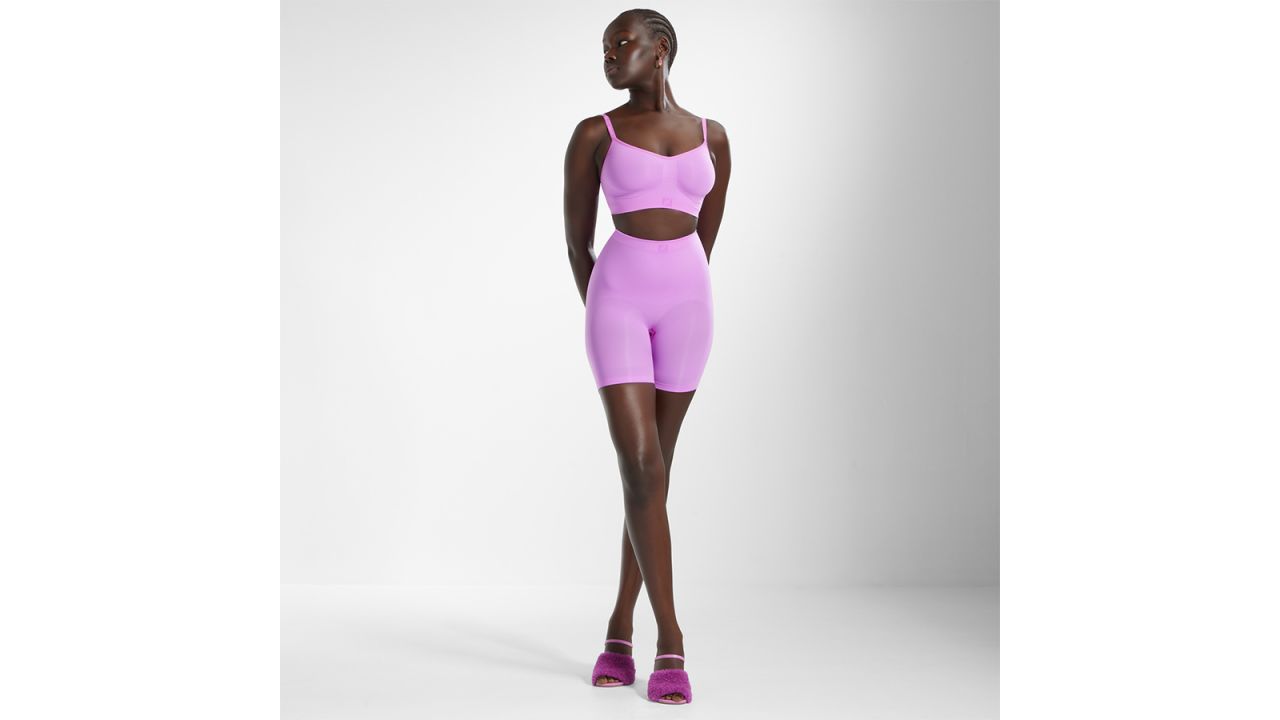 Bearing a subtle, monochromatic Fendi logo on its center front band, this seamless bra is made from a stretchy nylon that is lightweight and won't pinch or dig into your body. In addition to adjustable straps, the shapewear's other selling point (beyond being ultra flattering, of course) is the silicone-lined underband that ensures it stays put the entire time you're wearing it.
Sculpting Thong Bodysuit ($120; fendiskims.com)
Designed to sculpt and smooth your waistline, this bodysuit is perfect for pairing with leather pants, jeans or sweats depending on your mood. Available in the brand's standard XXS to 4X, it has adjustable straps and also comes in six colors ranging from white and purple to tan and black.
Sculpting Mid-Thigh Short ($100; fendiskims.com)
Shapewear hounds are going to be rejoicing that these smooth-enhancing shorts are back in stock in white, red, fuschia, tan, green and black. Featuring a sheer panel on the butt that simultaneously lifts, the shorts also have a silicone-lined waistband to prevent rolling.