CNN —
It's officially fall. And time to welcome back one of fall's official uniform elements: the turtleneck. Like the white T-shirt in summer, a turtleneck in any color of the rainbow and more — under a blazer, as a layering piece for warmth or proudly standing on its own — is a staple we can't seem to get enough of. Simple and comfortable, it makes both an obligatory Zoom call or a walk in the park with a friend a little bit more polished. Start scrolling for our favorite options for $50 or less.
The Organic Cotton Turtleneck ($28; everlane.com)
Made from 100% organic cotton, this turtleneck comes in four neutral fall colors.
Women Heattech Turtleneck T-Shirt ($19.90; uniqlo.com)
This turtleneck is equally great as a thermal ski layer or a weekday workhorse.
Women Stretch Cotton Turtleneck Long-Sleeve Shirt ($14.90; uniqlo.com)
Ribbing gives this one a bit more stretch — translating to extra comfort.
Women's Pima Cotton Long-Sleeve Turtleneck (starting at $24.99; llbean.com)
Available in 13 colors, this will become your eternal winterwear.
The Super-Soft Turtleneck Bodysuit ($38; everlane.com)
There's something wonderfully '80s dancer about this.
Mock-Neck Sweater for Women ($28, originally $29.99; oldnavy.com)
This mock version is a throw-on-over-everything-and-look-great piece.
Tissue Turtleneck ($19.71 with code 25HOURS, originally $36.50; jcrew.com)
This turtleneck's named the Tissue, and yes, that's right, it's that thin and airy.
Technically a mock, this turtleneck comes in 13 colors, with lined sleeves, and is about as versatile a piece as you'll find.
Women's Thermaskin Heat Turtleneck ($29.95; landsend.com)
More traditionally a performance piece, the Lands' End technical fabric called Thermaskin is said to absorb moisture and wick away perspiration, both key to keeping you warmer in winter.
Whisper Cotton Turtleneck ($32; madewell.com)
Like most of its pieces, this Madewell sweater hugs your curves in just the right way.
Long-Sleeve Turtleneck Top ($39; stories.com)
The elastic finish makes this look more expensive than it is.
Women's Long-Sleeve Mock Turtleneck (starting at $20.99; amazon.com)
This has loads of 5-star reviews, and it's a bargain to boot.
AE Dreamspun Mock-Neck Sweater ($31.01, originally $44.95; ae.com)
This turtleneck may fall more into the oversize waffle-knit sweater lane, but we're claiming it as a turtleneck because it has mock in the name, and because we love it that much.
A New Day Women's Long-Sleeve Turtleneck Cozy T-Shirt ($10; target.com)
Go ahead and order a few of these at a time, then put them in regular rotation this season.
Fitted Ribbed Turtleneck Sweater ($36, originally $60; express.com)
This turtleneck fits like a second skin.
Modern Turtleneck Top ($34.50; loft.com)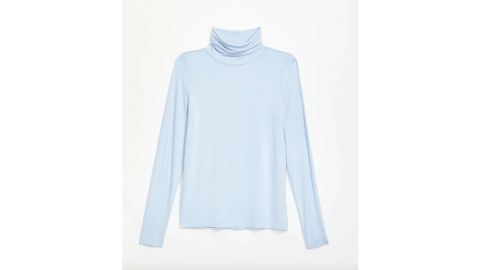 One happy customer called this material "dreamy" in a review. Isn't that how all tops should feel?
BP Turtleneck Ribbed Top ($19; nordstrom.com)
Sleek and simple with a little bit of ribbing — and the price is right.