When the holidays end and the weather just keeps getting worse, winter starts to lose its charm for a lot of people. Luckily, there are things you can do to brighten up your day-to-day, and infusing your wardrobe with some color is one of those things. To help break up the winter blues, Crocs just added some new shades to its range of color options, so whether you love calming pastels or creative tie-dyes, you can now combine functionality with personality.
If you already own a pair of Crocs' Classic Clogs, you know they're comfortable, supportive, lightweight, water-friendly and easy to keep clean. The Lined Clogs have a lot of those same qualities but with a toasty, fuzzy liner, so it doubles as a house slipper — and then there's the Crocs Sandal, which is supportive, thanks to its Croslite foam construction, and secure with its two-strap design. All of the aforementioned can be customized with Jibbitz™ charms, allow for 360-degree comfort and (as of recently) come in several new colors that are bright, bold, uplifting and unique.
Check out Crocs' new color releases — both solid and solarized — below. (When you buy two pairs, you can get 15% off with code 15OFF2P at checkout; this code only works on the Crocs website and is valid from Feb. 1 to Feb. 28.)
Classic Clog in New Classic Colors ($49.99; crocs.com)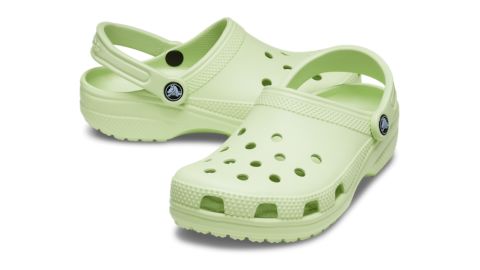 Now available in Citrus, Celery, Taffy Pink, Fuchsia Fun, Pure Water, Orange Zing and Chai, the Classic Clog is a fan favorite with over 25,000 reviews. Since it's shockingly comfortable and water-friendly, people wear them everywhere from the backyard to the beach to the public bathroom showers. "I wear these all the time at home, summer and winter. I have a lot of problems with my feet and these are the only things I can wear all day without pain," one reviewer writes. Another buyer raves, "Just bought my fourth pair. […] Most comfortable footwear I have ever worn and would recommend to anyone."
Classic Lined Clog in New Classic Colors ($59.99; crocs.com)
Stuck in the house? The Classic Lined Clog doubles as a cozy slipper, thanks to its warm, fuzzy liner. That said, since the exterior features water-resistant Croslite foam and a pivoting ankle strap for security, you can still wear this shoe while running errands or walking the dog. The bright new color options include Celery, Pure Water, Chai and Fuschia Fun.
Classic Lined Solarized Clog in New Solarized Color ($64.99; crocs.com)
For an eye-catching statement, you can also purchase the Lined Clog in a solarized pattern — one of which is the brand-new multicolor black. The inside is all about comfort with its plush, warm liner, but the Croslite foam exterior features a rainbow tie-dye pattern over a black background. One reviewer writes, "They are so comfortable and warm," and another says, "The colors are so amazing."
Classic Solarized Sandal in New Solarized Color ($44.99; crocs.com)
It's inspired by the comfort and functionality of the iconic Classic Clog, but its updated sandal design is sleek, breathable and easy to slip on, whether you're headed to the mailbox or the gym. Croslite foam offers supportive cushioning, while its two straps hug your foot and can even be customized with Jibbitz™ charms. While the Classic Sandal design has been around for quite a while (and has earned itself hundreds of 5-star ratings), Crocs just released this one, which features rainbow solarized straps against a white sole.