CNN —
Winter's swiftly approaching, so naturally we've been scouring the web for all the greatest cold-weather essentials that'll keep you warm and cozy. So far that's meant finding some truly cute and ultra-warm tights, coats, fuzzy jackets, pajamas and boots. And now it's time to talk hats.
Whether you're expecting inches of snow or just looking for a simple beanie to throw on every now and then, we found some of the highest-rated, warmest and most stylish hats to last you all winter.
Carhartt Acrylic Watch Hat A18 ($16.99; carhartt.com)
This beanie by Carhartt, available in 21 colors, is made with durable 100% acrylic that's equal parts warm, stretchy and durable. Reviewers love it for its snug fit and stylish versatility.
Ugg Cable-Knit Beanie With Faux Fur Pom ($55; nordstrom.com)
Ugg is known for its cozy boots, and it certainly didn't disappoint with this beanie. Made with a combination of acrylic, nylon and wool, it's chunky, soft and ultra warm. Reviewers think it's worth every penny.
Naadam Signature Ribbed Cashmere Beanie ($75; naadam.co)
Finding the right cashmere winter hat that's actually worth the price tag can be tough. This sustainably made, 100% cashmere ribbed beanie is a top find. Reviewers are obsessed with the versatility of its fold-over style and the ultra-soft feel.
Omechy Knit Peruvian Beanie Hat ($17.99; amazon.com)
This hat gives us winter wonderland vibes. Highlights include the cozy artificial wool liner and ear flaps that keep your head warm, making it a great choice if you live in really cold climates or are into winter sports. Reviewers say it stays snug on your head without riding up too.
The wispy texture of this editor-favorite eyelash-knit beanie is a cool modern spin on the traditional version. Although the hat has a slim fit, it'll still feel soft and fuzzy on a cold day.
C.C. Chunky Cable-Knit Beanie ($10.45; amazon.com)
This slouchy number is a fun twist on the classic cable-knit winter beanie. Made from a soft acrylic, it's the perfect hat to throw on with any outfit this winter. One reviewer says it's even big enough to fit her waist-length hair thrown in a bun.
L.L.Bean L.L.Beanie ($19.95; llbean.com)
A no-fuss beanie is a winter accessory staple. According to reviewers, it's extremely durable, maintains its shape and is, of course, as comfortable as it looks.
Boohoo Faux Fur Leopard Bucket Hat ($8.80, originally $22; boohoo.com)
If you're looking for a winter-friendly version of the bucket hats of summer, this faux fur option could work. Better yet, the leopard print will make a statement to amp up any winter look.
Free People Margot Slouchy Beret ($38; freepeople.com)
If the temps don't dip too low where you are, a wool beret like this one can channel an "Emily in Paris" vibe.
Typically when we think of beanies, we don't think much about customization. However, this one delivers just that: Pick your favorite beanie base, then your favorite topper to best suit your mood. This could also make a unique gift for the girl who loves to mix and match.
Urban Outfitters Sherpa Bucket Hat ($24; urbanoutfitters.com)
Sherpa is one of our favorite winter go-tos, so it's no surprise we're into this beanie. Like Sherpa-lined jackets, this will keep your head warm and cozy — and look cute while doing it.
Forever 21 Ribbed Tie-Dye Beanie ($9.99; forever21.com)
Let's be real: We still aren't over the tie-dye trend that took quarantine by storm. This ribbed beanie comes in both a brown and blue tie-dye print with a fold-over brim.
C.C. Ponytail Beanie Hat ($16.99; amazon.com)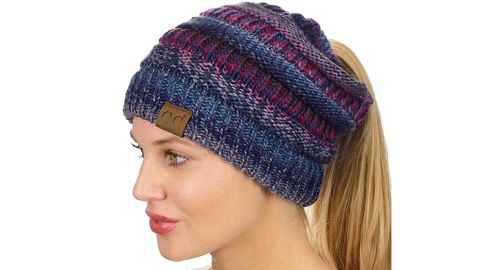 Wearing your signature sleek ponytail but don't want to sacrifice warmth for style? Protect your ears and your pony with this unique beanie. The hole at the top is convenient for messy buns too, whether you're working out or running errands.
Asos Design Twist-Front Knitted Beanie ($13; asos.com)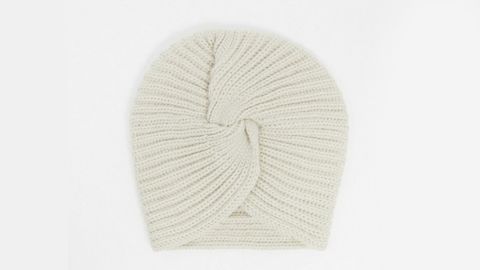 Asos hit the nail on the head with this knitted beanie. The design is simple yet unique — we haven't seen many others like it. It's almost like a cold-weather-approved turban.
Forever 21 Pom-Pom Cable-Knit Beanie ($9.99; forever21.com)
Two poms are better than one. You can stand out from the crowd with a cable-knit beanie that features two pom-poms, in either a cream/blush or black/tan colorway.
Madewell Wool Cuffed Beanie ($35; madewell.com)
This beanie from Madewell is one of its bestsellers for good reason. It's loved because it ticks all the boxes of a great beanie: a fit that's not too snug or too loose, 100% wool that's not itchy and colors that complement any look.
Free People Straight Chill Ribbed Beanie ($28; revolve.com)
We can't resist a colorblocked winter wardrobe staple. This knit beanie features a fold-over hem that will add a pop of vibrant color to your winter accessory collection.
Hindawi Knit Ski Cap With Visor ($10.99; amazon.com)
Cold, windy, sunny weather can be a little complicated when it comes to finding the right headgear. Luckily, this top-rated hat's visor blocks out the sun and protects from the wind, while the cotton fabric and faux fur lining keep you warm. It also comes in eight solid colors at a super-affordable price.
Heart and Soul Fair Isle Pom-Pom Hat ($29; modcloth.com)
This adorable heart print paired with a fluffy white pom is a serious mood-lifter during even the gloomiest of forecasts.
The North Face Salty Dog Beanie ($26; thenorthface.com)
Inspired by the hats worn by dockworkers, this beanie is designed to take on adverse weather conditions. Reviewers love it because it reflects quality they'd expect from The North Face — one even calls it the perfect beanie.