CNN —
With winter fast approaching, you may be making sure you have all the coats, hats, jackets, sweaters and even turtlenecks you'll need for icier weather, but don't forget that it's important to keep your hands toasty with a nice pair of gloves too.
Thankfully there are lots of options fit for the fashionista, the working man, the winter athlete and more that are stylish and waterproof and let you easily use your phone or grip ski poles — all while keeping your hands warm and dry. Keep reading to find our picks for top-rated winter gloves for women and men.
L.L.Bean Baxter State Parka Mittens ($59.95; llbean.com)
L.L.Bean calls these its warmest lined mittens, so you know they're designed to keep your hands toasty. They're built with goose down and a waterproof insert, so you'll be ready to take on the snowiest days.
Carhartt Men's W.P. Waterproof Insulated Glove (starting at $20.24, originally $26.99; carhartt.com)
There's no question why Carhartt's W.P. Gloves are an Amazon No. 1 bestseller. If you're looking for a pair of safety work gloves that'll keep your hands warm and dry, check these out.
Columbia Thermarator Omni-Heat Fleece Gloves ($30; columbia.com)
These gloves utilize Columbia's thermal reflective lining to keep the cold out, and they feature touch-screen tips so you can use your phone too. Reviewers say these are their go-to gloves for cold winter dog walks and runs.
Trendoux Thermal Soft Winter Gloves ($6.99; amazon.com)
Trendoux's thermal winter gloves are Amazon's No. 1 bestseller for men's cold weather gloves, and we totally see why. They come in at less than $10, and one reviewer says these might be the warmest touch-screen gloves she's ever worn.
The North Face Guardian ETip Gloves ($50; thenorthface.com)
If you're looking for a thick pair of gloves to get you through frigid temps, the Guardian ETip gloves by The North Face are a great pick. These are waterproof, made with recycled polyester insulation and feature a special construction to ensure that even your fingertips stay warm.
Knolee Lined Winter Gloves ($9.99; amazon.com)
How can you resist these gloves with their adorable button-clasp design? They're available in five colors or and a variety of two-pack options.
Barbour Leather Gloves ($100; nordstrom.com)
If you're looking for a splurge-worthy pair of handsome men's gloves, let us introduce you to Barbour's leather gloves. Reviewers think these are an excellent gift for the men in their lives, since they feature a warm faux fur lining, high-quality leather and adjustable wrist strap.
Under Armour UA Liner Gloves ($30; underarmour.com)
The UA liner gloves are made of a soft knit fabric that wicks away moisture and dries quickly, making them perfect for snowy weather.
Isotoner Spandex Cold-Weather Gloves ($19.50; amazon.com)
Don't let the leopard print fool you; these gloves mean business. Beyond the sleek look and vibrant design, this pair of spandex gloves boasts a snug fit so you can easily grip your phone, coffee cup and more.
Lululemon Sweet and Sherpa Mittens ($62; lululemon.com)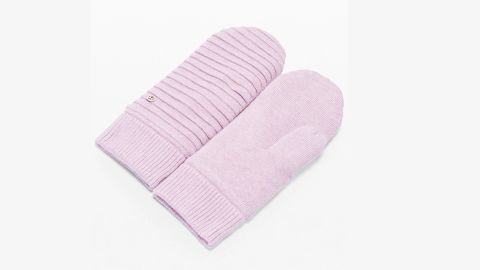 Lululemon is a favorite for exceptional activewear, so it's no surprise the brand has a pair of mittens warm enough to sustain cold-weather workouts. Not only are they stylish, but reviewers love that the double lining is super, super soft.
Accsa Winter Ski Glove ($17.99; amazon.com)
We're so into these sophisticated gloves. Available in 10 stylish colors, with a quilted design and faux fur cuff details, these are definitely warm enough to withstand outdoor festivities, according to reviewers.
Uniqlo Heattech Faux Shearling-Cuffed Gloves ($19.90; uniqlo.com)
Gotta love Uniqlo's Heattech technology to carry us through chilly temperatures. The chic shearling cuff is an added bonus.
Ozero -30°F Waterproof Winter Gloves ($29.83; amazon.com)
Reviewers love these gloves for activities like ice fishing, clearing ice and snow, and even motorcycle riding, since they're both warm and waterproof. The silicone grip on the palm is an added detail that ensures you can maneuver any equipment — and look cool while doing it.
Athleta Winthrop Glove ($42; athleta.com)
They feature water- and wind-resistant fabric, touch-screen compatibility and an outer lining for increased grip, so you'll always be reaching for these top-rated gloves.
Feiqiaosh Leather Touch-Screen Gloves ($23.99; amazon.com)
For those days when you need a mix of elegance and coziness, you'll want a quality pair of leather gloves on hand. These have a cashmere lining and extend pretty far beyond the wrist for added protection.
Adidas Men's ClimaWarm Comfort Fleece Gloves ($18.75, originally $25; macys.com)
These Adidas gloves are made with ClimaWarm fabric, feature a slip-resistant printed palm that helps you grip, and have a warm-fleece feel.
Carhartt Quilts Insulated Breathable Mitten ($18.74, originally $24.99; carhartt.com)
Carhartt not only has a popular women's glove, but this quilted insulated mitten too. Warm and waterproof, these mittens get a stamp of approval from wearers all around the country.
Sh*t That I Knit The Motley Merino Wool Mittens ($80; nordstrom.com)
Merino wool mittens scream warmth, but these have a super-helpful twist: Built-in holes for your index finger and thumb that allow you to quickly slip your fingers out to text.
C.C. Cable-Knit Anti-Slip Gloves ($11.99; amazon.com)
You can't go wrong with a pair of traditional cable-knit winter gloves. This pair has an anti-slip faux suede grip pad and the necessary smart tips so you won't feel extra clumsy and can actually text.