If you got into the whole home workout routine during the pandemic, or if you've always been into it, you know having the right equipment is key. The only problem? Most of it is seriously ugly. Luckily, Bala, the makers of the Instagram-famous Bala Bangles, doesn't think it's too much to ask for home gym equipment that actually looks good when we leave it out due to a lack of storage, space or will.
In fact, the company has just dropped The Floor Series, a new collection of gear that's perfect for people who love starting (or ending) their days with a little Pilates, barre or yoga sesh. All the pieces are available in Charcoal, Blush and Sand, so you can create an aesthetically pleasing, monochrome setup, or opt to mix and match. Here's the full breakdown of the new line:
A good mat is pretty essential for any exercise you plan on doing from the floor at home. It'll save you from bruised elbows and knees and provide proper — in this case, plenty — of cushioning. This mat is 8 millimeters thick for support and has an antimicrobial top layer that's made from faux leather to be nonslip and moisture-wicking. It's the perfect antidote to concerningly slippery yoga palms mid-asana.
Balance blocks are key for anyone looking to dive into their flexibility or find stability in their yoga poses; having something solid and stable carrying your weight or helping you find some control in a stretch is really important. For these blocks, use the flat edge down for a focus on balance; for one on intensity and stability, you can flip it over for a little teetery, Bosu-like action.
The Hourglass Roller ($45; shopbala.com)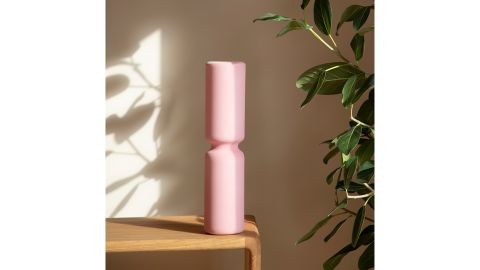 What you do after your workout is as important as what you do during it, and a roller is a great way to improve your flexibility and help reduce soreness and stiffness after you're done working your muscles.