Travel is wonderful, but it is also quite stressful. While weather and delays and a whole host of other things are out of our control, one small but incredibly impactful thing to make traveling easier — whether it's overseas or just to school, work or the gym — is to invest in items that help to organize your bag or bags.
The problem, however, is that a lot of products that purport to organize a bag don't work very well and just end up as clutter — or worse, make it harder to find the things you need when you need them. To help us sort through the chaff and get to the wheat, we asked Lilit Marcus, a travel producer for CNN Digital Worldwide, for the products she swears by for staying organized while she's on the road.
Brouk & Co Cord Snap Cable Organizer Snaps for Tech Accessories ($16; amazon.com)
"These products — which I insist on calling 'cord tacos' — are the only thing keeping my carry-on bag from being a nightmare," Marcus says. "I always have too many electronics and too many chargers, so these brightly colored cord holders help me get everything organized. I have two sets."
Alvababy Waterproof Wet Bags, 2-Pack ($9.99, originally $12.99; amazon.com)
"If it's possible to sneak in one more pool swim before heading to the airport, I'll always do it," Marcus says. "That is why I love [a wet] bag — you can store wet swimsuits and flip-flops in it without soaking the rest of your luggage." Marcus' go-to Ornandi wet bag is a bit on the pricey side at $44, but this lower-priced version is almost as good.
Poketo Folding Sunglass Case ($12; poketo.com)
"Most of my travel is solo," Marcus tells us, "which can be challenging if I'm at the beach and want to leave my stuff behind. This case stores the basics (phone, hotel room key, lip balm), is my favorite color and doesn't scream PLEASE STEAL ME."
AllSewnUpAndMore Snap Purse ($7.50; etsy.com)
Marcus received a Liberty London coin purse, which is now sadly sold out, as a gift — she loves it because it helps her organize foreign currencies for travel. "I use it to store American money," she says, "so that it's always ready to go when I'm packing for a trip back to the US. I like how it uses magnets to keep closed instead of a snap." Similar styles, like this one, can be found on Etsy and make great gifts for loved ones (or for yourself!).
TheSilverWren Jewelry Roll ($20; etsy.com)
"Even if I don't bring much jewelry with me on a trip," Marcus says, "I almost end up buying some (sigh — it's a problem), so this helps me keep it organized." Marcus uses a jewelry roll from one of her "go-to Hong Kong brands." This style from Etsy shop The Silver Wren is similar and has thousands of 5-star reviews.
Zoppen Travel Passport Wallet ($12.99, originally $13.99; amazon.com)
A large-format wallet is so useful while traveling that it's worth the extra time it will take you to transfer IDs, credit and debit cards, cash and more from your regular wallet. This wallet is roomy enough not only for a passport but also for boarding passes and other travel documents, and it comes in a ton of colors. Helpful tip: Choosing a bright color will make it easier to find your wallet inside a large travel bag.
Tigari Passport and Vaccine Card Holder Combo ($9.99; amazon.com)
Showing proof of vaccination status while traveling is just a part of life now, and if you don't use an app, figuring out a safe and easy-to-access mode of carrying your vaccine card is critical. We like this combo passport and vaccine holder for its simplicity and low price point.
Timewall Handbag Tote Bag Purse Organizer Insert ($13.49; amazon.com)
Bag organizer inserts are one of those things you don't know you need until you have one, and then you don't know how you ever lived without one. When selecting a bag organizer, always measure your bag before making a purchase to ensure it will fit, and look for styles in nylon or polyester that are easy to clean. It's also smart to pick a patterned, light or brightly colored interior bag insert, since finding things inside a dark bag can be difficult.
Travelon Pewter RFID-Blocking Purse Organizer ($21.99; containerstore.com)
This handbag organizer is practically perfect: It's made of polyester, so it's lightweight and easy to clean; it's a neutral beige with an aqua lining to help you better see the contents in a bag with a dark interior; and it has small handles that allow you to easily pluck it from one bag and place it in another, along with all your stuff.
Paoixeel Backpack Insert Organizer ($16.99; amazon.com)
People who travel with a backpack — whether it's on vacation or just to school, work or the gym — will love this organizer insert designed to fit backpacks. This insert has gray piping that helps the eye better see what's inside, and because it's made of nylon, it's easy to wipe clean in the event of a spill.
Ztujo Felt Bag Organizer Insert With Zipper (starting at $15.88; amazon.com)
While I personally would like to discourage you from buying a felt bag organizer insert because they are extremely difficult to clean, they are a popular style, and this particular version has a lot of things going for it: It comes in a number of shapes and sizes, making it easy to find the right fit for your favorite bag; it comes in 12 colors; and it has 13 different sized pockets, including a zipper compartment.
Reaowazo Roll-n-Snap Shopping Tote ($8.49; amazon.com)
I have a roll-n-snap shopping tote I got as a shopping bag after buying a Yumi Kim dress that is the singularly most useful reusable tote I have ever come across, and so of course I cannot find a similar style for sale anywhere.  After scouring the internet, this set of three shopping totes is the closest I came, and I urge you to buy them all before this incredible bag goes fully extinct.
JSF Travel Folding Clothing Hangers, 6-Pack ($12.99, originally $13.99; amazon.com)
A folding hanger isn't just a great idea for travel — although it is, especially if you'll need to do any hand-laundering while you're on the road — it's also a handy thing to stash in a gym bag if you need to steam an outfit before heading out for the evening.
SmellRose Travel Mat and Cover for Hairstyling Tools ($5.08; amazon.com)
Curling and flat irons are typically too big to fit in a cosmetics case, but it's a smart idea to pack them in some sort of protective covering so they don't get banged up in your suitcase, gym bag or work bag. Sure, an old sock works just fine, but this inexpensive heat-resistant silicone pouch also doubles as a mat to protect surfaces from heat damage while the iron is in use.
JJ Power Foldable Waterproof Shoe Pouches ($14.99; amazon.com)
For people who travel with sandals, flip-flops, ballet flats and/or shower shoes, these double-sided shoe pouches will be a fantastic investment. One compartment is large enough for a standard size shoe, and the top flap serves as a separate compartment that can fit a low-profile shoe, maximizing packing space.
Hopsooken 5-Piece Packing Cubes Set ($19.99; amazon.com)
In our roundup of the best packing cubes, our reviewer says of this 5-piece set, "This value of a set includes two large cubes, which are particularly useful for packing bigger items of clothing and for longer trips."
Euow Barrel Makeup Bag ($7.99; amazon.com)
In our guide to the best makeup and toiletries bags for travel, our reviewer liked this barrel-shaped bag that stands upright as an "option that works well for travel-size toiletries and makeup brushes." Many people will find they need cosmetics bags in two or more styles to accommodate differently shaped grooming items, and this is a good one to add to your collection.
Monstina Makeup Bag ($6.99; amazon.com)
"This affordable case from Monstina is great if you travel with a lot of makeup brushes," our travel bag reviewer said, and as someone who travels with a lot of makeup brushes — albeit most of my travel is around the corner to the gym — I agree! It has elastic slots that can hold brushes or tubes of makeup (mascara, eyeliner, lip gloss, etc.), and smaller compartments that can hold anything from a pot of blusher to a small piece of jewelry.
Cadence Capsule ($14; cadence.com)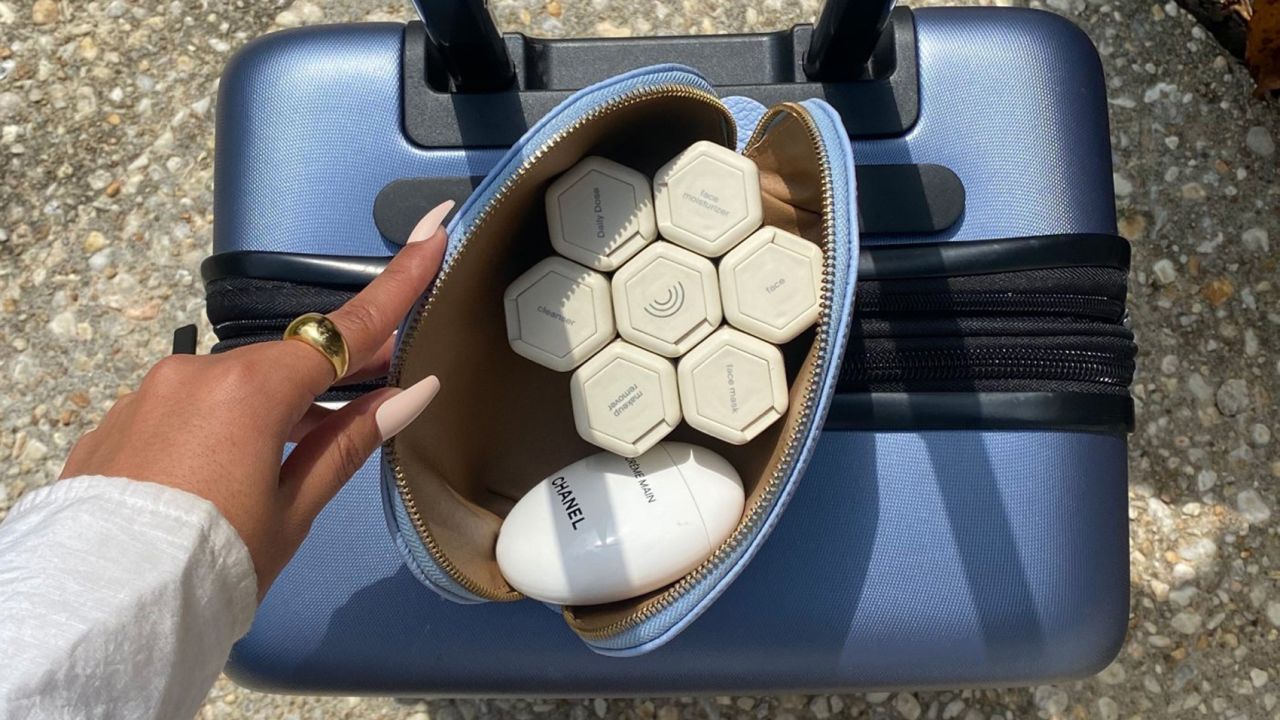 Another pick from our toiletry bag roundup is the Cadence Capsule. These sturdy, leakproof and customizable containers snap together and can be filled with grooming products like moisturizer, medications, jewelry and lots more.
Pack All Water-Resistant Zipper Pouch ($10.99; amazon.com)
And finally, sometimes you just need an all-purpose pouch to hold small items in a purse, backpack, carry-on or suitcase. This one is water-resistant, which makes it practically perfect, and it comes in three sizes, so there's one for just about every need.