CNN —
Zoom is huge these days. The cloud-based meeting platform, which lets you jump into virtual conferences with video, audio and screen-sharing options, is a great way to continue conducting business when so many people have to work from home.
Zoom, which runs on both Windows and Mac, is a download that requires an account, but it's free. You may find personal uses for it, such as virtual viewing parties for your favorite shows and movies. Perhaps your job requires a daily check-in to make sure you're all still on the same page. Whatever the reason you're using Zoom, if you're new to the program, it can feel daunting — especially with the many recent security and privacy concerns. It's no surprise that Zoom can be rife with security issues (such as people joining your meeting uninvited) or problems with the way it stores and encrypts data.
If you choose to use Zoom — perhaps because that's the only thing your company will allow, or because you don't want to spend extra cash or switch to a different provider — there are ways to ensure you have added security with each call. Just be sure to follow the tips we've laid out here.
How to set up a meeting
If you want to set up your own Zoom meeting, rather than joining someone else's, you'll need to have the client installed. Download the software via the Zoom Download Center by choosing the Download button under Zoom Client for Meetings.
Once you've installed Zoom, sign in to be greeted by a series of different icons. You should see an orange icon with a camera on it that says New Meeting. When you select this option, you'll be taken into a new virtual conference room. Look at the bottom of the conference window for a person-shaped icon with a plus sign next to it, labeled Invite. When you click it, you'll be prompted to invite people to your meeting. You can do so via your Contacts list or by typing in a list of email addresses.
When you've invited the people you want, you'll need to wait in your virtual room for participants to join. If you need to close the meeting for some reason and make a new one, be sure to choose the End Meeting button at the bottom right corner of the window before starting a new one.
How to mute and unmute yourself
If you're not ready to speak when you join a Zoom meeting, or you just want to stay silent to keep a barking dog or chattering kids from being disruptive, you'll want to familiarize yourself with the mute button. If you're using audio routed through a computer or mobile device, look at the icons in the menu bar on the screen to see if you're muted or unmuted by default.
If you see a red slash over the microphone icon, you are muted. To turn the mute off, click the Unmute button at the bottom left corner of your meeting window. Other participants should be able to hear you just fine, as long as your audio is set up correctly. You can always switch to a different audio input during your meeting (a headset to your computer's built-in microphone, for example) by pressing the Audio Options button. You can also use this option to join in via phone while still connected to video on the computer client.
How to send messages with chat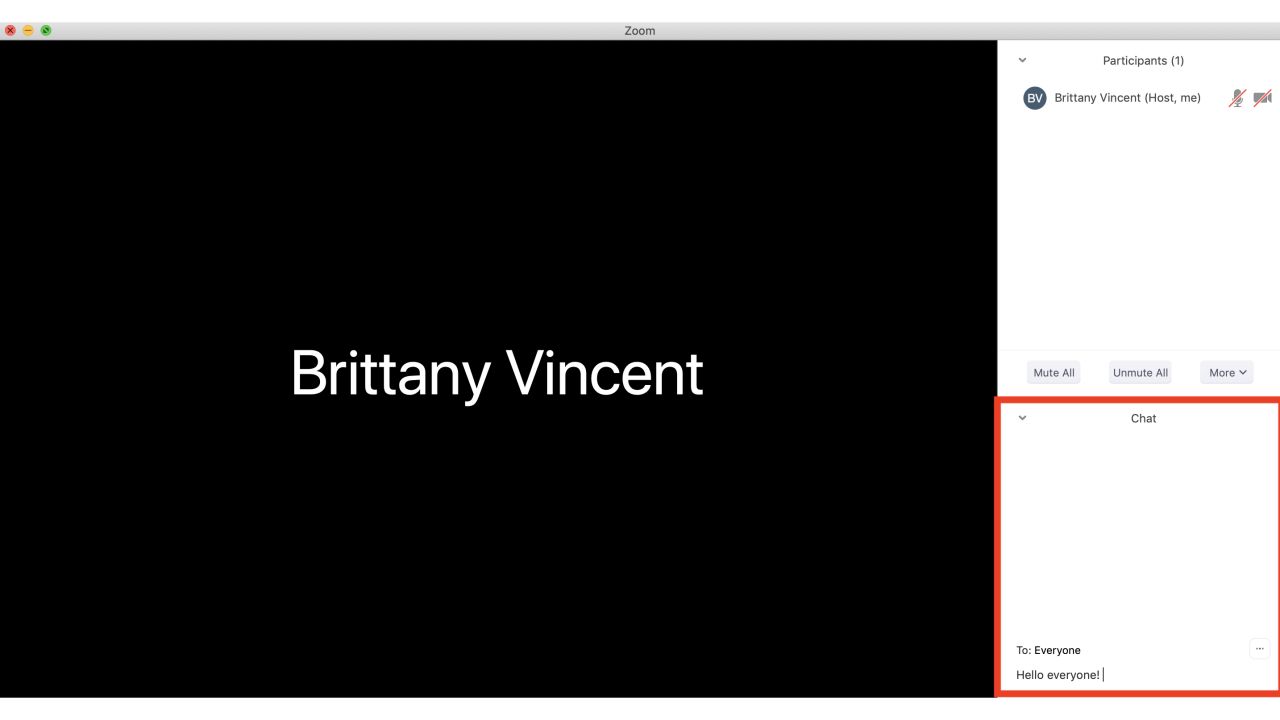 Like Google Hangouts or Skype, Zoom allows participants to use a text chat to send messages. Click the Chat button in your menu bar to open the call-wide Chat panel. Type in what you'd like to say in the text box at the bottom of the screen, and then press Enter to send your message. This will let everyone participating in the call see your words. It's useful for sharing things like links to websites or for ensuring everyone has information during a meeting.
How to hide or choose a different background
Sometimes, your living space just isn't as neat as you'd like. We've all been there. Or maybe you just don't want to share a look at your home with teammates or strangers. Zoom has a solution for that called a Virtual Background. You can select a custom background in Zoom to cover anything behind you with built-in images, a black background or whatever you prefer.
Choose the gear icon in the top right corner of the window to open Settings. Choose Virtual Background from the series of selections to the left. Once you select this option, you'll see a quick video preview of what you and your surroundings look like. Below the preview window, there should be a selection of different images you can set as your background.
If you have a green screen, select the option I Have A Green Screen so that your background will function more effectively. You'll see the background you selected appear behind you. Ta-da! No more scrambling to clean up, and you've protected your privacy!
How to make your meeting room private
By now, you've likely heard of the practice of Zoom bombing. This is a phenomenon that's gained traction now that so many people are spending time at home during social isolation and quarantine. Zoom bombing occurs when uninvited individuals are able to access your private Zoom meeting to share inappropriate content or otherwise disrupt your meeting.
You can avoid this by creating a password for your meeting before scheduling it, which will ensure that no one can enter your meeting without it. Be sure, when you schedule your meeting and send invites, to click the checkbox beside Require Meeting Password. This will allow you to fill in a password and share it with the people you want to attend your meeting.
This is one of the simplest ways to lock out unwanted visitors, but you can also lock your meeting, which prevents anyone else from joining, even if they have the password. At the bottom right corner of your meeting, click More and then Lock Meeting. Anyone who tries to attend after that will be greeted with a message stating "No new attendees can join this meeting once locked."
These are two surefire ways to ensure you don't fall victim to Zoom bombing.
Note: The prices above reflect the retailer's listed price at the time of publication.