CNN —
This fall, owners of any Apple Watch Series 3, Series 4 and Series 5 will notice an upgrade courtesy of watchOS 7. This upcoming new watchOS brings with it sleep tracking, new workouts, hand-washing reminders and the ability to share watch faces.
We've been testing out the developer beta of watchOS 7 since June 22 and, if you can't wait until this fall, you can join the watchOS 7 public beta right now, the first one offered by Apple for its watchOS.
It's your chance to try the new features, with the caveat that you'll likely encounter bugs and slowdowns. You can see our guide on installing the watchOS 7 public beta here, but it's important to note that the iOS 14 public beta is required and needs to be on your iPhone.
After a few weeks testing the beta, it's clear that sleep tracking is definitely the standout feature. Hand-washing is the surprise feature that will cause a splash, especially with all of us being more conscious about staying healthy. Besides those two, it's more of a refinement year with watchOS as a whole.
Sleep tracking is finally here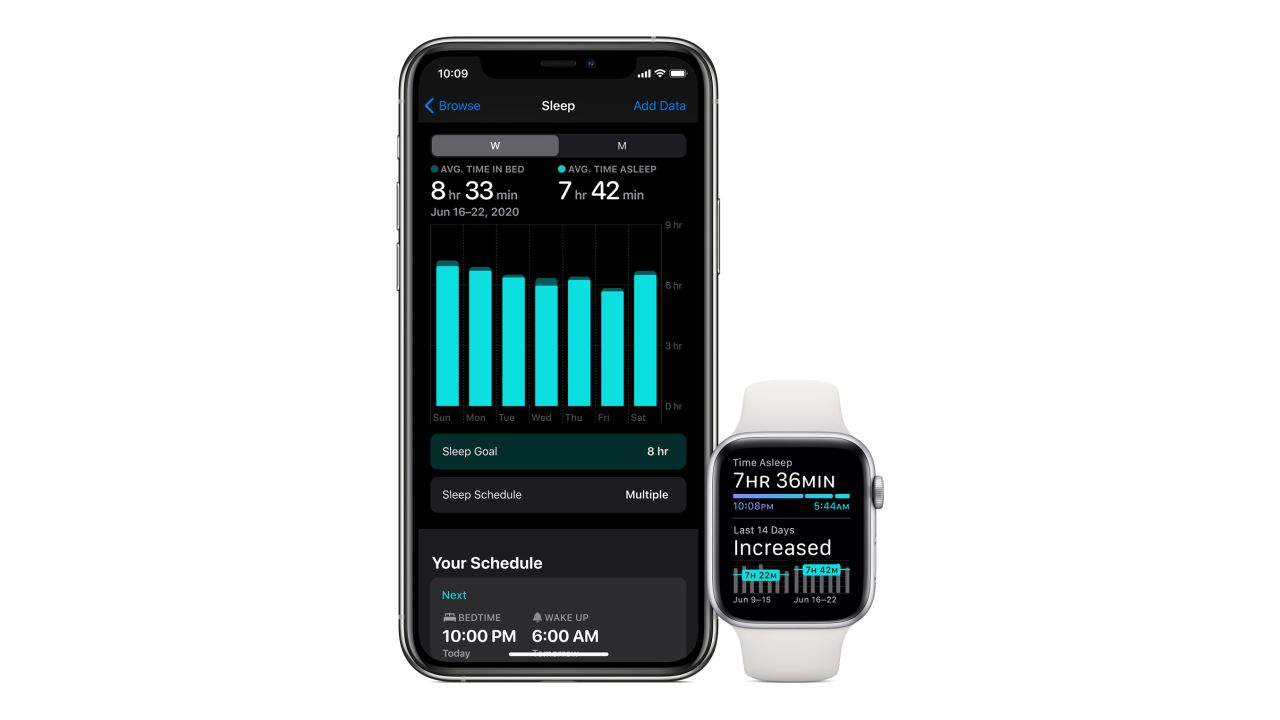 Sleep tracking has been rumored for years now, but watchOS 7 finally makes it official.
At its most basic, the tracking functionality simply makes sure you get to sleep on time and start good habits. It won't provide in-depth data about how long you were restless or the different stages of sleep, but it'll remind you to go to bed and maintain a constant number of hours. To initiative, go to the Sleep app, choose a time to go to sleep and set when you want to wake up.
We've been operating with a bedtime of 11:30 p.m. and a wake-up time of 7 a.m. You can also choose the alarm tone and set the days for this time, which is helpful since you can set different times for weekdays versus the weekend.
The Apple Watch tracks sleep via the accelerometer (a sensor inside that detects acceleration) and also monitors respiration and your heart rate. When you wake up, you're presented with a screen that shows how long you were asleep, the battery level, the time and the weather.
Battery life was an initial concern, as watchOS 7 brings new features but no new hardware. That hasn't been a problem, and we've been able to fit our Apple Watch Series 5 into our sleep routine. Sleep tracking requires a minimum of 30% battery to track an average night's rest. It's doable, especially if you get in the habit of charging it once you wake up or before going to bed.
For instance, we went to bed with about 93% battery life and woke up with about 60%. It's enough to make it through most of the day, but if you work out, you're likely going to need a charge.
Waking up with the Apple Watch is nice. The alarm is audible, if you're not in silent mode, and it's paired with haptic feedback on your wrist. It's like a subtle tapping that doesn't freak you out but works to get your attention.
We like how the iPhone is tied into this experience. Let's say you wake up, put the Watch on charge and go through your morning routine. The iPhone will receive a push notification when the Apple Watch reaches 100%. It just makes sense and helps you fall into the pattern of charging when you wake. It also doesn't leave you digging for data.
The Wind Down mode fits in with the idea of a routine. Essentially, you can set Wind Down mode to turn on whenever you'd like before your bedtime — be it 15 minutes or two hours before. It starts by silencing calls and messages, providing you with an easy way to disconnect and clear your mind.
All of your sleep data lives in the Health app, and as you can see from the screenshot above, the data focuses on patterns and how you've slept. We've been consistent with an average of six hours and 39 minutes of sleep over the past month.
As a whole, we dig that sleep tracking has been implemented on the Apple Watch. For starters, there are many ways to set attainable goals, which the interface helps you achieve. It also brings tremendous value to the Apple Watch Series 3, Series 4 and Series 5 with a core feature that has long been requested.
Show off your watch faces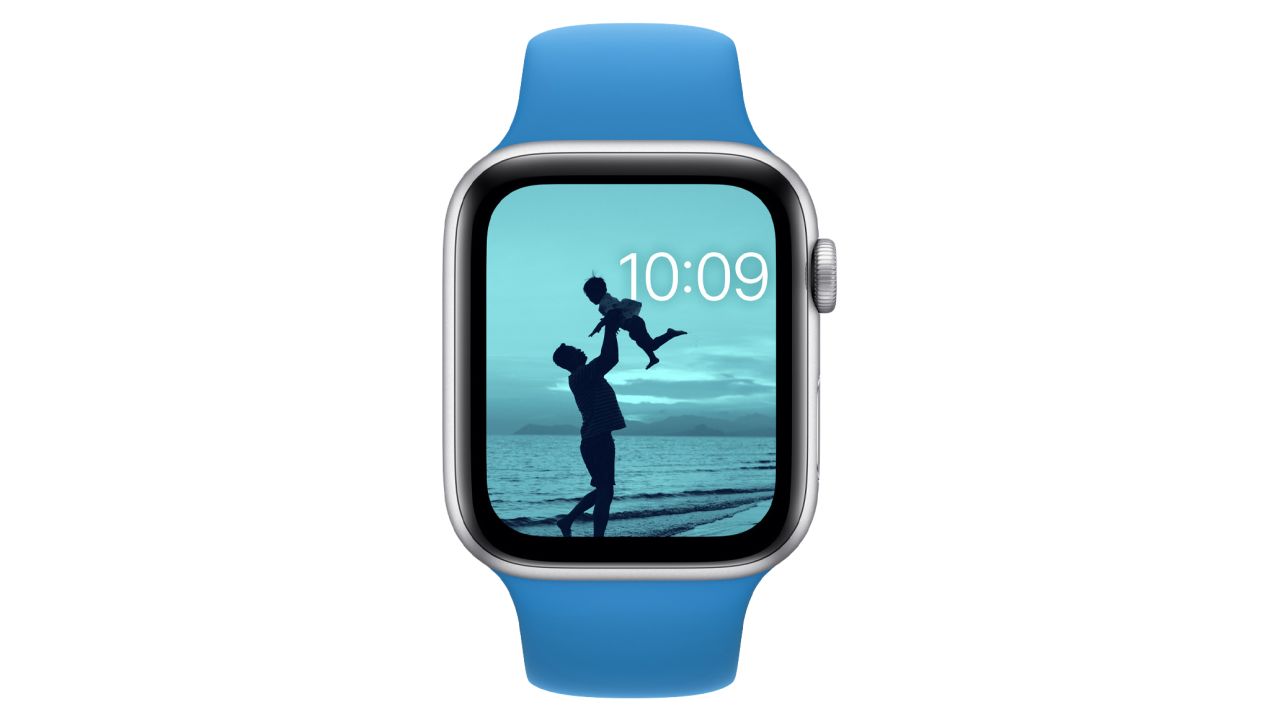 No, watchOS 7 didn't bring a watch face store or open the ability for third-party developers to make faces. But the Apple Watch has given users and developers more customization through complications (or widgets on a watch face) forever. And once you create a face you love, you can easily share it with others. You simply long-press on a watch face as if you're going to customize it, then tap the little share icon. If you choose to iMessage it to someone, it will send a file of the face.
Developers can offer more than one complication per app, thanks to watchOS 7. We haven't had the opportunity to try this, but for a weather app, it could mean having multiple temperatures or data sets from a city appear on the same face. As with integrations with Wind Down, we're excited to see how this is implemented in the fall.
To get the train rolling with watch face sharing, Apple will highlight its favorites in the App Store, but you'll also be able to share watch faces on the web.
The Apple Watch tracks hand-washing
After living through the coronavirus pandemic for a few months, hand-washing has become ever more important. And the Apple Watch will now track your hand-washing in two core ways: It will monitor and listen for the soap pump, as well as water and wrist movement, to ensure you're washing your hands for 20 seconds, and will remind you to wash your hands when you return home. The reminder portion is quite helpful and taps into the power of the GPS on your wrist.
And as an added bonus, there's a bubbly interface for hand-washing. Your Apple Watch will show a countdown that generally starts at 16 or 14 seconds (after it has identified that you're indeed washing your hands) with a font made from soap bubbles. You get a nice "Well Done" or "All Done" once the time is up.
And if you want to see the data, you can track hand-washing in the Health app. Fun fact: We've been averaging a 29-second wash.
Everything else
Akin to iOS 14 and iPadOS 14, watchOS 7 has core flagship features and many other little tweaks. We're still playing around with the next-generation software and will continue to update this preview guide. Here's what else is new in watchOS 7.
There's an entirely new Translate app with iOS 14. You can now perform on-wrist dictation with a simple Siri request.
Cycling directions can be started from your wrist and are optimized for the Apple Watch.
The companion Activity app is now Fitness, with design that focuses on more than just daily goals. Core activity metrics, recent workouts and trends take center stage.
Dance, Cooldown, Functional Strength Training and Core can now all be more accurately tracked.
You can add filters to the Photos watch face or pick from the new Chronograph Pro or X-Large faces.
Sleep tracking and hand-washing are the standout features in our experience with watchOS 7. We have a feeling that sharing watch faces will be more useful once more people have the software.
If you're sold and want to try the public beta, it's rolling our right now, and the installation isn't too bad. You'll need to visit Apple's Public Beta Portal and sign in with your Apple ID. The big important note? To install the watchOS 7 Public Beta, you'll need to also be enrolled in the iOS 14 Public Beta. We strongly recommend a backup on the iPhone front to avoid losing any data. For the Apple Watch, you'll select the beta, and it will prompt you to install a profile. Your watch will restart, then you'll navigate to Software Update to install the beta. After that install, you'll be set with the watchOS 7 Public Beta.
Note: The prices above reflect the retailer's listed price at the time of publication.