CNN Underscored is bringing you the best of CES 2022 all week — be sure to check out our coverage hub for the biggest tech products worth getting excited about.
We've all been there — you're getting ready to leave for work or a trip, and your trusty backpack is nowhere to be found. Sure, stuffing an AirTag in your bag of choice can help solve this problem, but Targus is making it so you don't have to.
The company's new $149 Cypress Hero Backpack features integrated Apple Find My technology, meaning you can use your iPhone to track it down just like you would with an AirTag or pair of AirPods. It's one of the more promising gadgets we've seen come out of CES 2022, so let's take a closer look at what it has to offer
Backpack, meet AirTag
The Cypress Hero is the first backpack with built-in Apple Find My support, allowing you to take advantage of all the tracking capabilities found in Apple's popular AirTag tracker without having to buy one separately. That means that, in the event it goes missing, you can fire up the Find My app on your iPhone, iPad, Apple Watch or Mac to spot its last known location on a map.
The Cypress Hero also works in reverse, with a button inside that you can press to ping your phone in the event your iPhone goes missing. It's all powered by a module built directly into the backpack's interior so you don't have to worry about remembering to toss an AirTag in your bag. Targus says this could offer some extra protection against would-be thieves — after all, it would be much easier for someone to remove an AirTag from a stolen bag.
Find My integration aside, the Cypress Hero offers many of the key features of Targus' Cypress line. That includes a dedicated laptop compartment, a large outer compartment ideal for accessories and front pocket for quickly storing things like cables and power bricks.
It even features a handy trolley strap should you need to affix it to your luggage at the airport. And like many CES gadgets we're seeing for 2022, it also aims to be eco-friendly, with a design built from 26 recycled water bottles.
The takeaway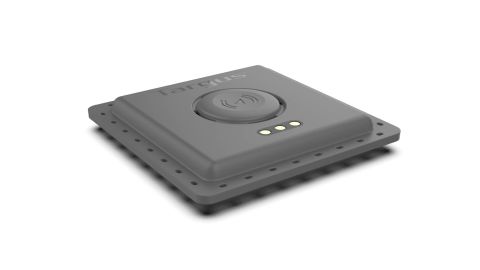 The Cypress Hero Backpack is looking like a smart solution to a very real problem — after all, who hasn't misplaced their bag before? We were impressed by the AirTag's accurate tracking capabilities when we reviewed the device last year, and we like the idea of a bag that has that same functionality built-in so you never have to remember to toss a tracker inside.
While we haven't used this new model, we're fans of the build quality and storage options in previous Targus backpacks and are eager to take the Hero's Find My integration for a spin. It's one of our finalists for the best tech of CES 2022, and it's slated to launch this summer for $149.