Once Samsung announced its promising 2022 TV lineup earlier this year — including its first OLED set in nearly a decade — we were eager to get our eyes on the new models as soon as possible. So we went all the way to a special Samsung Facility in New Jersey to do just that, spending a full day watching movies, playing games and fiddling with settings in order to get a sense of how well these new high-end TVs hold up for everyday entertainment.
After many hours in front of Samsung's OLED 4K, QLED 4K and 8K and Serif and Frame TVs, here are our early impressions.
The Samsung OLED 4K S95B proves the wait was worth it
Perhaps unsurprisingly, the big standout of the Samsung TV lineup we tested was the company's 65-inch OLED 4K S95B — after all, it is the company's first true OLED in nine years. The wait for a new Samsung OLED is shaping up to be worth it, as everything we watched on the S95B popped off the screen in a way that put it above the other displays we tried out.
The engrossing nature footage of Planet Earth II was bursting with color and detail on Samsung's OLED TV. We could make out every tiny scale on a komodo dragon's skin during a terrifyingly true-to-life close up, and the browns and blues of the movie's vibrant jungles and forests looked beautifully vivid. When we switched over to Peacock to catch up on some Premier League football, the green grass of the field looked noticeably richer than it did on Samsung's QLED TVs. Same goes for when we fired up Forza Horizon 5 on an Xbox Series S and sped through multicolored foliage under a blue sky in the game's gorgeous recreation of Mexico. And while we generally recommend a soundbar for any TV set, the OLED's built-in speakers did a fine job clearly relaying the chaotic battle dialogue in "Avengers: Endgame."
In terms of nuts and bolts, Samsung's OLED TV packs 8.3 million individually lit pixels to deliver enough bold colors, deep blacks and sharp contrast to set it apart from non-OLED sets. It can use AI to upscale any content to crisp 4K, packs Quantum HDR (High Dynamic Range) for movie-quality color and supports FreeSync Premium and up to a 120Hz refresh rate for a smooth gaming experience on Xbox Series X, Series S and PS5.
Samsung's S95B OLED is on sale as of this writing, currently starting at $1,999 for the 55-inch model and $2,799 for the 65-inch.
The latest Neo QLED 8K and 4K models look great
It's not every day you get to stare at an 85-inch 8K television in a custom theater room, but we got to do exactly that in Samsung's facility. The other big highlight of our hands-on time, Samsung's Neo QLED 8K delivers stunning picture quality and some really great contrast if you're willing to pay up — and wait patiently for true 8K content.
"Avengers: Endgame," a movie I've watched countless times, looked more detailed than I've ever seen it on the 85-inch QLED. I could pick out every nuance of Tony Stark's emotional reaction to being reunited with Peter Parker, and once I pulled myself together, the colorful superheroes-blowing-up-aliens stuff looked as good as I remember it from the theater. When I switched over to an 8K nature video on YouTube, I was impressed by the contrast between the fog-white skies and the birds and branches up close — no blurring or blown-out colors in sight. It's worth noting that I also tried out a 65-inch Neo QLED 4K model, which provided a similarly great experience on a smaller screen.
It was on Samsung's QLEDs where I spent the most time with the company's latest Smart Hub interface and SolarCell Remotes, both of which worked well for the most part. Samsung's latest TV software is more comprehensive and puts most of the streaming apps you probably want (such as Netflix, HBO Max and Hulu) front and center, as well as access to some free TV channels via Samsung's built-in TV Plus service. As a gamer, I especially appreciated the fact that the QLED automatically detected that I had an Xbox connected, and even allowed me to use Samsung's remote to control my console.
I also briefly toyed with Samsung's Game Bar, which lets you monitor things like input lag and refresh rate — two things that are especially important if you're playing a competitive game or just want to make sure you're getting the most out of your current-gen Xbox or PlayStation. My one gripe is that navigating Samsung's interface with the remote felt a little laggy across all of the TVs I tested. We believe this is connected to some network issues we had in the testing space, but it was frustrating nonetheless. For what it's worth, we're currently testing The Frame 2022 TV at home, and aren't experiencing any notable latency.
The Neo QLED is currently up for pre-order starting at $2,399 for the 55-inch model. If you pre-order before June 5, you'll get the TV professionally mounted in your home for free, which is a nice perk. After that, the QLED 4K will be generally available from June 6.
If you're looking to future-proof yourself for the eventual 8K onslaught of content, or just want the highest processing power you can get now for all your content, the Neo QLED 8K QN900B model starts at $4,799 for the 65-inch model and goes up to $7,499 for an 85-inch.
The Frame and Serif: The TVs for art and style aficionados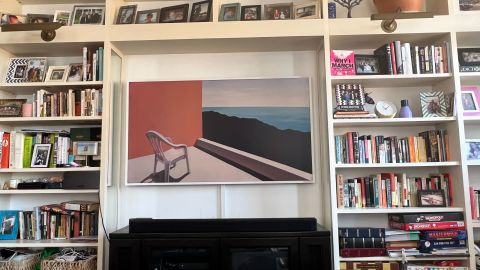 We also got some time with the latest versions of The Frame and The Serif, two televisions that are designed to be statement pieces in your home just as much as they're built to pump out your favorite movies and shows in 4K.
We were fans of the previous-generation version of The Frame, praising its unique ability to display attractive art (rather than a dull black screen) when you're not actively watching TV. The new 2022 model introduces an anti-glare display, and when looking at the old and new models side-by-side against harsh sunlight, the upgrade does seem to make a big difference. Sun-proof display aside, you're getting the same access to Samsung's digital Art Store (with a $4.99-per-month or $49.99-per-year subscription fee) and a QLED 4K screen for when you're not admiring your favorite masterpiece. We're currently testing The Frame 2022 for a full review, so stay tuned for more.
The Serif takes the opposite approach of most modern TVs, sporting an intentionally thick, white-bordered design that's designed to sit on a shelf or on its included easel stand. Like The Frame, it has an anti-glare display, which, combined with the aforementioned stand, could make it a good option for outdoor viewing parties. You also get many of the same benefits as Samsung's other flagship TVs, including a QLED 4K display and Samsung's Smart Hub for browsing your favorite apps. A streamlined design created for smaller, minimalist spaces, this TV-on-easel seems a bit niche compared to the company's other offerings, but we're eager to dive deeper into one when we get the chance.
The Frame 2022 currently starts at $599 for the 32-inch model and goes all the way up to a $3,999 85-inch model.
The takeaway
We were impressed by all of Samsung's 2022 TVs, but the S95B OLED stood out the most during our limited hands-on time. It's generally more affordable than the QLED models (but still not cheap), and in some cases, looked even better. We'll have to see how it stacks up to some of our best TV picks from TCL, Vizio and Sony, but out of what we saw, the OLED is what we'd recommend to most people.
The Neo QLED 4K looks like a good pick if you want more internal smarts for things like upscaling as well as more size options (it goes up to a whopping 85 inches). We don't think anyone really needs an 8K TV right now, but the 8K QLED may be worth considering if you have a large budget and want to be future-proofed for when 8K content eventually becomes the norm. The Frame is a good option for those who want a TV that doubles as an art display, while the more niche Serif could have some use for outdoor viewings or any kind of room that could benefit from its unique easel stand.