Samsung's new Galaxy Tab S8, S8+ and S8 Ultra are a compelling trio of tablets that will compete directly with Apple's iPad Pro lineup. All three of Samsung's new tablets have a dedicated laptop mode, come with a stylus and have impressive displays.
Both sizes of Apple's iPad Pro have their respective benefits, like a wide selection of apps and deep integration across Apple's hardware and software products. Below we'll walk you through whether one of the Galaxy Tab S8 models or the iPad Pro is the best option for you.
You should get the Galaxy Tab S8 if…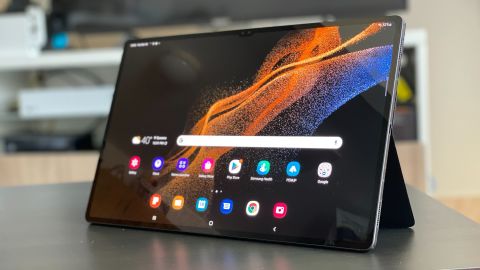 You want a large display
Samsung's Galaxy Tab S8 Ultra has an impressive 14.6-inch screen, which is the biggest display on any Samsung or Apple tablet. The closest an iPad gets to that size is the 12.9-inch iPad Pro. A bigger display isn't always better because of the extra size and bulk it can add, and it remains yet to be seen if the Tab S8 Ultra will be too big. But the tablet's display impressed us in our limited hands-on time so far, and we have a feeling that it's going to be a joy to use.
You don't want to pay extra for a stylus
Every Galaxy Tab S8 model comes with Samsung's S Pen stylus in the box, unlike Apple's iPad Pro lineup which doesn't include the $129 Apple Pencil. The S Pen can be used on the Tab S8 to sketch out ideas, jot down notes or navigate through the interface. You don't have to worry about charging it (like you do with the Apple Pencil), and it attaches magnetically to the back of the Tab S8 — next to the rear cameras — for easy access and safe storage while traveling.
You want a laptop replacement
The argument about whether or not a tablet can replace a laptop isn't going to be settled anytime soon, but the Tab S8 lineup offers a compelling solution. When you attach any of the three tablets to one of Samsung's Keyboard Covers you can use it as a standard Android tablet, or activate DeX mode to give the tablet a laptop-like interface. You can still use the same Android apps you already have installed, but you can have multiple apps in windows and a desktop — just like you do on a Mac or Windows computer.
You should get an iPad Pro if…
You already own a lot of iPhone apps
The iPad Pro uses Apple's App Store, just like the iPhone, and many apps are designed to work on both devices. That means if you've bought an app, such as GoodNotes 5, to use on your iPhone, you won't have to buy it again for your iPad. The same approach applies to in-app subscriptions. If you subscribed to Flexibits Premium for access to Fantastical and Cardhop, you won't have to pay for multiple subscriptions.
You want more apps built specifically for a tablet
One common critique about Android tablets is that Google hasn't optimized Android to work on larger displays, and third-party developers don't take advantage of the limited tools Google built. Apple, on the other hand, has iPadOS, a dedicated operating system specifically for its tablet lineup that includes mouse and trackpad support, and specific tools and interface options for developers to take advantage of. There's very little debate about it — the iPad lineup, including the iPad Pro, has higher quality apps available for it.
You want unmatched performance
The iPhone and iPad have long had a reputation of offering the best performance you can find in a phone or tablet. With the release of the 2021 iPad Pro update, Apple used the same processor that's currently found in the MacBook Air and some MacBook Pro models. Yes, the iPad Pro is using the same Apple Silicon M1 processor that the company's most popular laptops use — and that translates into impressive performance that we've yet to experience on another tablet. You can keep as many apps open as you like, create large scale illustrations and even export edited 4K or 8K video.
You're happy living in Apple's walled garden
Apple likes to boast about how deeply integrated all of its products are with one another. From the Apple Watch taking full advantage of the iPhone and AirPods, to the iPad Pro receiving phone calls and messages from your iPhone — it all just works together. With the beta release of iPadOS 15.4 and MacOS 12.3, we're getting a glimpse at the next step in Apple's tight product integration with Universal Control. Once the updates are officially released you'll be able to control your iPad Pro using the same keyboard and mouse or trackpad you use to control your Mac by simply moving the mouse cursor off your screen. While it's easy to blame Apple for hubris when talking about seamless integration, there's something to be said about just how impressively well features like Universal Control work.
Bottom line
To some extent, the decision about which tablet you buy comes down to whether you're already in the Apple or Samsung ecosystem. But when you start to break it down further than that, there are some clear benefits to the iPad Pro and Tab S8, respectively. The iPad Pro is our top pick for powerful performance, something our experience confirms every time we unlock it, and the app library available for it is unmatched. The Tab S8, however, has the option of a bigger display, DeX built-in and an S Pen included in the box.
Galaxy Tab S8, Tab S8+, Tab S8 Ultra and iPad Pro 11-Inch, iPad Pro 12.9-Inch specs
| | | | | | |
| --- | --- | --- | --- | --- | --- |
| Display | 11-inch LED display with 120Hz refresh rate | 12.4-inch Super AMOLED display with 120Hz refresh rate | 14.6-inch Super AMOLED display with 120Hz refresh rate | 11-inch Liquid Retina Display with 120Hz refresh rate | 12.9-inch Liquid Retina XDR Display with 120Hz refresh rate |
| Processor | Qualcomm Snapdragon 8 Gen 1 | Qualcomm Snapdragon 8 Gen 1 | Qualcomm Snapdragon 8 Gen 1 | M1 Processor | M1 Processor |
| Storage | 128GB / 256GB | 128GB / 256GB | 128GB / 256GB / 512GB | 128GB / 256GB / 512GB / 1TB / 2TB | 128GB / 256GB / 512GB / 1TB / 2TB |
| Cameras | 13 megapixel autofocus/6-megapixel ultrawide with flash (rear); 12 megapixel ultrawide (front) | 13 megapixel autofocus/6-megapixel ultrawide with flash (rear); 12 megapixel ultrawide (front) | 13 megapixel autofocus/6-megapixel ultrawide with flash (rear); 12 megapixel FF/12 megapixel ultrawide (front) | 12 megapixel wide, 10 megapixel ultrawide (rear); 12 megapixel ultrawide (front) | 12 megapixel wide, 10 megapixel ultrawide (rear); 12 megapixel ultrawide (front) |
| Battery | 8,000mAh | 10,090mAh | 11,200mAh | 7,538mAh | 10,758mAh |
| Stylus included | S Pen Included | S Pen Included | S Pen Included | Apple Pencil (2nd Gen) supported | Apple Pencil (2nd Gen) supported |
| Price | $699 | $899 | $1,099 | $799 | $1,099 |