The Galaxy Tab S8 Ultra and Surface Pro 8 seem pretty similar on the surface — no pun intended. They're both premium tablets that start at $1,099.99, can transform into full-on laptops with a keyboard accessory, and have stylus support for jotting down notes or doing some digital drawing on the go.
However, once you power up these two versatile slates, you'll be treated to two entirely different software experiences: one that's ideal for casual use, and one that's better suited for serious work.
So which slate should you buy? We've tested the Galaxy Tab S8 Ultra and Surface Pro 8 extensively, and are ready to help you make that decision.
The Surface Pro 8 has a superior design and better accessories — if you're willing to pay
The Galaxy Tab S8 Ultra and Surface Pro 8 are both relatively sleek tablets that you shouldn't have trouble taking on the road. For those that are tight on bag space, the Surface Pro 8 has a smaller overall footprint than the biggest Tab S8, though Microsoft's slate is also slightly thicker and heavier. But the real differences lie in the details.
The Surface Pro 8's design has the edge here for a few reasons, starting with its built-in kickstand (you'll have to buy a keyboard cover if you want to prop up the Tab S8 Ultra). Microsoft's two-in-one also features two Thunderbolt 4 ports (the latest standard for high-resolution displays and fast data transfers), which are a big advantage over the Tab S8's single USB 3.2 Type-C port.
Both of these tablets do a good job transforming into laptops, thanks to optional keyboard add-ons that snap on magnetically for easy plug-and-play typing. We enjoyed using each device's keyboard, but Microsoft's $179.99 Signature Keyboard feels better, and is much cheaper than the $349.99 Book Cover Keyboard you can buy for the Tab S8 Ultra.
However, if you care about having a stylus, Samsung wins the value game here. The Tab S8 Ultra comes with Samsung's S Pen by default, whereas the Surface Pro 8 requires you to get a $59.99 Surface Pen or $129.99 Surface Slim Pen 2 (we tested the latter).
We found that Samsung's and Microsoft's pens both worked great for everyday sketching and note-taking, and the S Pen in particular has some great bonus features such as the ability to translate text by simply hovering over it. However, the Surface Slim Pen 2 features advanced haptics that do a better job mimicking the actual feel of using pens and markers on paper, so you will get what you pay for.
TL;DR: Get the Surface Pro 8 if you want better ports and don't mind paying up for better accessories. Get the Tab S8 Ultra if you want a slimmer tablet with an included stylus.
The Tab S8 Ultra gets you a bigger, bolder display — and a better webcam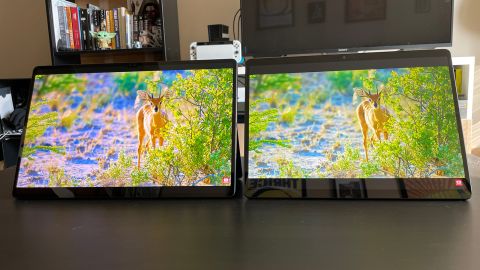 The Tab S8 Ultra's 14.6-inch Super AMOLED display is noticeably bigger and bolder than the Surface Pro 8's 13-inch panel. When watching an 8K nature video on both tablets side by side, we noticed that the Tab S8 offered significantly richer colors, while the Surface Pro 8 looked more neutral.
Samsung screens tend to be more saturated than the competition — which might not be everyone's preference — but we enjoyed the extra pop provided by the Tab S8's display when watching movies and doing work. It's worth noting that both of these displays have a smooth 120Hz refresh rate, which allowed us to have a similarly fluid experience when scrolling through web pages and taking notes with a stylus on each device. And while neither slate's built-in speakers will blow your mind, we found both of them perfectly sufficient for casual music listening and video calls.
The Surface Pro 8 and Tab S8 Ultra both have good webcams, but Samsung's slate is the way to go if you want to look as crisp as possible during video calls. The Tab S8 Ultra's 13-megapixel front camera took larger shots that were both more detailed and color-accurate, and it has a useful auto-framing feature that keeps your face front and center while you move around.
TL;DR: Get the Galaxy Tab S8 if you want a bigger, more colorful screen and a better webcam.
The Surface Pro 8 has better performance, but the Tab S8 Ultra lasts longer
Both of these tablets offer more than enough power for everyday tasks, and we were able to jump through a ton of different apps — and no shortage of memory-sucking Chrome tabs — on both devices without any major slowdown. However, if sheer performance is your priority, the Surface Pro 7 has an edge.
On the Geekbench 5 test (which gauges overall performance), the Surface Pro 8 turned in multi-core scores that nearly doubled what we got from the Galaxy Tab S8 Ultra. More notably, Microsoft's two-in-one ran circles around Samsung's slate when it came to graphics performance, with a Geekbench Compute score of 19,649 that's nearly four times higher than what the Tab S8 Ultra pumped out.
| | Surface Pro 8 | Galaxy Tab S8 Ultra |
| --- | --- | --- |
| Processor | Intel Core i7-1185G7 | Qualcomm Snapdragon 8 Gen 1 |
| Geekbench 5 (multi-core) | 5327 | 3336 |
| Geekbench 5 (compute) | 19649 | 5765 |
| Battery life (hours:minutes) | 7:05 | 10:32 |
This largely comes down to the types of processors in these machines. The Surface Pro 8 offers a full-on laptop chip with your choice of an 11th-Gen Intel CPU (we tested a Core i7 model), whereas the Tab S8 Ultra uses the same Qualcomm Snapdragon 8 Gen 1 mobile chip that powers Samsung's Galaxy S22 lineup. So while both devices can handle basic multitasking fine, only the Surface can pump out true laptop-grade performance for those doing demanding visual work or juggling lots of heavy apps at once.
But while the Surface Pro 8 is faster, the Galaxy Tab S8 Ultra has significantly better battery life. Samsung's tablet lasted a strong 10 hours and 32 minutes of continuous 4K video playback on our battery test, beating the Surface Pro 8 (7:05) by more than three hours. Both of these devices will get you through most of a typical workday unplugged, but the Galaxy Tab S8 Ultra is the better pick for those who are constantly on the go.
TLDR: Get the Surface Pro 8 for the fastest possible performance; go with the Tab S8 Ultra for better battery life.
Android or Windows?
Here's the single most important choice you'll make when deciding between these two machines: Do you want an Android tablet or a Windows PC? While the Tab S8 Ultra and Surface Pro 8 are both designed to function as a tablet and a laptop, they each excel at one over the other.
The Surface Pro 8 is a full-on Windows 11 computer with a keyboard attached, giving you access to the wealth of apps and features available on Microsoft's latest operating system. Most productivity and creative programs are covered here — from the Microsoft Office suite to Photoshop — and Windows is built for heavy multitasking, with tools that let you easily split the screen between lots of apps at once. And while the Surface Pro 8's integrated Intel graphics aren't made for heavy gaming, you'll still be able to play plenty of non-demanding Windows titles such as Fortnite, Rocket League and Minecraft.
Meanwhile, the Tab S8 Ultra is an Android 12 tablet with a custom Samsung interface, offering access to the full Google Play store as well as a variety of Samsung-specific apps and features. When you activate DeX mode, the Tab S8 Ultra does an admirable job behaving like a traditional laptop, with windowed apps that let you multitask and a Windows 11-like taskbar that you can customize with app shortcuts. There's just one problem: Android apps simply aren't made for a big screen, and our go-to programs such as Slack, Google Docs, Outlook, Discord and even Chrome felt very clunky to use in DeX mode compared to their Windows counterparts.
Samsung's slate does have its own distinct software advantages, especially if you own other Samsung products. You can easily share files between the Tab S8 and a Galaxy phone, and even pick up where you left off in apps like Samsung Notes. You can also pair the same Bluetooth keyboard or Galaxy Buds to both devices, making it seamless to use one set of accessories for both. It's also worth noting that Android is generally more touch-friendly than Windows 11, which is very much designed with a mouse and keyboard in mind.
TL;DR: Get the Surface Pro 8 if you want a full laptop experience; get the Tab S8 Ultra if you primarily want a tablet with some light productivity options.
Bottom line
If you want a big-screen tablet that's ideal for watching movies, hopping on video calls and occasionally doing some work, the Galaxy Tab S8 Ultra is a great pick. Its 14.6-inch display is one of the most beautiful we've tested, it's got a great webcam and DeX mode does a decent job turning the slate into a secondary laptop.
But if you want a true two-in-one notebook, there's no contest here. When paired with a keyboard, the Surface Pro 8 is one of the best Windows laptops and the best Surface for most people, with a full, uncompromised Windows 11 experience and enough performance muscle to back it all up.
Galaxy Tab S8 Ultra versus Surface Pro 8 specs
| | | |
| --- | --- | --- |
| Display | 14.6-inch Super AMOLED display with 120Hz refresh rate | 13-inch display with 120Hz refresh rate |
| Screen Resolution | 2960 x 1848 | 2880 x 1920 |
| Processor | Qualcomm Snapdragon 8 Gen 1 | 11th-Gen Intel Core i5 1135G7 / Intel Core i7-1185G7 |
| Memory | 8GB/12GB/16GB | 8GB/16GB/32GB |
| Storage | 128GB/256GB/512GB | 128GB/256GB/512GB/1TB |
| Cameras | 12-megapixel FF/12-megapixel ultrawide (front), 13-megapixel autofocus/6-megapixel ultrawide with flash (rear) | 5-megapixel front-facing camera, 10-megapixel rear-facing camera |
| Ports | USB-C | Thunderbolt 4 (2), Surface Connect, headphone jack |
| Size and weight | 12.9 x 8.2 x 0.22 inches; 1.6 pounds | 11.3 x 8.2 x 0.37 inches; 1.96 pounds |
| Included accessories | S Pen | None |
| Price | $1,099 | $899 |