Editor's Note: This article is part of our series Battle of the Brands, in which we compare category-leading products to their counterparts to determine which are actually worth your money.
When Philips introduced Hue, its smart bulb lineup, in 2012, the world of the Jetsons and Tony Stark suddenly seemed within reach. We could control our lights with our voice? We could tell Siri to turn off the lights, and it would — usually? sometimes? — work? It was a revelation.
Today, we're awash in smart home lighting. Hue is still one of the biggest and most reliable brands, but it's pricey. Other companies, like Nanoleaf, are nipping hard at Hue's heels with new tech, lower prices and innovative offerings.
We looked at Hue's and Nanoleaf's Essentials colored A19 bulb, which will fit most light sockets in the US, to determine which smart light bulb provides the best value for the buck. Prepare to be enlightened.
At a glance
| | | |
| --- | --- | --- |
| Max brightness | 1,100 lumens | 1,100 lumens |
| Watts | 10.5W | 9W |
| Weight | 70g | 104g |
| Color range | 16m+ | 16m+ |
| Color temp | 2000k-6500k | 2700k-6500k |
| Connectivity | Bluetooth, Zigbee | Bluetooth, Thread, Matter |
| Compatibility | Alexa, Google, Siri | Google, Siri |
| Lifetime | 25,000 hours | 25,000 hours |
| Price | $90 for 2 | $20 for 1 |
Design and build
The Hue A19 and Nanoleaf A19 smart bulbs both feature a standard A19 socket, making them compatible with most lamp fixtures and ceiling sockets in the United States. The Hue has a slightly more traditional appearance, looking like a squished incandescent bulb. The Nanoleaf, however, looks like a faceted version of that same bulb. Ideally, you won't see either of these bulbs themselves all that much, since they will be hidden behind a lampshade or in the ceiling, and the design doesn't affect its performance. Still, if something a little funky is your thing, the Nanoleaf is the way to go.
Both weigh about twice as much as a standard incandescent bulb, but there's a pleasing heft to these things. They feel solid. And they will work, mostly, if the bulb is cracked a bit. I had one Hue bulb that performed fine even though the glass around the bulb had spiderwebbed. (Incandescent bulbs no longer need a vacuum to work, but instead rely on a mixture of inert gases to extend the life of the heated filament. They still won't work very long if the bulb breaks.)
TL;DR: You do you. I like the Nanoleaf's funky design, but this is hardly a major determining factor.
Light output and efficiency
The Hue and Nanoleaf bulbs both put out up to 1,100 lumens of brightness — more than bright enough for residential lighting needs. They consume 10.5 watts and 9 watts, respectively, making them incredibly energy-efficient. Barring breakage, a single bulb is rated to last 25,000 hours, which is about 35 months of continuous use. That's pretty good, considering both of these bulbs are considerably more expensive than a single incandescent bulb, which lasts about 1,000 hours on average.
I did find the Hue light to be a bit brighter, especially at lower levels. In other words, 1% brightness on the Hue was a bit brighter than 1% on the Nanoleaf. This will, again, come down to personal preference.
TL;DR: The Hue is a bit brighter overall, across brightness ranges, but it's a small difference. If you prefer it really dim when the lights are down low, go for the Nanoleaf.
Color range and customization
This is where it gets tricky. Both bulbs advertise more than 16 million colors available. But the Hue wins because it offers a wider color palette, ranging from 2000K to 6500K, versus the Nanoleaf's 2700K to 6500K. To put that in everyday terms, 2000K is super-warm light, like a candle. Daylight, on the other hand, is about 6500K. It's actually a slightly bluish-white color.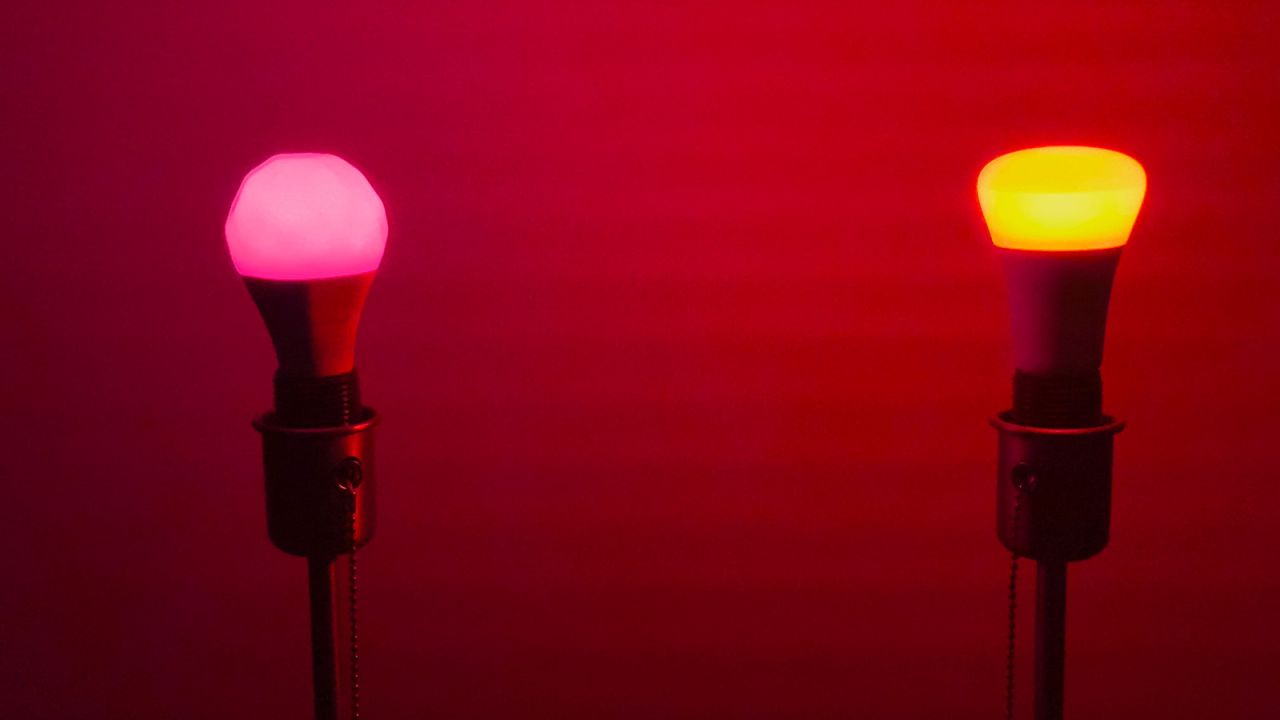 I also found the Hue's lighting to be a bit richer than the Nanoleaf's. For instance, the reds were actually red, instead of a more pinkish color the Nanoleaf clocked in at. Overall, I think the Hue is slightly more color accurate and has a wide range at which it can operate.
TL;DR: The Hue has the superior color range and wider color temperature palette. The colors were also richer and more attractive.
Connectivity
Here's the biggest difference between the two bulbs. The Hue relies on Bluetooth and Zigbee, a wireless protocol widely used in smart homes to control lighting and other appliances that don't need a lot of bandwidth. The downside? It requires a hub, which in the case of Hue, must be plugged into your router via ethernet. You can't connect to your router wirelessly. That adds cost and complexity.
Nanoleaf, on the other hand, uses a newer technology called Thread, which, although also a wireless protocol, does allow devices to connect directly to the internet without going through a hub. You'll still need a Thread Border Router to connect the Nanoleaf bulb to the internet, though. Luckily, there's a good chance you already have one. Thread Border Routers are built into popular smart home devices like AppleTV, an Apple HomePod Mini or 2nd-generation HomePod, any of the Google Nest mesh or hub routers or the Amazon Echo (4th generation).
Additionally, both bulbs can be controlled via Bluetooth if you just want to use your smartphone and not bother with a smart speaker. You won't be able to control them from your smart speaker if you use Bluetooth, however.
TL;DR: If you don't mind the hub with its extra wires and power supply, the Hue bulb offers the widest compatibility with smart home assistants out of the box. But if you're looking to cut down on additional gadgets plugged into your router, Nanoleaf is the way to go, especially if you're already using a Thread border router like a HomePod mini.
App and smart home experience
I'll be blunt: Neither app is great, although Hue, having been around longer, shows more polish and thoughtfulness in its app's design. The home screen gives you access to all your lights and various automations in a relatively easy-to-navigate manner.
Setup was straightforward. I plugged in a bulb and chose "Add lights" from the front page's submenu. From there, I was offered the option to either search for bulbs or use the serial number, which is printed on the side of the bulb. I opted for the serial number. After thinking about it for a couple of minutes, the Hue app added the bulb to its collection of lights and, also, to my Apple Home setup. I was asked to rename the light and add what room it was in, and that was it. It also works natively with Google's Home app and Amazon's Alexa speakers.
Nanoleaf's app, on the other hand, needs help. First of all, their app is a graphic designer's nightmare. There's a lot of swiping back and forth just to see what lights are on, and much of the app is designed around Nanoleaf's other offerings, such as their light panels, which need to be programmed from their app.
Secondly, I found adding bulbs to be frustrating. Nanoleaf introduced its new line of A19 Essentials bulb that work on Matter, the new protocol that allows all your smart home devices — locks, speakers, lights, window blinds, robot vacuums, garage door openers, what-have-you — to work together regardless of the manufacturer. In theory.
In practice, I found it very difficult to add the Nanoleaf Matter bulb to my Home app. The Nanoleaf app, which required a beta version to even see the new Matter bulb, frequently crashed. And while I could, eventually, add the bulb to my Nanoleaf app, I couldn't for the life of me get it to work with the Apple Home app, which is how I control my smart lights. Neither could I add it through Google's Home app.
UPDATE: With the release of iOS 16.4 and Nanoleaf's update app, pairing the Nanoleaf bulb with my Home app now works smoothly. Looks like whatever bugs there were have been worked out.
As for Alexa, Nanoleaf's Essentials bulbs don't, at the moment, work with it at all. The Alexa skill available is for their fancy light panels, not your basic screw-in-a-socket light bulb. So if you're in an Alexa household, you're out of luck until Amazon includes Matter support in its home speakers and hubs.
TL;DR: Hue wins hands-down for ease of use and setting up. Once it's added to the Hue app, the bulb should show up automatically in your smart home app of choice: Siri, Google or Alexa. Nanoleaf, however, is confusing and it often just won't connect or stay connected. And it doesn't work at all with Alexa.
Price
This is a no-brainer. If price is your main concern, it's Nanoleaf all the way. At $20 a bulb, Nanoleaf roars past Hue ($55) in terms of bang for the buck.
TL;DR: If you're still on the fence between these two, Nanoleaf's attractive price point could tip you over into their camp.
Bottom line
So, which should you get? The Nanoleaf bulb has a modern and distinctive design at a lower price, and doesn't require a hub. But it doesn't work with Alexa and its app is a bit confusing.
The Hue, on the other hand, works with more devices and services, can be controlled from all three major smart home platforms, has a more comprehensive range of colors and brightness ranges and has a large number of partners and third-party accessories. It requires a hub, however, and is quite expensive for what it does.