The Oculus Quest 2 is the best VR headset for most people, and has access to a ton of popular immersive games, fitness apps and entertainment experiences. However, before you buy, you'll have to decide how much free space you want for apps and games.
The Quest 2 comes in two variations: a $299 model with 128GB of storage, and a $399 model with 256GB of storage (the measly 64GB launch model has thankfully been phased out). Both versions of the headset are otherwise identical in terms of design, performance and game library, but choosing more storage will make a difference for heavy users and anyone who wants to record VR content, especially since the Quest 2 doesn't have any expandable storage options.
Wondering which Oculus Quest 2 model is for you? Here's a quick breakdown to help you decide.
You should get the 128GB Oculus Quest 2 if…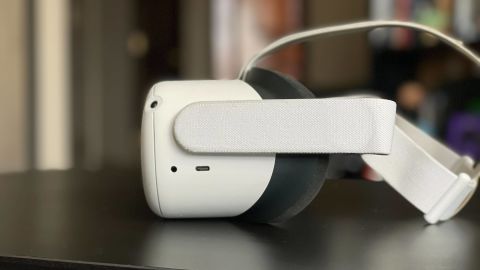 You want the cheapest Oculus Quest 2 option out there
The starting Quest 2 model is obviously more affordable, and one of the cheapest high-quality VR headsets you can get. And that $100 savings on the 128GB model can go a long way towards snagging some of the best Quest 2 games, which generally cost between $10 and $40. You might also decide to look into some useful Quest 2 accessories, such as a carrying case for taking the headset on the go or the Oculus Elite Strap for better comfort or stability.
You plan on using your Quest 2 casually (and don't mind occasionally deleting games)
The 128GB Oculus Quest 2 is by far the better model for the vast majority of people. That's because Quest apps and games don't generally take up a ton of space — even higher-end titles like Resident Evil 4 and Star Wars: Tales from the Galaxy's Edge only demand upwards of 7GB, and many top games such as Superhot VR and Beat Saber take up around 1GB or less.
And should you manage to fill up your 128GB Oculus Quest 2, you can simply delete and redownload software as needed. The Quest 2 has a Cloud Backup feature you can enable in the settings menu, so your saves and in-game progress can stay intact even if you have to temporarily delete a game to make space. To make sure a title supports Cloud Backup, log in at Oculus's website, click on your profile picture, select Devices > Cloud Backup and search for your game or app of choice to see if the feature is enabled.
You should get the 256GB Oculus Quest 2 if…
You want to download (and keep) lots of apps and games — and future-proof yourself
The 256GB Oculus Quest 2 will ensure that you won't have to delete and redownload games altogether, though you'll have an especially hard time filling up its memory. This is the power user model, ideal for folks who are going to be downloading lots of games and apps and don't want to worry about having to make space every few months. And since we'll likely see new Oculus Quest 2 software coming out for at least the next few years, the 256GB model will let you stay on top of the latest releases with minimal hassle.
You're a VR content creator (or just love taking videos)
Games and apps aren't the only things that take up space on a Quest 2 — capturing videos and screenshots of your favorite in-game moments can also fill your storage quickly. Even the short videos we've taken for testing purposes have taken up around 500MB each, and longer clips can easily eat up a few GB at a time. If you plan on capturing lots of VR gameplay footage for your YouTube channel (or for yourself), the 256GB Oculus Quest 2 will make it easier to record away without constantly having to delete older stuff.
You're upgrading from the 64GB model
If you bought the 64GB Oculus Quest 2 that launched in 2020 and want to trade it in for a model with more storage, we'd recommend going with the 256GB version. You'll be getting four times the free space rather than just double the storage, and will enjoy all of the future-proofed benefits outlined above.
Bottom line
If you're about to buy an Oculus Quest 2, there's a strong chance you'll be fine with the starting $299 model. Its 128GB of storage gives you tons of space for apps and games, and in the event you need to delete some stuff, the Quest makes it easy to back your saves up.
However, if you don't mind spending $100 more for twice the storage, the 256GB model will make it easier to fill your headset up with software (and take tons of videos) without having to go back and delete anything. And just to reiterate, you're getting the same core headset — and the same great software library — no matter which model you choose.
Oculus Quest 2 128GB versus 256GB: Specs
| | | |
| --- | --- | --- |
| Resolution | 1832 x 1920 per eye | 1832 x 1920 per eye |
| Storage | 128GB | 256GB |
| Touch Controllers | Included | Included |
| Processor | Qualcomm Snapdragon XR2 | Qualcomm Snapdragon XR2 |
| Battery life (rated) | 2-3 hours | 2-3 hours |
| Price | $299 | $399 |