CNN —
Microsoft is rebranding its Office suite, now dubbing it Microsoft 365 Personal and Family plans, adding some new features to its subscription software. These combine the Office 365 suite with new features and two new apps: Family Safety and Teams for Consumers.
Current Office 365 subscriptions will become Microsoft 365 subscriptions at no additional charge as of April 21 — 365 Personal and Family will keep the price the same at $6.99 a month for one person or $9.99 a month for up to six people. You can also choose the annual route at $69.99 or $99.99 a year.
The full Office 365 suite is here — Word, Excel, Powerpoint, Outlook, Publisher, Access, Skype and Teams — just with some additional features. Plus, you get access on four platforms: Windows, macOS, iOS and Android. You'll also score 1TB of OneDrive storage per user, so that's 6TBs on the family plan.
Microsoft Editor, which is essentially spell check on steroids, is one of the upgrades. It can alert you if you're using a word too frequently and even make language suggestions, using machine learning and AI to get a feel for your style. For 2020, Editor will now make style suggestions and even rephrase full sentences. Plus, it will be able to detect unintentional bias language and suggest words or phrases that can be swapped. And for students, there will be a built-in plagiarism detector, ensuring you properly cite sources and preventing you from submitting work that could get you in trouble.
And Editor is moving beyond just Word. It will be included as a browser extension in Outlook, so you can put your best writing forward anywhere on the web, from LinkedIn to Twitter to WordPress.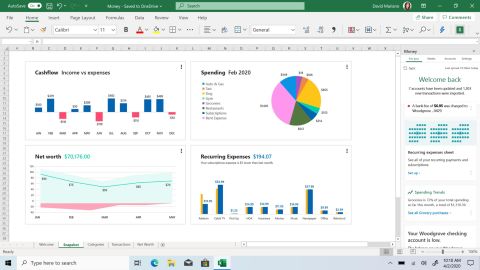 In Excel land, you'll get the Money feature, which allows you to keep track of your finances in the classic line-by-line, row-by-row fashion that Excel delivers. You'll be able to sign in to financial institutions and Excel will import the data. On the left side, you'll see each transaction presented line by line, and the right will give you an overview of each account. Plus, it will create a monthly spending chart so you can see your habits. It's a big value-added feature for Excel and eliminates the need for a third-party app. Even better, it could be an easy way to budget money on a personal and family level.
And with the current situation around COVID-19, chances are the lines between work and play have blurred, especially if you're working remotely. Outlook is introducing a solution in calendars that lets personal and work sit in one cohesive user interface. You'll be able to import your personal account, like a Gmail, and view it in line with your work calendar. This will be helpful to plan your day and your coworkers won't be able to schedule meetings on top of important events. Additionally, you'll be able to import school calendars just from a ZIP code. This way you can be alerted of cancellations, plays, after-hours events and conferences. We're eager to see these in practice.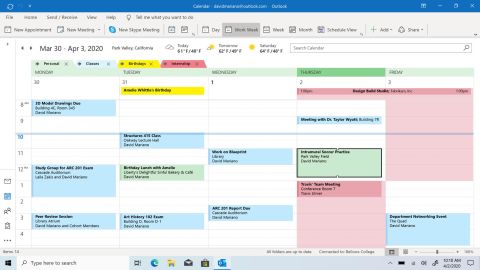 And these are just a few of the big features arriving with Microsoft 365. It's great to see that more value is being added at the same price point.
Microsoft will also introduce Family Safety and Teams for Consumers later this year.
Family Safety seems like Microsoft's version of Apple's Screen Time. It will work for Windows, Xbox and Android platforms at launch. You'll be able to see what people in your family are doing on their respective devices and set limits for apps. You can also set content filters by age, effectively blocking some games on Xbox. You can also use this to block specific websites.
Teams for Consumers is the company's Slack competitor that will be arriving for family and friends. And yes, it's a messaging app with productivity-centric features. Within-group messages, it will sort files, making it easy to find PDFs, Excel sheets, Word docs and even photos. Images and videos will be generated into galleries by default for easy viewing or sharing. You can make a tasks list that anyone in the group can edit, and you'll be able to assign tasks to a person. It's also secure with end-to-end encryption. And if you use Teams for work, you can add and use the personal account in the same app.
We'll know more about these in the coming months.
Microsoft 365 will launch on April 21, but if you can't wait to get started, you can sign up now and use Office 365 and get many of these features. Here's the pricing:
Note: The prices above reflect the retailer's listed prices at the time of publication.