One of the best laptops you can buy just got more powerful. Apple has announced new versions of the 14-inch and 16-inch MacBook Pro featuring the company's new M2 Pro and M2 Max processors, which promise a big leap in performance as well as the best battery life in a Mac yet. These speedy new MacBooks are available to order now, so here's everything you need to know.
New MacBook Pro 14-inch and 16-inch: Price and where to preorder
The new 14-inch MacBook Pro promises a big performance boost over the previous generation as well as longer battery life and improved connectivity.
If you want the power of Apple's new M2 Pro or M2 Max chips alongside an even bigger display, the 16-inch MacBook Pro is your best bet.
Both new 14-inch and 16-inch MacBook Pro models are available to preorder right now, and will ship on Jan. 24. The 14-inch MacBook Pro with M2 Pro starts at $1,999, while the 16-inch MacBook Pro with M2 Pro starts at $2,499. Upgrading to the even more powerful M2 Max chip will run you at least $3,099 for the 14-inch MacBook Pro, and $3,499 for the 16-inch model. These prices are largely unchanged from the previous generation, so you're getting more power for your money.
A big leap for those ready to upgrade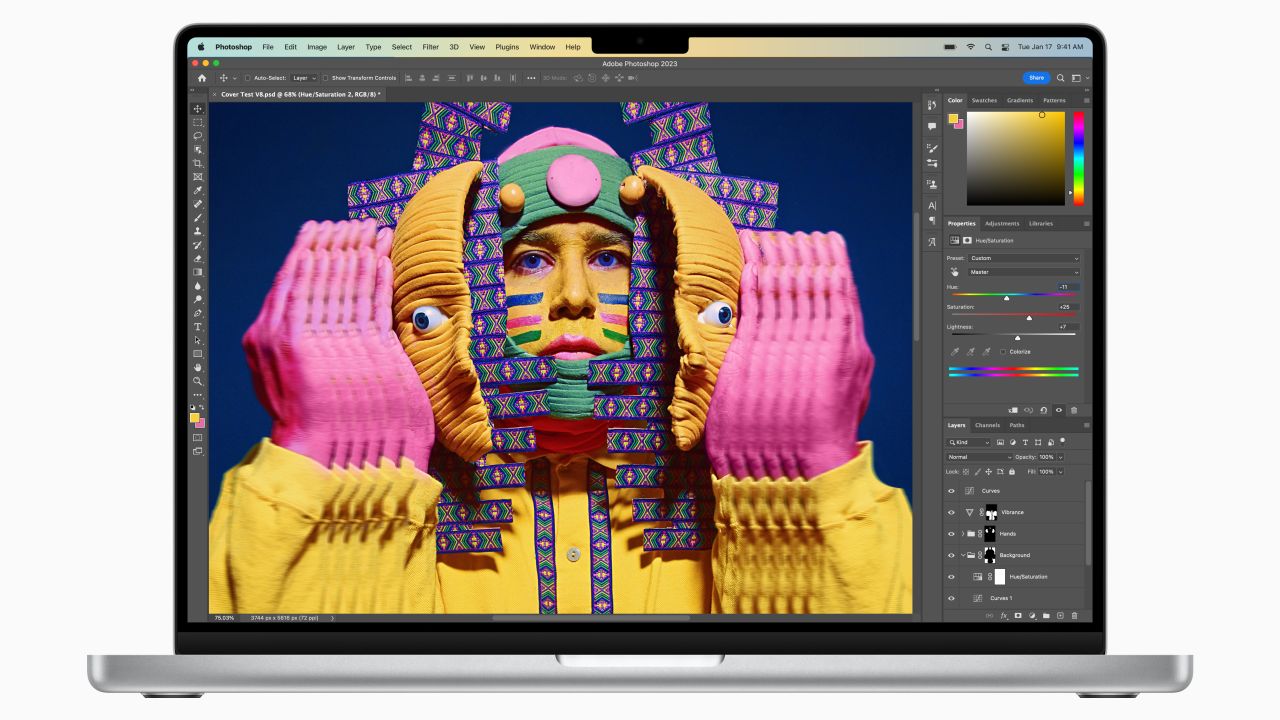 The new 14-inch and 16-inch MacBook Pro models look virtually unchanged from the outside, but if you're upgrading for the first time in a while, you're in for what should be one of the most powerful Mac experiences yet. At the heart of these machines are your choice of Apple's new M2 Pro and M2 Max chips, which promise up to a 30% boost in graphics performance over their predecessors — something that should make them especially great for intensive tasks like video editing and 3D rendering.
Just to call out some real-world highlights, Apple says that the new M2 Pro models can render animations in the Motion app up to 80% faster than the best Intel-powered Mac as well as 20% faster than the M1 Pro versions. You can expect up to 80% faster image processing in Adobe Photoshop compared to Intel Macs, and up to 40% faster compared to the 2021 models. On the even speedier M2 Max, Apple says you'll be able to render effects in Cinema 4D up to six times faster, and color grade in DaVinci resolve up to twice as quick. That could all add up to a lot of time saved when you're working and creating on the go.
The company claims that these new MacBooks will get you the longest battery life ever in a Mac at 22 hours — that's an hour more than what the previous models were rated for, and a claim we're looking forward to testing. More powerful processors aside, you can look forward to Wi-Fi 6E for even faster internet speeds, in addition to an upgraded HDMI port that now supports 8K displays.
All of these powerful guts are packed into the same exact design we first saw in 2021, which features three Thunderbolt 4 USB-C ports, an SDXC card slot, an HDMI port for external displays and a handy MagSafe 3 charger that can easily snap on and off the laptop. You're also getting a crisp 1080p FaceTime webcam, and a nice row of big physical function keys at the top of the keyboard (yes, the Touch Bar is dead). We loved this design when we first reviewed the 14-inch MacBook Pro in 2021, and while there's nothing new here if you already own that model, folks coming from an old MacBook are in for a really big upgrade in terms of connectivity and everyday ease of use.
The takeaway
The new 14-inch and 16-inch MacBook Pros are looking like a powerful — if unexciting — update to what's long been our favorite high-end laptop. If our time with the standard M2 MacBooks is any indication, these new models powered by the M2 Pro and M2 Max chips should be just about the fastest laptops you can buy, and could be the best notebooks yet for artists, coders, music producers and anyone else who has to get serious work done on the go.
Those who own the previous-gen models can sit these out, but the new 14-inch and 16-inch Macs are looking like an especially great upgrade if you're sitting on an old Intel or even M1-powered MacBook Pro and find yourself in need of more power — not to mention a better display, webcam and set of ports. We're looking forward to running these machines through our usual tests to see just how much better they are than before, so stay tuned for our full reviews.