CNN Underscored is bringing you the best of CES 2022 all week — be sure to check out our coverage hub for the biggest tech products worth getting excited about.
What if you could enjoy the benefits of a dual-monitor setup from a single laptop? That's the idea behind Lenovo's new ThinkBook Plus Gen 3: a wildly eye-catching laptop that combines an ultrawide 17.3-inch display with a secondary 8-inch screen in the keyboard. It could very well prove to be the ultimate multitasking machine for working at home and on the go.
We got to spend some time swiping, scrolling and sketching on this truly one-of-a-kind notebook, and it's easily one of the major standouts of CES 2022 so far. The ThinkBook Plus Gen 3 is arriving this May starting at $1,399; here are some early thoughts.
You've never seen a laptop like this
If you were to take a traditional laptop, stretch it out to nearly twice the size and cram a tablet next to the keyboard, you'd probably get something that looks like the ThinkBook Plus Gen 3. It's the kind of laptop that's impossible not to stop and stare at, but once we got past how absurdly over-the-top it looks, we quickly realized how practical this unique machine could be.
The two key components of the latest ThinkBook Plus are its dual displays, which include an sharp, ultra-wide 17.3-inch 3072 x 1440 screen and an 8-inch 800 x 1280 screen off to the right of the keyboard. We got to experience a handful of practical uses for the smaller, secondary display, and were very impressed by how naturally it worked in tandem with the massive main screen up top.
The ThinkBook Plus Gen 3's companion screen can be used to sort through various images in Adobe Lightroom while you edit them on the main display, and can turn into a full number pad when you need to do some calculations. It also has stylus support and comes with a Lenovo Integrated Pen, making it perfect for, say, jotting down some notes in OneNote while watching a presentation on the big screen.
It doesn't appear that apps need to be optimized for the second screen either, as you can drag content to the smaller display as naturally as you would with an external monitor. In fact, dragging a web browser like Chrome or Edge to the right side of the screen activates a really cool "waterfall" mode that allows you to scroll through a web page across both displays on the right side.
On top of just being really fun to play with, this feature could be ideal for multitasking — we can imagine a scenario where you have one app open on the left side of the screen, and another piece of content on the right (like a spreadsheet) that would benefit from more vertical space for scrolling.
This isn't Lenovo's first dual-screen laptop — the previous ThinkBook Plus Gen 2 took a different approach by placing a full E-Ink display on the back of the laptop that allowed the device to double as an e-reader and tablet of sorts. However, we think having two displays up front is far more practical, especially at a time when many folks are still trying to stay productive from home.
Solid specs and classic Lenovo features
Wild two-screen design aside, the ThinkBook Plus Gen 3 is very much a Lenovo laptop. The notebook's keyboard felt as snappy as we've come to expect from a Lenovo PC during our limited hands-on time, and there's a solid amount of connectivity for plugging accessories in. That includes a Thunderbolt 4 USB-C port (ideal for the latest peripherals and storage drives), a standard USB-C slot, two USB-A connections for your older gadgets and an HDMI port for external monitors.
On the inside, you're getting the new 12th Gen Intel processors up to a Core i7, up to 32GB of RAM, up to a 1TB solid state drive and integrated Intel Iris Xe graphics for basic visual work. The laptop packs a 1080p webcam for video conferencing, as well as a four-speaker Dolby Atmos audio setup that we're excited to test out.
Other Lenovo laptops to watch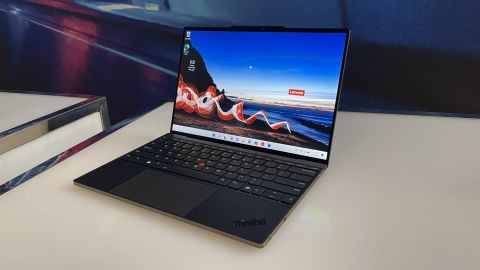 While the ThinkBook Plus Gen 3 is the big standout in Lenovo's CES 2022 lineup, the company has a ton of other new laptops worth keeping an eye on. The ever-popular ThinkPad X1 Carbon — once our best laptop pick for business users — has been upgraded with OLED displays and the latest 12th Gen Intel processors, while the new Lenovo Yoga 9i convertible has a revamped design with smartphone-like curved edges that are ideal for using the machine as a tablet. The new X1 Carbon models launch in March with a starting price of $1,639, while the Yoga 9i arrives later this year starting at $1,399.
A major standout in the new lineup is the new Thinkpad Z series, which, quite frankly, looks a lot cooler than what we've come to expect from Lenovo laptops. While the company's notebooks are usually very business-minded, the $1,549 ThinkPad Z13 and $2,099 Z16 have more mainstream-looking designs that are clearly aimed at a younger audience. We especially love the Z13 we got to check out with a gold frame, a faux-leather exterior and a nearly edge-to-edge keyboard. We think these stylish notebooks could hold their own against the likes of the Dell XPS 13 and the HP Envy in terms of aesthetics, and we look forward to spending more time with them when they launch in May.
Let's recap
The ThinkBook Plus Gen 3 is shaping up to be the rare product whose wildly unique features could actually prove practical. The combination of its ultrawide main display and secondary side display has a ton of potential for making multitasking easy, especially for folks who don't have the space for a proper two-monitor desktop setup.
Of course, this all comes at the expense of portability — the ThinkBook Plus's 16-inch-wide design isn't going to fit easily into all bags, and it's not quite as easy to plop on your lap as a traditional notebook. But for a specific user who wants an all-in-one multitasking machine for their desk, the ThinkBook Plus Gen 3 could hold a lot of appeal.
Lenovo's unique notebook is currently in the running for our best innovation and best laptop awards for CES 2022. We'll be sharing our full finalists later this week, ahead of the top picks in each category.
We look forward to giving the ThinkBook Plus Gen 3 a proper review when it launches in May for $1,399.