For the past several months, all of the hype in the Apple community has been around the iPhone 13 series. With its various upgrades and new features, it's hard to not be distracted by the company's latest and greatest.
However, the iPhone 13 isn't the only smartphone line Apple is selling. The company still sells the iPhone 12 and iPhone 11 as cheaper alternatives. Both are still great phones, and many of you might be considering picking one up.
Now we're pitting both of them up to see which one is right for you if you can't seem to decide on which one to buy.
You should get the iPhone 12 if…
You want that flashy new iPhone design
There's no doubt about it: The iPhone 12 and 11 have very different designs. Apple continued its rounder, more friendly design language with the iPhone 11 after it first debuted on the iPhone X. Meanwhile, the iPhone 12 brings back a squared-off design we haven't seen since 2016 with the first iPhone SE. There are a lot of people who love this flatter look, and if that's something you're into, you should definitely consider the iPhone 12.
You need an OLED screen
When Apple added the 6.1-inch Super Retina XDR screen to the iPhone 12, many people saw it as a perfect reason to upgrade. That's because after two generations of LCD panels, the standard version of the flagship iPhone finally got an OLED screen.
If you're unfamiliar, OLED screens deliver a far superior viewing experience compared to LCD. They can get brighter and more colorful, and they boast higher contrast. OLED screens can turn off individual pixels it isn't using to achieve true black levels. This results in a much higher-quality screen that's richer and filled with more contrast than a typical LCD display. The iPhone 11, for example, has that lower-grade LCD panel, which gives the iPhone 12 a huge leg up in terms of quality.
It's also sharper and much brighter than other iPhone screens, making the iPhone 12 the phone to buy if you care deeply about how your display looks.
You want great cameras
The iPhone 12 series was widely regarded as having some of the best cameras you can get on a phone, and that still reigns true today. While the iPhone 11's cameras were still very good, the iPhone 12 only improved things in terms of quality.
Snapping photos at night saw a big boost in quality, which is important for a lot of people who may regularly be in challenging lighting conditions. Your photos will see a boost in brightness overall, while both contrast and sharpness are also improved. Meanwhile, ultrawide will be able to capture more of a scene in a single shot, and the quality will fall closer in line with the main camera.
Overall, the iPhone 12 is the phone for you if you care about taking the best pictures and videos.
You want access to MagSafe
Apple introduced its new MagSafe accessory system with the iPhone 12 series, and it can come in handy. The MagSafe wireless charger connects to the back of your iPhone magnetically so you don't have to worry about misplacing your phone on a charging pad. In addition, there's a whole ecosystem of accessories like wallets, phone mounts and battery packs that use MagSafe to connect to your iPhone. MagSafe will even charge the iPhone 12 faster than a standard wireless charging pad.
The iPhone 11 series simply doesn't have this, so if you're looking to get your feet wet in the world of MagSafe, stick with the iPhone 12.
Key specs
Starting price: $599
Display: 6.1-inch 2532 x 1170 Super Retina XDR OLED
Processor: A14 Bionic
RAM: 4GB
Storage: 64GB/128GB/256GB
Cameras: 12MP f/1.6 wide, 12MP f/2.4 ultrawide, 12MP f/2.2 selfie
Battery: 2,815mAh
You should get the iPhone 11 if…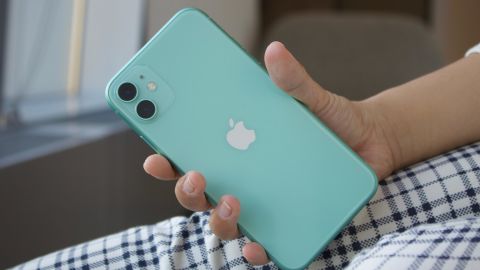 You want to save money
The No. 1 reason anyone should consider the iPhone 11 over the iPhone 12 is if they want to save money. The iPhone 11 is priced around $100 less than the iPhone 12. This makes it $499 for 64GB, which is very affordable given the phone you get in exchange.
Carriers are also regularly having sales on the iPhone 11, often offering it for practically free if you join their network. It's sort of a no-brainer option if you want an iPhone that's still relevant and won't break the bank.
You don't care about 5G
The iPhone 12 series was the first to usher in a wave of iPhones that can connect to 5G networks. Standard Sub-6 GHz 5G remains spotty in some areas, while mmWave (the spectrum that promises super-fast speeds carriers like to advertise) is virtually nonexistent unless you live in a big city and are standing on the right street corner.
What's more, 5G isn't much faster than 4G, at least for now. Because Sub-6 GHz is so much more common than mmWave, you'll only see about a 25 to 50 Mbps increase in download speeds, while upload speeds will sit at around a 10 to 20 Mbps increase.
These reasons alone are enough for someone to be convinced that they don't need 5G, at least right now. The iPhone 11 sticks with LTE for all of its cellular needs, and that'll be sufficient for folks who don't need a 5G status indicator in the top right-hand corner of their screen.
You value battery life
There aren't many areas where the iPhone 11 outspecs the iPhone 12, but when it comes to battery, it actually does manage to challenge expectations.
Many praised the iPhone 11 when it came out for being a rock star in the battery department. Many users are even able to stretch a full charge over two days, making the iPhone 11 a perfect weekender phone. In our testing, the iPhone 12 lasted about one to two hours less than the iPhone 11, giving the older model an advantage for those who need longer battery life. Not only is the battery bigger, but it also seems that overall efficiency seems to be better, thanks to the lower-resolution LCD display.
The iPhone 12's endurance isn't bad by any means, but it's not as good as its predecessor. Therefore, if battery life is important to you, consider picking up the iPhone 11.
Key specs
Starting price: $499
Display: 6.1-inch 1792 x 828 Liquid Retina LCD
Processor: A13 Bionic
RAM: 4GB
Storage: 64GB/128GB
Cameras: 12MP f/1.8 wide, 12MP f/2.4 ultrawide, 12MP f/2.2 selfie
Battery: 3,110mAh