Google recently took the wraps off of the Google Pixel 6a, a $449 smartphone that packs many of the Pixel 6 family's key features into a smaller, simpler and more affordable package. With its arrival, the number of Pixel 6 options has now ballooned to three, meaning that picking the right Pixel for you might have just gotten a little trickier.
Pixel 6a preorders go live on July 21, and if you're curious exactly what you're giving up compared to the $599 Pixel 6 and $899 Pixel 6 Pro before you commit to buying one, we've got you covered. Here's how Google's entire smartphone lineup stacks up at a glance, and what type of person each handset is best suited for.
Google Pixel 6a vs. 6 vs. 6 Pro at a glance
| | | | |
| --- | --- | --- | --- |
| Display | 6.1 inches (1080 x 2400 OLED with Gorilla Glass 3) | 6.4 inches (1080 x 2340 OLED with Gorilla Glass Victus) | 6.7 inches (1440 x 3120 LTPO OLED with Gorilla Glass Victus) |
| Refresh rate | 60Hz | 90Hz | 120Hz |
| Processor | Google Tensor | Google Tensor | Google Tensor |
| Memory | 6GB | 8GB | 12GB |
| Storage | 128GB | 128GB/256GB | 128GB/256GB/512GB |
| Cameras | 12.2-megapixel wide camera, 12-megapixel ultrawide (back); 8-megapixel (front) | 50-megapixel wide camera, 12-megapixel ultrawide (back); 8-megapixel (front) | 50-megapixel wide camera, 12-megapixel ultrawide camera, 48-megapixel telephoto camera (back); 11.1-megapixel (front) |
| Battery life (rated) | Up to 72 hours (with Extreme Battery Saver) | Up to 48 hours (with Extreme Battery saver) | Up to 48 hours (with Extreme Battery saver) |
| Fast wireless charging | No | Yes | Yes |
| Price | $449 | $599 | $899 |
Get the Google Pixel 6a if…
You're on a budget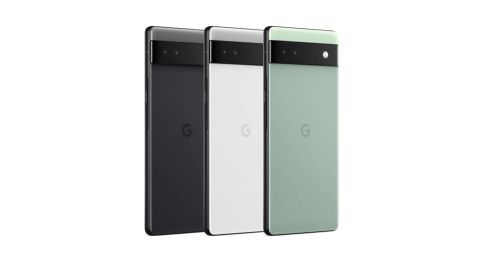 At $449, the Pixel 6a is the cheapest member of the lineup by $150, which is not chump change. And when it comes to general performance and features, you're not sacrificing a ton at this low price. Just like its pricier siblings, the 6a is powered by the Google Tensor processor, which provided impressive overall speed in our initial Google Pixel 6 and 6 Pro review.
That's paired with the same clean and snappy Android 12 experience you'll get on the premium Pixels as well as first dibs on future Android releases and at least five years of security updates. And while the 6a's camera is scaled down a bit compared to the other models, you can still take advantage of Google's consistently great camera software features like Portrait Mode, Magic Eraser for removing unwanted background objects and even Night Sight for clearer shots in the dark — something you won't find on the comparable $429 iPhone SE.
We'll have to wait until the Pixel 6a drops later this year for a final verdict, but we found last year's Pixel 5a to be impressive compared to its more expensive counterparts, and certainly the best Android phone for the price.
You want the most compact Pixel
In addition to being the cheapest Pixel, the Pixel 6a is also the most compact of the bunch, with a 6.1-inch screen. For reference, that's roughly the size of the standard iPhone 13, and it's a good choice if you want something extra pocketable and easy to use with one hand.
Get the Google Pixel 6 if…
You want the best overall value
Priced at a very competitive $599, the standard Pixel 6 offers lots of flagship-grade features for a price that's well below most competitors. You get one of the best camera arrays we've used, superb battery life that lasted more than 15 hours straight on our 4K playback tests and a nicely sized 6.4-inch display that offers lots of real estate without being overwhelming to hold.
That display also packs a smooth 90Hz refresh rate. And though it's not quite as smooth as the 120Hz screen on the 6 Pro, it's still a notable bump over the Pixel 6a's 60Hz display — and one that makes a big difference when scrolling through webpages or swiping between photos. It's the "just right" Pixel, and based on our testing of the Pixel 6 and Pixel 6 Pro so far, the one we'd recommend for most people.
Get the Google Pixel 6 Pro if…
You want the biggest, smoothest display on a Pixel
If you want an especially big screen for getting immersed in movies, playing games and breezing through work chats, the Pixel 6 Pro is the way to go. This phone's 6.7-inch display is the biggest, sharpest and smoothest of the Pixel 6 family, with a quad HD resolution that makes it even better for binge-watching than the 1080p screens on the Pixel 6 and Pixel 6a.
It's also the only current Pixel display with LTPO OLED technology, which allows for variable refresh rates and more efficient power consumption than the standard OLED screens on the cheaper Pixels. Speaking of refresh rates, the Pixel 6 Pro is the only member of the lineup that can deliver up to 120Hz, which, in our experience, is the ideal level of smoothness for flipping through photo galleries, playing games, watching sports or zooming through important documents. It's one of those touches that just makes using a phone that much more pleasant.
You do lots of multitasking (and need lots of storage)
While all three Pixel 6 models are powered by the same strong Google Tensor processor, the Pixel 6 Pro has the most overall memory at 12GB. This gives the premium Pixel a little more headroom for heavy multitasking, which is worth keeping in mind if you tend to have lots of apps open at once.
The Pixel 6 Pro also supports the highest maximum storage at up to 512GB, which is ideal for folks who take tons of photos and videos or download lots of games and other space-eating apps. You can always augment your Pixel's storage with a Google One subscription, which starts with 100GB of cloud storage for $1.99 per month. Those who purchase a Pixel via Google's Pixel Pass upgrade program will get 200GB of Google One storage as part of their plan, in addition to other perks. But if you want as much free space as possible out of the box, the 6 Pro is your best bet.
You want a camera with really great zoom
One of the Pixel 6 Pro's biggest advantages over its smaller siblings is the camera. In addition to the wide and ultrawide cameras found on the standard Pixel 6, you'll also get a 48-megapixel telephoto lens that allows for up to 4x optical zoom. In other words, you'll be able to get really great zoomed-in shots of faraway objects without the distortion and blurriness that often comes with digital zoom. It wasn't always perfect in our testing, but it allowed us to capture tiny distant details (such as a faraway Manhattan street sign) with very impressive clarity. You'll also get a slightly better front-facing camera (11.1 megapixels versus 8) for sharper selfies.