CNN —
Fitbit has a trio of new devices, each one aimed at providing you with varying levels of health information and insight. In some cases, that means new types of information we haven't seen in a wearable as of yet. Take the new Fitbit Sense, which has a dedicated EDA (that stands for "electrodermal activity") app that measures your body's reaction to stress. Something we think we can all use and appreciate right about now.
The third-generation Versa 3 smartwatch and the Inspire 2 fitness band round out Fitbit's 2020 holiday lineup. The Sense will sell for $329.95, the Versa 3 for $229.95 and the Inspire 2 for $99.95. All three are available to preorder, with deliveries beginning in late September.
But before you click on a link and try to buy a shiny new gadget, let's take a closer look at the three new devices.
Fitbit Inspire 2
The Inspire 2 includes all of the standard features you've come to expect from Fitbit. As the only fitness band included in today's announcement, it comes with 10-day battery life and an always-on heart rate monitor that can watch your personal heart rate zones for high or low alerts. It also features sleep tracking, including sleep scores to help you keep track of how rested you are.
You'll be able to read notifications from your phone on the vertical screen, and if you use an Android device, you'll even be able to reply to messages directly from your wrist.
The band comes with a free one-year subscription to Fitbit Premium, which unlocks deeper insights into your fitness and health data. For example, you'll be able to see more stats and a deeper breakdown of your sleep score to help you get more rest.
The slim design comes in white, black or pink — or, as Fitbit calls it, Desert Rose.
The Inspire 2 is $99.95 and available for preorder right now. It will begin shipping in late September.
Fitbit Versa 3
The third time's a charm, right? At least that's what Fitbit surely hopes with its third-generation smartwatch, the Versa 3.
Like its predecessor, the Versa 3 still boasts over six days of battery life, an AMOLED display, watch faces, apps, call, text and smartphone notifications — but it's also gained some new features that are sure to catch your attention.
With the Versa 2, Fitbit added support for Amazon's Alexa smart assistant on the watch. Now with the Versa 3, you'll have the choice between Alexa and Google Assistant, the latter of which will be available in "winter 2020" via a software update. We're eager to try the Google Assistant on our wrist.
Furthermore, Fitbit has added built-in GPS support so you no longer have to have your phone on you at all times. That's paired with a fast-charging feature that gives you a day of use off of just 12 minutes of charging. Extremely impressive.
Rounding out the additions is a redesigned mechanism to attach watch bands that should make it easier and quicker to quickly swap them out. And the Versa 3 can use the Bluetooth connection to your smartphone and its internal speaker and microphone to place or receive calls, essentially allowing for calls on your wrist like the Apple Watch.
On paper, the Versa 3 looks like a solid upgrade over the Versa 2, especially if you're a runner and need dedicated GPS. The Versa 3 is available to preorder right now for $229.95 and will begin shipping late September.
Fitbit Sense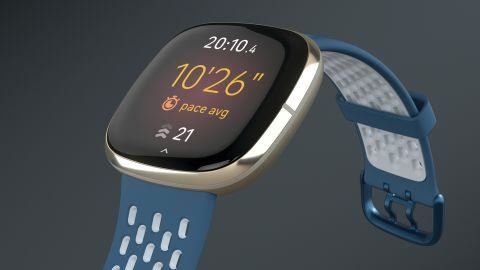 A brand-new product in Fitbit's lineup is the Sense. But don't call it a smartwatch. During a press event, Fitbit CEO James Park called the Sense a health watch, thanks to its myriad sensors and new health-focused features. Don't get confused, though — the Sense still has all of the same smartwatch-like features that the Versa 3 offers, along with the new sensors.
For starters, the electrodermal activity sensor will measure your body's reaction to stress and provide insights into how you can calm and relax yourself.
To take a reading, you launch the EDA Scan app and place your palm on the face of the watch. The stainless steel ring on the outside of the watch is used to measure electrodermal activity in your body, which can indicate stress levels. It's unlike anything we've ever seen in a smartwatch, and something that has us more than curious to try out.
The Sense also gains electrocardiogram, or ECG, support (currently pending FDA approval), just like the Apple Watch. Once the feature is approved and available in the US, users can open the ECG app and place their thumb and finger on the metal rim of the watch to take an ECG reading. If atrial fibrillation (i.e., a rapid, irregular heart rate) is detected, you'll be able to present a reading of your heart's activity to your doctor in order to help diagnose any issues.
Fitbit wasn't done there when it came to sensors in the Sense, though. There's also an on-wrist skin temperature sensor that will monitor your skin's temperature each night, providing insights into your overall health and any potential illnesses.
The Sense and Versa 3 also include Fitbit's PurePulse 2.0 heart rate tech. The second-generation heart rate sensor should improve accuracy while continuing to monitor your heart rate 24 hours a day, 7 days a week.
Like the Versa 3, the Sense has six-day battery life, an AMOLED screen, Fitbit Pay and built-in GPS. It's available to preorder for $329.95 right now and will begin shipping in late September.
Let's recap
All three new devices come with some sort of trial to Fitbit Premium, the company's subscription service that not only unlocks more workouts and fitness tips but deeper insights into what your health data means for you. And it feels like with Sense, Fitbit is placing even more data in that premium tier.
We're not sold on the idea of having our personal data and what it could mean regarding our overall health behind a paywall, especially with Fitbit working on ways to detect whether or not you're sick with something like a flu a few days before you even begin to show symptoms.
We will have to actually put Sense to use to see what information you can view without a premium subscription before we make up our mind on whether or not Fitbit has gone too far.