CNN —
This Earth Day, it's more important than ever to search for sustainable alternatives to the products we purchase. It's no secret we haven't been kind to our planet in the past. Right now there's about 8 million metric tons of plastic in our oceans.
It can be overwhelming to read about the state of the Earth, but there's hope for the future, and it starts with all of us. With smart purchases and products, we can take steps to reduce our energy consumption, product waste and plastic use. To quote Anne Marie Bonneau, who blogs as the Zero-Waste Chef: "We don't need a handful of people doing zero waste perfectly. We need millions of people doing it imperfectly."
We've found alternatives to single use plastics, products made with biodegradable and recycled materials, and even products made in facilities utilizing hydroelectricity. We're breaking down some of our favorite sustainable and eco-friendly products when it comes to lifestyle and tech gear.
Phone Cases
Pela Clear Case for iPhone 6/6/s/7/8/SE ($44.95; pelacase.com)
This case from Pela is completely clear and completely compostable. All of Pela's products, including phone cases and AirPod cases, are 100% biodegradable, meaning they won't be taking up space in a landfill or piling up in our oceans. Pela is running the Wear1Wash1 campaign, where you can purchase one case and get a second one free. If you're looking for more info on how Pela is working to create sustainable products, you can read more here.
Organicore Case from Incipio ($39.99; incipio.com)
Organicore from Incipio is another 100% biodegradable phone case. This case is made from plant materials and is soft to the touch. Like Incipio's classic cases, this case offers full protection for your phone and keeps a sleek minimal design. The Organicore cases come in a variety of colors, so you can stay stylish while saving the planet.
WAKE Case by LifeProof ($39.99; lifeproof.com)
This phone case is eco-friendly and sleek. Made out of 85% ocean-based recycled plastic, the wave design on the back will remind you that you're helping the planet when you buy this case. It protects your phone against drops from up to 6.6 feet. To top it off, following your purchase LifeProof will donate a dollar to one of its water-conscious nonprofit partners.
Travel
S'well ($35; swell.com)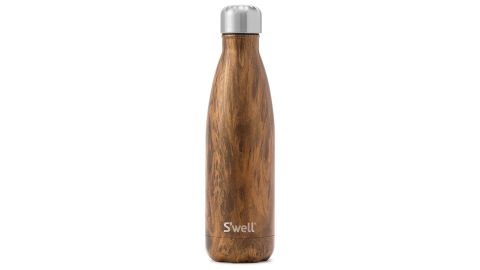 Single-use water bottles are notorious for harming our planet. A reusable stainless steel bottle, like this one from S'well, is a great alternative. The bottle is sturdy and comes in many exterior designs to suit your style. It will keep drinks cold for up to 24 hours and hot for up to 12. S'well has launched initiatives in the past to work with corporations and schools to eliminate plastic bottle usage. Currently, for every S'well purchased through April, a bottle will be donated to a frontline health care worker.
Stojo Collapsible Coffee Cup ($25; amazon.com)
This coffee cup is perfect for hot and cold beverages. Made of silicone and other recyclable materials, this reusable option will last for a long time, so you can opt out of single-use plastic and paper cups, which have a huge negative impact on our environment. The Stojo collapsible coffee cup is available in an array of colors and size options. The coolest feature about this cup is that it collapses down, so it's extremely easy to travel with. The largest (24-ounce) cup collapses to a disk 4.5 inches in diameter and 2.5 inches high, so even the largest cup can fit in your back pocket when it's collapsed. There's also a silicone straw included with your collapsible cup.
Incase Laptop Sleeve for MacBook Air 13" ($69.95; incase.com)
This laptop sleeve will protect your MacBook Air and the environment. It's made of a biodegradable, compostable material called ecoNEUE, which is created in a factory powered by hydroelectricity that returns all the water back into the environment as clean as or cleaner than when it entered the plant. Through its ecoNEUE collection, Incase is supporting sustainable forestation, and participates in the 2-for-1 reforestation practice. For every tree cut down, two more are planted. The replanting of trees and reuse of water are big wins in our book. To cap it off, the sleeve is completely vegan.
LiveLarq ($95; livelarq.com)
This option for a reusable water bottle, while pricey, has some major perks. To start, this water bottle is self-cleaning. It has a UV-C LED light inside that can eliminate 99.99% of bio-contaminants from the water and the bottle itself. This option has some weight to it: 13.5 ounces, to be exact. But it's double-wall-insulated, so Larq says it can keep beverages cold for 24 hours and hot for 12. Made with BPA-free stainless steel, this water bottle is built to last and will reduce your use of single-use plastic bottles. The battery for the UV-C LED light is rechargeable with the micro USB that comes with the bottle.
Kitchen
My K-Cup Universal Reusable Coffee Filter ($14.99; keurig.com)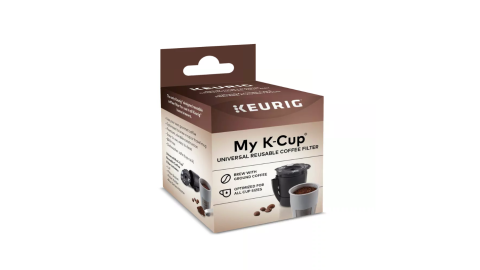 If you're a Keurig fan, you've probably felt guilty throwing away a used K-Cup (or two or three) every day. The company offers a much more sustainable option with this universal reusable coffee filter. It looks like a K-Cup capsule and should fit most models of single-serve brewing machines. Simply fill up your reusable filter with coffee grounds, pop it in, and get brewing. This eco-friendly coffee filter is dishwasher-safe, making cleaning a breeze.
SodaStream ($129.99, originally $139.99; amazon.com)
SodaStream lets you make fresh sparkling water at the push of a button. This gadget is sustainable as it reduces your single-use plastic count. The company says one SodaStream can eliminate more than 3,000 single-use plastic bottles or cans. This gadget comes with everything you need to get started, including two CO2 cylinders, two reusable SodaStream bottles and two flavors. You'll be saving money and the environment with this addition to your kitchen counter.
Home
Ring A19 Smart LED Light Bulb ($14.99; amazon.com)
Smart lightbulbs are an awesome way to save energy in your home. To get started with these, you'll need a Ring Bridge to connect the bulbs. Once you're connected, you'll never have to worry if you've left lights on when you're away from home. With access to the bulbs through the Ring Bridge app, you'll possibly be saving energy and saving money on your electric bill with intuitive scheduling. You can read our full review on this smart bulb here.
Belkin Wemo Insight Smart Plug ($49.99; belkin.com)
This Smart Plug will save you money and energy usage throughout your home. This small device fits directly into your outlet. Once you download the free app, you're good to start saving. The Smart Plug lets you turn devices on or off from anywhere through the app. The app will also monitor your energy consumption and cost. We like this feature a lot, because becoming more knowledgeable about your energy consumption can help you reduce it.
Fibaro Wall Plug Z ($39.99; amazon.com)
The Fibaro Wall Plug Z is another smart plug that can help you cut down your energy usage. You'll need a Z Wave Hub to get started, but once you're connected, you're good to go. The app associated with this device will show you how much energy you're using through the outlet and will help you set timers, turn on and off devices, and keep your energy usage low, all through your phone. This is another great option to up your smart home tech to create more sustainable energy habits.
Office
MacBook Air ($979; amazon.com)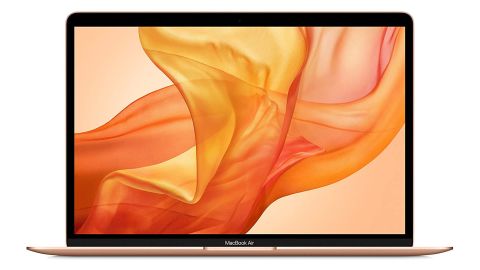 Apple has been working to make its products more sustainable and eco-friendly. The enclosures of the MacBook Air are made entirely out of recycled aluminum. The MacBook Air with Retina display uses three times less energy in sleep mode than the first generation laptop of this kind. Plus, 100% of the wood fiber used in Apple's packaging comes from recycled materials or responsibly managed forests. Apple also offers a trade-in program with used products: It will either reuse or recycle your product to help reduce waste. You can read our full review on the MacBook Air here.
HP Elite Dragonfly ($1,961.80; hp.com)
This laptop from HP is extremely environmentally friendly. Over 82% of the Dragonfly G2 is made with recycled materials. This laptop contains ocean-bound plastics (plastic that would have otherwise ended up polluting our oceans) in the speaker covers, and the outer box packaging for this device is 100% sustainably sourced. HP is taking a lot of measures here to ensure that this laptop is more sustainable and eco-friendly than other products on the market. You can find our full thoughts on this laptop here.
Rocketbook Wave Smart Notebook ($23.49; getrocketbook.com)
If you learn best by writing things down, but would like a paper-free way to take notes, the Rocketbook Wave Smart Notebook is a great option. This notebook is reusable: Once you put it through the microwave, your notes will be erased and the pages will be ready to use again. Before microwaving, however, use the Rocketbook app to scan your notes and save them in whatever cloud storing app you prefer. The app will scan high-quality images and save your notes while you save trees with this reusable notebook.
It's super important we all pay attention to the devices and products we use and how eco-friendly these options are. From water bottles to laptops to the outlets in our home, we can all take steps toward a healthier planet. Nowadays many companies are launching planet-friendly initiatives to help reduce waste and create energy-efficient options for you to enjoy. From us to you, happy Earth Day!
Note: The prices above reflect the retailers' listed prices at the time of publication.