The true wireless earbuds space is highly competitive, with top sellers like the AirPods Pro 2 and Sony WF-1000XM4 creating a demand for premium noise-canceling earbuds. But what if you're on a budget? Fortunately, numerous brands have released quality noise cancelers for much less than Apple and Sony's flagship models. Two that come to mind are the well-received EarFun Air Pro 3 and Samsung Galaxy Buds 2.
Both are considered some of the best budget earbuds and come with great active noise cancellation (ANC), strong connectivity and a wealth of features. They also outperform similarly priced rivals in sound quality.
Choosing between these two sets of buds is a tough decision when factoring in overall performance. After a long week of testing, we finally determined the better investment. Check out our EarFun Air Pro 3 and Samsung Galaxy Buds 2 comparison to see who wins.
EarFun Air Pro 3 vs. Samsung Galaxy Buds 2 at a glance
The EarFun Air Pro 3 are our favorite overall budget noise-canceling earbuds, offering great sound and features for under $100 — regardless of whether you have an iPhone or Android device. You can currently score them for 30% off using the code EAP3CNN1 at checkout on Amazon.
The Galaxy Buds 2 have the edge when it comes to style as well as overall sound and ANC quality, though you'll need a Galaxy phone to get the absolute most out of them.
Quick comparison
| | | |
| --- | --- | --- |
| Active noise cancellation/ambient sound | Yes | Yes |
| Battery life (rated) | 9 hours (earbuds), 45 hours (with case) | 7.5 hours (earbuds), 29 hours (with case) |
| Wireless charging | Yes | Yes |
| Water resistance | IPX5 | IPX2 |
| Ear tip sizes | XS, S, M, L | S, M, L |
| Software support | iOS, Android | Android |
| Colors | Black | Graphite, onyx, lavender, olive, white |
| Weight | 0.18 ounces | 0.18 ounces |
The Galaxy experience gives Samsung the sonic edge
Since acquiring AKG, Samsung has put out some of the best-sounding wireless earbuds. The Galaxy Buds 2 rely on AKG-tuned drivers to dish out energetic, detailed sound that can be tweaked through the EQ in Samsung's Galaxy Wearable app. Each preset (Bass Boost, Clear, Dynamic, Normal, Soft and Treble Boost) serves well when paired with the appropriate music genre, though Dynamic best suits most content. The prominent low end and terrific reverberation on contemporary tracks will have your hair standing up. Meanwhile, the clear highs on orchestral recordings make every performance feel like a live show.
Sound was at its peak when pairing the Galaxy Buds 2 with a current Galaxy smartphone, thanks to Samsung's scalable codec. This supports 24bit/96kHz audio with Ultra High Quality (UHQ) upscaling, resulting in audiophile-quality results across all media. Standard codecs like AAC and SBC are also supported on iOS and other Android devices.
Samsung's ANC technology also ties into the Galaxy Buds 2's audio output, allowing for full-bodied sound to be enjoyed uninterrupted most of the time. These buds aren't going to outperform ANC goliaths like the Bose QuietComfort Earbuds 2 or premium Galaxy Buds 2 Pro, but what you end up with is sufficient in loud settings; most low- and mid-frequency noises go unnoticed. Ambient Mode works well for gaining a greater sense of awareness outdoors and hearing conversations clearly in close proximity.
The Air Pro 3 aren't beating the Galaxy Buds 2 on sound. Still, their audio presentation is surprisingly good for the price. Technologies like aptX Adaptive, Bluetooth LE (Low Energy) Audio and the LC3 codec allow for smooth connectivity and high-quality sound at low bit rates. Streaming on Spotify was satisfying. It was even better on lossless music platforms like Tidal; Master tracks were given a hi-fi boost. There is a customizable EQ in the EarFun Audio app for manually adjusting frequencies as well as four presets to increase/decrease bass or treble. A low-latency Game Mode comes as part of the package, though it doesn't improve sound effects like the Galaxy Buds 2's version.
EarFun's noise cancellation comes in handy for "dampening the sounds of construction and chatty subway cars," as our tech editor expressed during his testing. I found the feature useful for quieting commotion outside of my balcony as well as my cat's attention-seeking meows. Blaring sounds were a different story and drew my attention every so often; a toddler's cries are inescapable. Ambient Sound picked up incidental sounds well but performed terribly in gusty conditions, as the mics struggled with wind.
TL;DR: As impressive as the Air Pro 3 sound, especially on Android devices, the Galaxy Buds 2 have a more dynamic audio presence that is enhanced on Galaxy devices.
Features galore, no matter the model
EarFun and Samsung are known for offering lots of features, and these inexpensive models come well equipped. Similar features shared between the Air Pro 3 and Galaxy Buds 2 are the aforementioned ANC/Ambient modes, digital assistance, EQ and Game Mode.
They also have their own unique quirks. Bluetooth 5.3 with aptX Adaptive gives the Air Pro 3 refined sound performance over a smooth connection. The EQ offers more sound personalization. Control customization, firmware updates, tutorials and battery level indicators are some of the extras you can find in the EarFun app for iOS and Android, alongside the several listening modes. EarFun even added Bluetooth multipoint to pair these buds with two devices at the same time, making the switch between a smartphone and laptop (and vice versa) a breeze.
Most Galaxy Buds 2 features are found in the Galaxy Wearable app, which is available to all Android users — though Galaxy smartphone owners gain a few exclusives. Control customization, an earbud fit test, Find My Earbuds, firmware updates, tips/user manual and enabling ANC on a single earbud are accessible on all devices. Galaxy users get to take advantage of Bixby voice activation, Galaxy Watch controls and one-tap pairing with Galaxy devices. Bluetooth 5.2 maintains fast and reliable connections for music listening and voice calls and extends range up to 50 feet, much like on the Air Pro 3. Lastly, the Galaxy Buds 2 come with one killer feature: PowerShare. This allows you to recharge the buds by placing the case on the back of a compatible smartphone.
TL;DR: EarFun and Samsung both give you plenty to play with. The Air Pro 3 are more platform agnostic, while the Galaxy Buds 2 are ideal for folks with Galaxy devices.
Portability and style go to Samsung, while durability lies with EarFun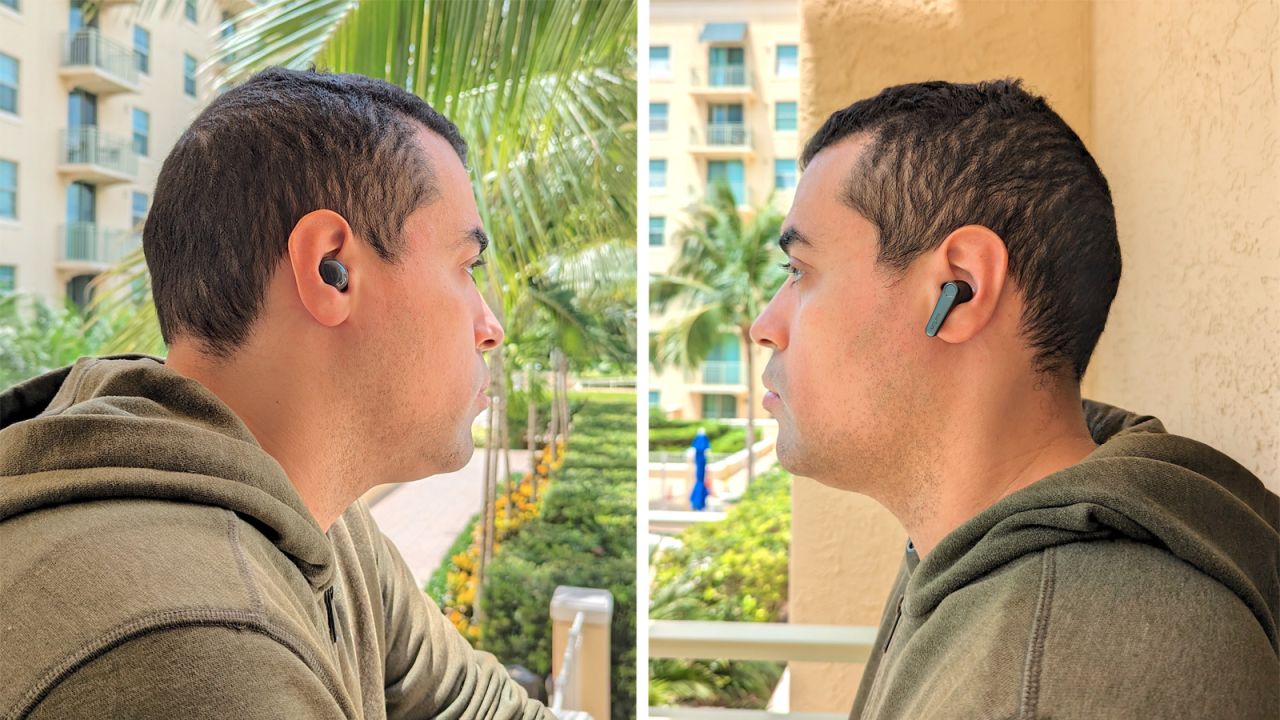 Samsung's craftmanship is on full display with the Galaxy Buds 2, which steers things back in the right direction after the awkward experiment that was the jelly bean-shaped Galaxy Buds Live. The tiny oval design molds perfectly to the ear and allowed me to enjoy music for several hours straight. Adjusting the buds properly will form a tight seal that keeps them in place. Their plastic build is sturdy enough to survive hard falls to the ground. However, the weak IPX2 rating leaves these buds vulnerable to moisture damage. Thankfully, you can store them in the chicest charging case out there. It feels nice in hand, slides easily into denim pockets and presents the buds handsomely when opened.
The Air Pro 3 are EarFun's most attractive buds to date, though the longer stems stick out and look unflattering on the ear. I will say that the slate gray and black colorway looks better than any Galaxy Buds 2 color option (Graphite, Lavender, Olive or White). The angled sound port slides into the canal and provides decent comfort, while the silicone tips maintain a tight grip for optimal stability. If only the charging case were better constructed. Truth be told, it feels like a small piece of cheap plastic with a flimsy lid. Size-wise, it's noticeably bigger than the Galaxy Buds 2's case, and weighs more, though it isn't a burden to carry around. At least the charging docks have strong magnets to keep the buds stationed when moving around.
TL;DR: The Galaxy Buds 2 are the more convenient and stylish travel companion, whereas the Fun Air Pro 3 offers greater protection.
EarFun has battery life in the bag
The Air Pro 3's six hours of ANC playtime is generous and equal to what you get from the AirPods Pro 2. It can be extended to nine hours when disabling the feature. Ten-minute quick charge equates to two hours of use. Wireless charging is included.
The Galaxy Buds 2 hold between five and seven and a half hours, depending how you use the buds, and the charging case holds between 20 and 29 hours. These numbers fall short of the Air Pro 3 as well as the AirPods Pro 2. At least Samsung's buds provide similar quick charging (10 minutes = one hour) as well as PowerShare and wireless charging support.
TL;DR: The Galaxy Buds 2's charging features are cool, but we prefer the Fun Air Pro's longer playtime.
Bottom line
While the Galaxy Buds 2 technically retail for $150, they're frequently on sale — and as low as $70 with trade-in as of this writing. Either way, these buds offer plenty of bang for your buck, boasting flagship performance with audiophile sound and features that are difficult for most entry and midrange models to match.
That being said, don't mistake EarFun's latest release for some Amazon darling with nifty features. The Air Pro 3 are premium buds disguised as a budget model. Battery life is long, sound is robust and terrific features like multipoint and wireless charging make them a standout at $79 (and you can get them for much less than that, thanks to frequent sales and coupons). They just aren't the Galaxy Buds 2, and there's nothing wrong with that, especially if you're a non-Galaxy smartphone user.
Again, you have two worthy options that can be acquired at attainable price points. The Air Pro 3 are the best overall budget earbuds value, and play nicer with all iOS and Android devices. But if you've got a Galaxy, we find the Galaxy Buds 2 to be better in key areas like ANC, audio and design.