This article is part of our series Battle of the Brands, in which we compare category-leading products to their counterparts to determine which are actually worth your money.
The battle for best wireless earbuds under $100 is heating up with the release of the $80 EarFun Air Pro 3 and $100 Jabra Elite 4. Both models come with effective active noise cancellation (ANC), gratifying sound and terrific wireless features for their price points. Companion app support also welcomes several customized features to the party.
These two sets of earbuds are platform neutral, meaning they will work equally well with iOS and Android devices, though each offers specific perks with the latter. However, depending on how much you care about features like ANC, sound and call quality, you may favor one over the other.
After a long week of thorough testing, we break down the EarFun Air Pro 3 and Jabra Elite 4 to determine the better purchase.
EarFun Air Pro 3 vs. Jabra Elite 4 at a glance
The EarFun Air Pro 3 are the best overall noise-cancelling earbuds under $100, offering tons of features, great sound and impressive ANC for a very low price. You can currently score them for 30% off using the code EAP3CNN1 at checkout on Amazon.
If you're willing to pay a little extra for style and comfort, go with the Jabra Elite 4. These buds are sleeker and come in more colors than the Air Pro 3, though they're also pricier and not quite as feature-rich.
Quick comparison
| | | |
| --- | --- | --- |
| Active noise cancellation/ambient sound | Yes | Yes |
| Battery life (rated) | 9 hours (earbuds), 45 hours (with case) | 7 hours (earbuds), 28 hours (with case) |
| Wireless charging | Yes | No |
| Water resistance | IPX5 | IP55 |
| Ear tip sizes | XS, S, M, L | S, M, L |
| Software support | iOS, Android | iOS, Android |
| Colors | Black | Dark grey, navy, light beige, lilac |
| Weight | 0.18 ounces | 0.16 ounces |
Equally satisfying sound and noise cancellation
Let's start with the Air Pro 3. Their combination of advanced drivers and support for high-end audio formats creates an energetic, smooth streaming experience. EarFun's sound profile leans toward the warm end of the audio spectrum, translating to deep lows that can often become aggressive on bass-heavy tracks.
Sonics are better balanced when switching out the default EQ to one of the four presets in the companion app; Treble Boost improved the low and mid ranges. Music quality on Spotify is decent but superior on Tidal. The former uses AAC files and lacks clarity, whereas the latter features hi-fi and Master Quality Audio (MQA) tracks that reproduce audio at the highest level, which the Air Pro 3 takes advantage of. Oddly, the AAC codec performs better on Mac devices than smartphones and produces better-balanced bass and treble. A Game Mode is included for lowering latency when mobile gaming and watching videos, but it doesn't do much.
The Elite 4 replace the fantastic-sounding Elite 3 as Jabra's entry-level model and uses Jabra's dynamic sound profile to deliver a nice mix of rich bass, sharp mids and transparent highs. You're given the chance to tweak the Elite 4's soundstage by adjusting the EQ via the companion app or by selecting from a variety of well-engineered presets. AptX support also leads to stutter-free streaming, though the Air Pro 3 features more advanced audio technologies. Music sounds engaging on iOS and macOS devices and even better on Android phones. Spotify and Tidal tracks performed similarly to what was heard on the Air Pro 3.
ANC plays a pivotal role in how we consume music in noisy environments. While the Air Pro 3 and Elite 3 won't replace category leaders like the AirPods Pro 2 or Bose QCE 2 (two models we recently pitted against each other), they surpass expectations with surprisingly good noise reduction that keeps you focused primarily on what's playing versus what's happening around you. Most incidental sounds go unnoticed, except for high-frequency noises like crying babies and sirens that make their way onto the soundscapes. If you want to increase environmental awareness, EarFun and Jabra's ambient listening modes are sufficient for identifying specific noises near you without compromising audio quality.
TL;DR: Music and movies sound great on either set of buds, especially in ANC mode, though you'll want to be selective with music streaming platforms.
Comfy, sleek-looking designs, with the edge going to Jabra
Even though the Elite 4 aren't as stunningly attractive as the beloved Elite Active 75t (neither are any of the current Elite models), they're still stylish with a chic charging case to match. Jabra's multiple color options pop, and the matte finish gives these buds an elegant glimmer in sunlight. IP55 sweat and water resistance protects the exterior. The physical buttons produce solid tactility to ensure intended commands are met. Carrying the charging case isn't cumbersome due to its light weight and portable-friendly form. The tiny triangular design also rests pleasantly on the ear, while the gel tips form a tight seal that keeps the buds stable when on the move.
EarFun's true wireless designs are acceptable for what they are, though the Air Pro 3's design is the brand's most attractive to date. The slate gray and black colorway has a luxe appearance as well as a nice shine factor. The indented touch sensors made multi-input gestures easier to execute; swipes work more efficiently than taps. An IPX5 rating keeps the buds safe from excessive sweat and water splash. Comfort and fit are fine for listening to music at your work desk within a four-hour time frame before fatigue sets in. Sadly, the charging case feels like a cheap piece of plastic compared to the Elite 4's storage unit, and it's a bit heftier.
TL;DR: EarFun earns props for improving its true wireless design, but Jabra continues to demonstrate high-grade craftsmanship. The Elite 4 are the nicer-looking and more comfortable buds.
Plenty of features on both sides, but EarFun boasts stronger specs
There was a time when earbuds under $100 barely offered anything other than Bluetooth 5.0 and digital assistance. Now, most of the best budget earbuds come equipped with the same feature set as most midrange options. With the Air Pro 3 serving as EarFun's flagship offering, these buds needed to come stocked with upmarket features, and thankfully, they do. I previously touched on audio perks such as aptX Adaptive, Bluetooth LE Audio, EQ, Game Mode and LC3, along with ANC and ambient sound. Access the EarFun Audio app to find a few other perks like control customization, firmware updates, tutorials and battery level indicators for each bud and the charging case.
The Jabra Sound+ app has been a personal favorite for years and remains a user-friendly platform for personalizing your Jabra buds. Some of the Air Pro 3's features can be found on the Elite 4, including ANC/HearThru (aka transparency), EQ and music presets. Jabra offers two high-end features that are usually present in pricier Elite models. The first is Personalized ANC, which does a noteworthy job of tailoring noise cancellation to your hearing. Then comes Call Experience to hear your own voice louder on calls, an effect that makes voice and video conversations more enjoyable. Unfortunately, other signature Jabra features didn't make the cut like MyControls, MyFit, MySound and Soundscapes.
These two competitors offer similar wireless performance. Bluetooth multipoint lets you pair either model to two devices at the same time. Range is equally lengthy at up to 60 feet in open spaces for stutter-free audio and calls. The Air Pro 3 run on the newer, faster Bluetooth 5.3 protocol, while the Elite 4 operate on Bluetooth 5.2, which still produces quick connections on iOS and Android devices. Jabra also added one-tap Google Fast Pair.
TL;DR: You're certainly getting more features than you pay for, and EarFun packs its buds with the most.
EarFun offers longer battery life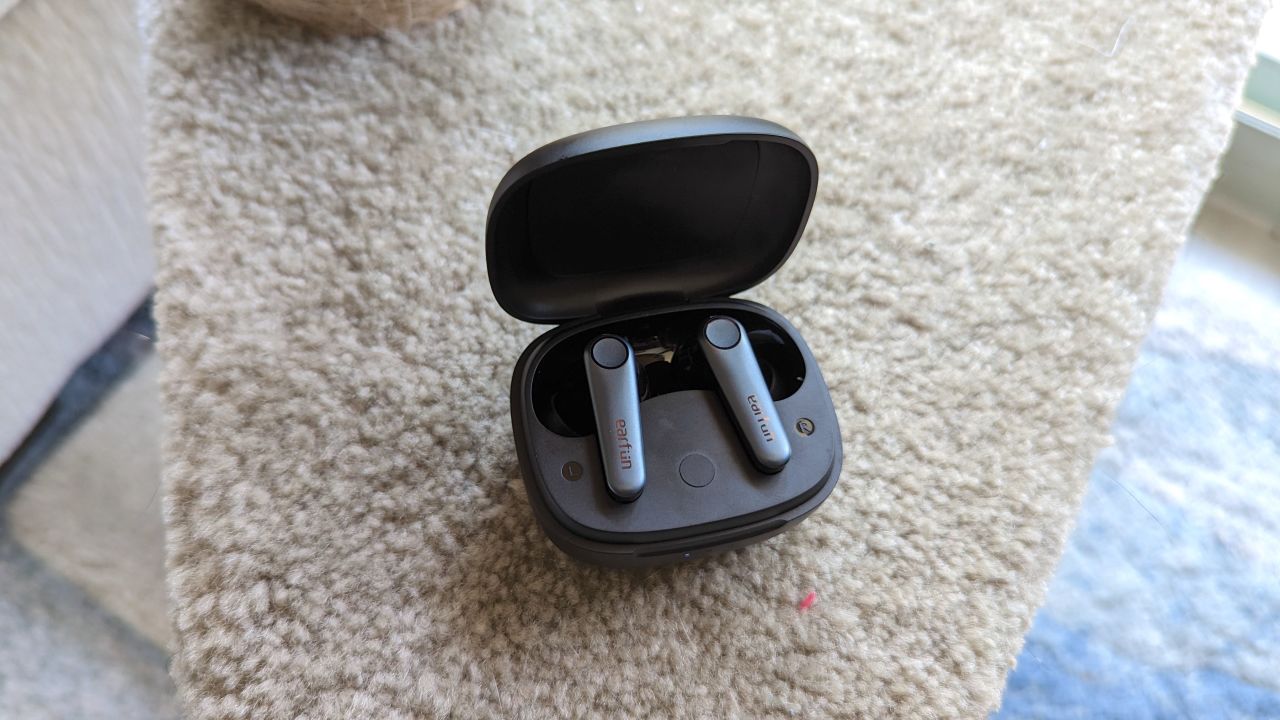 The Air Pro 3 can last up to six hours with ANC on and extend to nine hours when turned off. Meanwhile, the Elite 4 can do five and a half hours with ANC on and seven hours with ANC off. It doesn't take a mathematician to see which offers longer playtimes. Furthermore, the Air Pro 3 charging case not only holds more portable power (up to 36 hours) and quick-charging technology that can generate two hours of use in 10 minutes, but it also supports wireless charging. The Elite 4 case doesn't come with that feature, only gets you one hour of use on a 10-minute quick charge and holds 28 hours max.
TL;DR: Go with the Air Pro 3 if you want buds that last throughout a full workday with ANC on.
Bottom line
After using both models extensively, I can say that the EarFun Air Pro 3 are the better noise-canceling value. Impressive ANC, powerful sound that is taken up a notch with aptX Adaptive and serviceable wireless features make for an elite and inexpensive package that currently holds our best budget earbuds pick for noise-canceling buds. The design is hit-or-miss, but it's easy to overlook the flimsy charging case since it holds a lot of juice. The Air Pro 3 are also notably cheaper — and frequently on sale for less than their retail price.
The Elite 4 are do-it-all earbuds with fantastic performance. You're getting some of the best sound quality, battery life, noise cancellation and features for under $100. They deliver better call quality than any EarFun model. Also, the variety of colors available gives fashion-forward listeners something to coordinate with their wardrobe. If only their battery life and feature set were longer.