Doug Bowser doesn't mind sharing his name with a villain. The coincidentally named Nintendo of America president has embraced the memes sent his way ever since he took the lead gig in 2019 — after all, what's funnier than a Bowser running Nintendo?
Well, after seeing The Super Mario Bros. Movie, that accolade just might go to Jack Black's uniquely charming, goofy and lovelorn take on Mario's biggest menace. Bowser can be many things to many different people, whether he's running a company or trying to take over the Mushroom Kingdom. And it's that versatility that Nintendo is looking to double down on as it brings its iconic characters to new mediums, from theme parks to the massive Universal film hitting theaters today.
Ahead of The Super Mario Bros. Movie's release, we got a chance to chat with Bowser (the one that works at Nintendo, not the big evil turtle), who dished on his favorite moments from the film, his favorite Mario games of all time and what to expect from the still-hot Nintendo Switch as it enters its seventh year on shelves.
The Super Mario Bros. Movie is a fan-service-filled animated adventure that puts a fresh spin on Nintendo's most famous characters.
A Mario movie for new and old fans alike
Let's start with The Super Mario Bros Movie itself, which is a delight. Every frame of this gorgeously animated adventure feels like a love letter to fans, from the plethora of hidden easter eggs to the raucous action scenes that feel ripped right out of beloved games like Mario Kart 8 Deluxe and Super Mario 3D World. It's all rendered in painstaking detail — down to the fine hairs of Mario's mustache — and the expansive, colorful Mushroom Kingdom is nothing short of a sugar rush for the eyes.
But fan service alone isn't enough to make a movie great, and what really sets The Super Mario Bros. Movie apart is the performances of folks like Chris Pratt (Mario), Anya Taylor-Joy (Peach), Charlie Day (Luigi) and Seth Rogen (Donkey Kong). This is one of the few times we get to hear these iconic video game characters simply talk and act like people, rather than avatars that do little more than let out a "wahoo!" or "let's-a-go!" on our gaming consoles.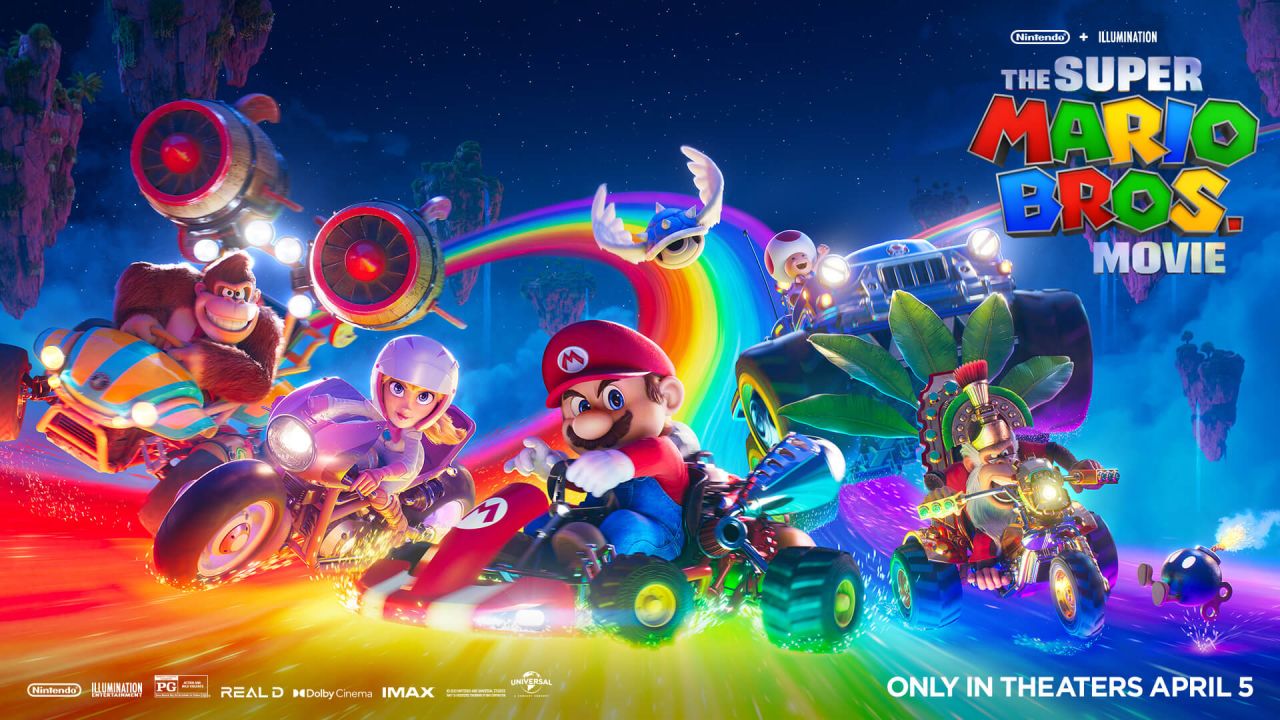 "For me, my curiosity really was going to be all about how do you take these characters that we're so familiar with in a video game context, how do you bring them to life?" says Bowser. "How do you really give them personalities? And I just think the team did a phenomenal job. It did not disappoint at all."
For all the commotion and jokes made over Pratt's casting as Mario, the actor does a fine job as this version of the iconic plumber — one who's simply a regular guy from Brooklyn trying to make something of himself (we also get to meet the extended Mario family, which makes for one of the better and funnier depictions of New York Italians). Taylor-Joy's Peach is an absolute badass; Day is an amusingly timid Luigi; Rogen's Donkey Kong is a hilarious frenemy to Mario. But the real star of the show is Jack Black's Bowser, who puts his distinct spin on gaming's most famous villain by, well, simply being Jack Black — and winning the approval of the real-life Bowser in the process.
"What I've enjoyed as I've come into this role is seeing how people, despite the fact that Bowser is a villain, enjoy the character [and] enjoy the gameplay that comes with the character overall," says Bowser. "I've embraced sharing the name with a villain. But as you'll also see, especially within the movie, Bowser's got a soft side to him."
Sure, this Bowser is still a fire-breathing menace hellbent on conquering the Mushroom Kingdom and marrying Princess Peach, but he's also vulnerable, insecure and completely goofy. He genuinely yearns for the princess's affection, and he isn't afraid to wreak havoc (or break out into song) over it.
These original takes on beloved characters don't diminish the fact that The Super Mario Bros. Movie is a truly authentic Mario experience, one that had me grinning from start to finish at the sheer amount of details packed into it for lifelong fans. I'm not sure how the movie will land for non-fans given how referential it is, but Bowser was quick to stress that this is a film for everyone — even if you've never touched a Mario title.
"I think it's important to understand one thing about the movie itself — it's surprising in the way it weaves various gameplay elements and fun into the movie itself and things that Mario fans will truly recognize and enjoy," says Bowser. "But equally important is that you really don't have to know the games or play the games to really enjoy the movie. It's just a wonderful family movie that I think all ages can enjoy themselves."
Bowser's Picks
Here are Doug Bowser's favorite Mario games of all time, from classics to modern hits.
"I would have to go back to the original series in the 2D format … Super Mario Bros. and Super Mario Bros. 3 were two of my favorites early on," says Bowser. Fortunately, these two defining NES platformers are easily accessible on Switch for anyone with a Nintendo Switch Online subscription.
Debuting on the Nintendo 3DS in 2011, Super Mario 3D Land did an excellent job combining the tight, compact level design of classic 2D Mario games with the free-flowing movement of the newer 3D titles. If you want a more modern take on the formula for Nintendo Switch, Super Mario 3D World + Bowser's Fury is an absolute must.
One of the absolute best Switch games, Odyssey features the series' most expansive worlds yet and lets Mario transform into all sorts of enemies and objects thanks to his trusty hat Cappy. "I like to tell people that I'm still about 30 moons away from truly completing the entire game," says Bowser. "And at some point, time allowing, I do plan to get back to the game and finish that off."
From the big screen back to the Switch
Between projects like The Super Mario Bros. Movie and the Super Nintendo World theme park that just opened at Universal Studios Hollywood, it's clear Nintendo wants people to experience its characters in as many ways as possible. But Nintendo is still best known for its video games, and the company is hoping that these new ventures will ultimately drive people back to the Nintendo Switch, its mega-popular and versatile home console that's still going incredibly strong seven years after it first launched.
"As we think about just Nintendo Switch and where we are in the overall life cycle, our global president, Mr. [Shuntaro] Furukawa, I think put it best: we're heading into uncharted territories as we go into year seven, but we're very, very optimistic about what's to come," says Bowser.
You could argue that it's well past time for new Nintendo hardware; recent titles such as Pokémon Scarlet and Violet are starting to show the system's limitations, and it's well behind the PS5 and Xbox Series X in terms of sheer performance muscle. But considering its enduring popularity (it just became the third bestselling console ever), it seems like Nintendo fans are cool with that. And if you take a glance at the Big N's release schedule for 2023 and beyond, it doesn't look like the aging Switch is slowing down anytime soon.
A little over a month from now, Nintendo is launching The Legend of Zelda: Tears of the Kingdom — the sequel to 2017's beloved Zelda: Breath of the Wild, and one of the most anticipated games in years ("[It] looks beautiful, plays beautiful, and I think that'll be incredibly exciting," says Bowser). Other notable upcoming releases include Pikmin 4, a cute plant-commanding simulator; Advance Wars 1+2 Re-Boot Camp, a remake of a beloved Game Boy Advance strategy series; and hopefully at some point in our lifetime, the long-awaited space opus of Metroid Prime 4.
When you combine that with the growing library of classics in the Nintendo Switch Online library and recent surprise releases like Metroid Prime Remastered, you've got plenty of reasons to keep your Switch plugged in or pick one up for the first time. And while Bowser couldn't speak to any unannounced hardware or games, it's safe to say that more surprises are coming.
"I think you know us well and we enjoy surprising and delighting people throughout the year with our game announcements," says Bowser. "You know the lineup coming in the next, obviously in the next couple of months up through the summer, but stay tuned, lots more excitement to come overall."