CNN —
DJI released the $399 Mavic Mini around this time last year. The 249-gram drone was a first for the company, with it falling just under the 250-gram weight limit before you have to register a drone with the Federal Aviation Administration. The small, compact design made it easy to throw in a bag or backpack and always have with you on the go.
On Wednesday night, DJI announced the Mavic Mini 2, a more powerful, capable, and slightly more expensive entry-level drone. The design is nearly the same, save for a new light on the front and some other small tweaks. And, yes, it still weighs an impressively light 249g. We've spent a few days getting accustomed to DJI's latest drone, but will need some more time with it before we can offer up a full review. In the meantime, below you'll find some of our first impressions.
An improved controller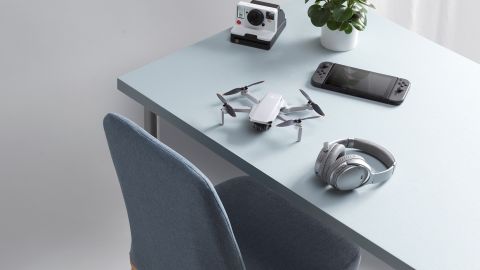 With the original Mini, DJI used a smaller, more compact controller that relies on frequencies that are more susceptible to interference, especially if you live in an area with a lot of Wi-Fi networks. With the Mini 2, DJI is including an OcuSync 2.0 controller that not only improves the overall range, jumping from 4 kilometers to 10 kilometers, or 2.5 miles to 6.2 miles, but vastly improves interference issues.
Our first test flights of the Mini 2 were free of any stuttering or lag in the video feed due to objects like trees being between the controller and drone. We haven't tested out any range claims yet, but can confidently say that the OcuSync 2.0 controller, despite being bulkier than the original controller, is a welcomed update to the Mini 2.
Camera upgrades
Arguably, the camera is the most important update in the Mini 2. No longer are you stuck recording 2.7k video as was the case on the original Mini. The Mini 2 has a 12-megapixel camera with 1/2.3-inch sensor that can capture 4K video at 30 frames per second. You can still switch to 2.7k or even 1080p if you prefer. In fact, you can take advantage of 4x zoom when filming in 1080p in case you don't want to get too close to an object but still want that close-up shot.
Additionally, DJI added some new capture modes to the Mini 2, like on touch panoramas. You can take a 360-degree panoramic photo that's stitched together in the DJI Fly app directly on your phone, for example. The staple quick shot modes, like Dronie that flies the drone up and back as it films a subject, or a Helix that corkscrews away from an object while it records, are still present as well.
The photo quality, so far, looks to be improved, with basic photos not looking overexposed or under saturated, as was our experience with the original mini. We need to get out and really push the Mini 2 to its limits before we can offer a full critique about its new camera.
Battery life and more powerful motors
Another area where DJI improved the Mini 2 is its motors. More specifically, the new motors offer faster acceleration and are more responsive when stopping or changing directions. And because of the added boost in power, the Mini 2 will be able to fly in winds of up to 24mph, according to DJI.
We've only taken the Mini 2 out on a couple of flights, but the air was calm, so we can't attest to the new wind resistance, however, we can confirm the Mini 2 now stops much faster and gets up to speed with very little lag.
A byproduct of the improved motors is that DJI now claims 31 minutes of flight time is now possible on the Mini 2. That's up from 30 minutes on the original Mini. Still, thirty minutes of flight time is impressive.
Bottom line
Now, what about price? Last year, you could get the Mini for $399 in a standard bundle, or $499 for the Fly More Combo that included additional batteries and accessories. This year, the Mini 2 starts at $449 for the drone, controller and one battery. The Fly More Combo is $599 and includes the Mini 2, a new controller, three total batteries, a carrying case and other random accessories.
The price increase is likely due to the inclusion of an OcuSync 2.0 controller, and in our experience so far, it's made a big difference in the overall experience. You can order either the standard kit or the combo today, with orders shipping now as well.