With the advent of ultrathin laptops and the rise of super-versatile tablets, it's hard to know what to consider when buying a portable computing device. Two of the best current examples of these multipurpose machines are the Chromebook and iPad, but how to decide between these dueling technologies?
Joe Cannata, owner of Techsperts in Oradell, New Jersey, says it's important to acknowledge that neither option is an actual replacement for a more powerful laptop or desktop. "They're both ideal for basic tasks, but you will quickly find many advanced features and capabilities found in a regular laptop are not available — or limited at best — on devices such as Chromebooks and iPads," he says.
Still in the market? Here are the pros and cons of the Chromebook versus the iPad.
Chromebook vs. iPad: At a glance
The first thing to consider when looking at both devices is the form function. A Chromebook looks like a laptop, while an iPad is a tablet. Then, there's the obvious differences between the Google and Apple operating systems.
"Chromebooks run an operating system called Chrome OS, which is pretty much the Chrome browser," explains Greg Scott, a Minnesota, Minneapolis-based author and cybersecurity professional. "Think Google Docs with everything stored inside Google instead of a local copy of a favorite office suite."
On the other hand, iPads and iPhones are made by Apple and use iPadOS. And though it includes a Safari web browser, it mainly runs local apps — some paid, some free — from the Apple Store. And honestly, he doesn't believe that one is better than the other. Instead, Scott says each is good for different use cases.
Variety and price
One major difference between Chromebooks and iPads involves purchasing options. There are various iPad options available, but they all come from Apple and deliver the same core user experience. However, Chromebooks are made by Google but also HP, Samsung, Dell, Asus, Acer and Lenovo as well as other hardware partners. (Asus also makes Chromebox desktop computers.)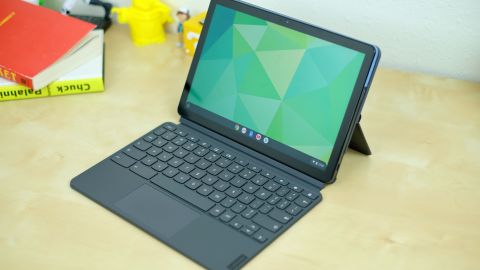 Both Chromebooks and iPads range greatly in price. However, if cost is a major factor, Ilan Sredni, CEO of Palindrome Consulting in Hollywood, Florida, gives Chromebook the advantage. "The major benefit is the cost, since the higher-end Chromebooks are still less expensive than most laptops or iPads," he says.
You can find a Chromebook for less than or close to $200, including the $192 Lenovo IdeaPad and the $225 Lenovo Chromebook. There are some midrange options, such as the $312 HP Chromebook 2-in-1, with a handful of higher-end options available like the $649 Google Pixelbook Go and the $999 Samsung Galaxy Chromebook.
iPads are a little more expensive across the board, with the basic 2021 iPad starting at $329 and the iPad Mini going for $499. The latest 2020 iPad Air starts at $599, and the higher-end 12.9-inch iPad Pro will cost you at least $999. And keep in mind that accessories like iPad keyboards are not included in the price.
Apps and accessories
When it comes to apps, iPads have an edge.
"From an application standpoint, there are more apps currently available for iPads than Chromebooks, but the Chromebook is quickly catching up," says Snell.
The Apple App Store has nearly 2 million apps, including popular services like Zoom, Microsoft Word and Adobe Photoshop. Chrome OS largely relies on web-based apps like Chrome and Google Drive, but it also lets you download Android apps via the Google Play Store. That opens up your Chromebook to a decent amount of entertainment and productivity apps, though not all of them are optimized to run well on a laptop.
For such tasks as video conferences and streaming, both Chromebooks and iPads have a camera and built-in microphone. You can connect various devices, ranging from keyboards and mice to external monitors and headsets. However, Apple's legendary reputation for not always playing well with the other kids on the playground extends to its line of iPads. For example, some models have a USB-C connector, some have a Lightning connector and some use a USB-C connector with support for Thunderbolt.
Newer iPad models are compatible with Apple's Magic Keyboards and Smart Keyboards, but they also work with brands like Logitech, Fintie and Zagg. Almost all keyboards are compatible with Chromebooks.
In addition, most iPad models work with the company's stylus, the Apple Pencil, although other brands are compatible as well. However, it's a lot easier to find a stylus for a Chromebook, and some models support Universal Stylus Initiative (USI) pens.
Chrome also has the advantage of being available as a tablet, laptop or convertible (which means it can be used as either like the Acer Chromebook Spin 514).
How much performance do you need?
Next to cost, perhaps the more important factor when choosing between a Chromebook or an iPad is how you plan to use it.
Chromebooks typically have limited CPU, RAM and storage, which means they're not designed for heavy computational workloads or running several apps at the same time. "Most of their workload is actually browser-based, which means it is best at using apps that are actually running in the cloud or from a network server," says Abraham Snell, a Birmingham, Alabama-based senior solutions architect at Red Hat.
This is optimal for folks who mainly use it to check email and surf the web, making the Chromebook a good alternative for travel as well as for students and the elderly.
The iPad is generally geared more toward leisure and recreational activities like reading books, playing games or navigating social media. "But it also works for professionals who can load function-specific software that helps them do their job and be more mobile," says Snell. For example, if you're checking people in at a conference or filling out forms while in the field, an iPad is ideal. However, even though they typically have less CPU, RAM and storage than a traditional laptop, iPads may cost as much as a traditional laptop due to their design.
Sredni agrees, and says iPads are much more compatible with the business world. "For more work-heavy use, I would recommend buying a keyboard since typing on the screen can be difficult at times," he says. "You can still use some Microsoft Office apps and integrate better."
So, how do the two compare when it comes to performance? The starting $329 iPad has 64GB of storage and features the A13 Bionic chip and a Neural Engine, which we've found to deliver very fast speeds for both everyday use and playing the many graphically rich games on the App Store.
By comparison, one of the least expensive Chromebooks, the $225 Lenovo Chromebook S330 Laptop, also has 64GB of storage (and 100GB of cloud storage on Google Drive). It uses a MediaTek MTK8173C Processor, which can handle basic web surfing and productivity but isn't meant to power through tons of heavy-duty tasks.
In higher-end models, the 2021 Apple 12.9-inch iPad Pro uses Apple's powerful M1 chip, which is arguably the fastest chip made for tablets and laptops, and has outperformed nearly every competitor we've tested it against. On the more premium side of Chromebooks, models like the $999 Galaxy Chromebook pack 8GB of system memory, and a mid-grade 10th Gen Intel Core i5 processor makes the device fast and quiet. The Intel UHD Graphics allow for photo editing and gaming, and there's a built-in media reader.
Chromebooks will get the job done if most of your day consists of checking email and using Google Docs, and there are a few higher-end options available for those who want something faster. But if you're seeking the best performance for the money, you should look into an iPad.
Durability and portability
Once you figure out how you want to use it, you may also want to consider how long your device will hold up in various environments. For those looking for a more traditional laptop feel, a Chromebook offers a durable form factor and can be better for students who need something more rugged. "If you are looking for a machine that is more affordable with a traditional laptop feel, I suggest a Chromebook," advises Holden Watne at Generation IX Technologies in Los Angeles, California.
For example, Lenovo claims its ThinkPad Chromebooks are tested for durability using US Department of Defense standards, including a variety of stress tests such as mechanical shock, vibration, humidity, sand and dust, extreme temperature and even fungus.
On the other hand, due to their tablet design, iPads are great for portable lightweight computing — in fact, you can get an iPad Mini with a screen as small as 8.3 inches. The device's enclosure is made of 100% recycled aluminum, with arsenic-free display glass, so though it may be more eco-friendly, it's not designed to be as rugged as a Chromebook.
Bottom line
Cost, compatibility and durability are the major factors to consider when choosing between a Chromebook and an iPad.
If you have a MacBook and an iPhone, an iPad seems like a logical choice since you're already in the Apple ecosystem. It also offers a much sleeker look and takes up less space. iPads also deliver great performance for the money — especially considering that the iPad Pro can outclass many laptops — but you will have to pick up a keyboard to make it a true notebook replacement.
But for students using the device primarily for school and those who need something primarily for web browsing, a Chromebook may be a better fit in terms of price and durability.