Whether you have a MacBook Air or 13-inch MacBook Pro, or splurged for an even more powerful 14-inch or 16-inch MacBook Pro, Apple's laptop lineup is particularly strong right now. With Apple Silicon processors inside and updated design, they keep getting better and better.
That being said, you'll want to make sure your device stays in the best shape while you take it around and show it off. Regardless of model, we've still got you covered. With an array of options, from cases and sleeves to dongles and adapters, we've picked our top options for perfect MacBook accessories.
MacBook Air cases and sleeves
Your MacBook Air is designed for travel, so you'll want to make sure it travels in both style and comfort. These protective cases and sleeves won't add any bulk to your laptop and will keep them safe from scratches and bumps along the way.
Mosiso MacBook Case ($14.99; amazon.com)
This simple case is available in 19 different colors, so you're sure to find one you really love. It conveniently snaps onto your MacBook Air. It has vents on the bottom shell to help with device cooling, and it features easy port access along the sides.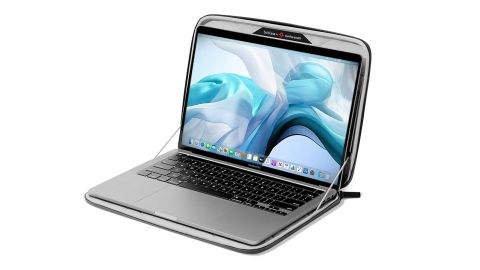 Twelve South Suitcase for MacBook ($69.99; amazon.com)
With a hard-shell exterior and soft microfiber interior, this option doubles as a sleeve and a case. You can secure your MacBook within the case, and the bungee hinge design allows you to open the case and get working. It also has convenient storage pockets for cables and adapters.
Love in Space Case ($55; casetify.com)
Featuring a space-themed design, Casetify's Love in Space case shows off your stunning MacBook with ease. It's made from a scratch-resistant material, so your laptop is safe, and in an overall sustainability effort from the brand, it's made from recycled PC plastic.
Speck Smartshell ($49.95; speckproducts.com)
This case comes in three different colors: a transparent black, an aqua tone and a light pink hue. The durable and slim case has rubberized feet to keep your MacBook in place while you work, and a scratch-resistant hard shell protects from scuffs and dents.
MacBook Pro 13-inch cases and sleeves
The small but still mighty 13-inch MacBook Pro is a highly functional piece of tech you'll likely want with you almost anywhere. Whether you're commuting to an office or from the kitchen to the living room, these cases and sleeves will keep your notebook safe and sound.
iBenzer MacBook Case ($16.59; amazon.com)
A budget-friendly option, this pick from iBenzer is affordable but still protective all the same. Available in 36 different colors, there's definitely an option for everyone. The case will keep your laptop from getting scraped and is easy to install and remove.
Hard-Shell Case for 13-Inch MacBook Pro ($49.95; incase.com)
With precision cutouts for ports, lights and buttons, this case from Incase is lightweight and form-fitting, giving you full access to your MacBook Pro. The rubberized feet keep your notebook in place while you work, and the ventilation on the bottom helps keep your device cool throughout use.
Targus Newport Sleeve ($16.99, originally $22.88; bestbuy.com)
This dual-toned sleeve has a padded interior to cushion your MacBook while you're on the move while also protecting from scrapes and scuffs. The exterior is water-repellent, and the case itself is lightweight and easy to carry on its own or in a bag.
Reform Hard Shell for 13-inch MacBook Pro ($79.95; incase.com)
This case has a dual-layer construction to it. The outer polycarbonate shell protects from scratches, and the inner shock-absorbing layer helps prevent damage from bumps, drops up to 4 feet and other mishaps. It comes in a black or clear finish.
Transfer Pro Pocket ($39.95; speckproducts.com)
The Transfer Pro Pocket is water-resistant and has an interior foam lining to keep your laptop from getting scratched on the move. It comes in four different colorways and also has an accessories pocket so you can travel with your charging wire or adapter.
MacBook Pro 14-inch cases and sleeves
While we're still waiting to see some new accessories for the 14-inch MacBook Pro, we've rounded up some sleeves that should fit the newly designed notebook. They'll help you keep your brand-new device protected and safe.
Amazon Basics Felt Laptop Sleeve ($14.99; amazon.com)
A very simple option, this pick from Amazon offers protection while on the go in a minimalistic design. It has a main compartment for your laptop as well as two back pockets for your other accessories and another pocket that will fit a tablet up to 9 inches.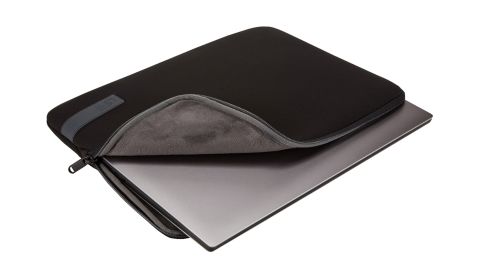 Case Logic Memory Foam Sleeve ($34.99; bestbuy.com)
This simple black case is constructed with memory foam to cushion your computer while you carry it around. The plush interior lining also helps prevent scratches to your laptop, and the slimline design allows it to be carried on its own or in another bag.
MacBook Sleeve Veg-Tan Leather (starting at $69.99; etsy.com)
You can personalize this laptop sleeve with your initials to add a personal touch to your device carrier. It's available in a variety of letter finishes and will protect your MacBook Pro from dust, scuffs and moisture.
Custom MacBook Sleeve ($69; casetify.com)
This cool case is also customizable, with different font choices and color options. It comes in a sleek black option or an iridescent purple. You'll want to opt for the large size to fit your new MacBook Pro. Bonus: The case is waterproof!
ARC Tech Tote ($79.95; incase.com)
This tech tote is new from Incase, and we're stoked to see it. It's made from recycled polyester that's durable and sustainable. The tote offers a perfect sleeve for your MacBook Pro as well as compartments and pockets for other items. It can be worn multiple ways to fit your comfort desires.
MacBook Pro 16-inch cases and sleeves
Like the 14-inch MacBook Pro, we're still waiting on some release of accessories for the larger 16-inch MacBook Pro. Still, currently there are several accessories to protect and get the most out of the biggest laptop in Apple's lineup.
Gray Marble MacBook Case ($80; chicgeeks.com)
Marble pattern isn't going anywhere anytime soon, and this trendy case will fit your 2019 MacBook Pro perfectly. It adds a subtle marble design to the front of your laptop that isn't overwhelming and protects from scrapes while on the go.
Apple Leather Sleeve ($189.50, originally $199; amazon.com)
We're big fans of Apple's classic leather sleeve, even though it's pricey. It has a sophisticated look while offering device protection. The soft microfiber lining cushions and protects your MacBook, and you can choose from a navy or soft brown leather.
Stands and storage
When you're not using your MacBook, you'll want a place to store it away, keeping it safe from surface top accidents like spills. Stands and stowaways serve the function of ergonomics during use but also storage when you're done working.
Aluminum Laptop Stand ($29.99; satechi.net)
This laptop stand slightly raises your MacBook to a comfortable height for usage. Your laptop sits comfortable on the aluminum stand, and the rubber grips at the top and bottom will hold your computer in place. The silver and Space Gray blend nicely with your MacBook as well.
Universal Aluminum Vertical Laptop Stand ($44.99; satechi.net)
A vertical storage option, this pick from Satechi keeps your MacBook lifted and off your desk. The sleek aluminum design looks great while in use, and the bottom of the stand has a rubber grip to keep it (and your notebook) from falling over.
Twelve South BookArc ($49.99, originally $59.99; amazon.com)
We like this laptop stand for the sleek way it keeps your MacBook vertically stored. The Space Gray or silver finish will blend in nicely with your MacBook (if those are your color choices), and the stand securely holds your laptop upright to give you more desk space and to keep your laptop safe from any accidents.
Twelve South Curve ($59.99; amazon.com) 
We've been using this laptop stand for a handful of months now, and we're big fans. It lifts your laptop up 6 inches, which is a comfortable height for a long day at work. It comes in white and black and is designed for all sizes of the MacBook lineup.
Keyboards and trackpads
If you're looking to boost your work-from-home setup, adding a wireless keyboard and mouse can make all of the difference. Keep your MacBook Pro or Air on a stand and work in a more comfortable and ergonomic way. These picks from brands like Apple, Satechi and Logitech were created with MacBook users in mind.
M1 Wireless Mouse ($29.99; satechi.net)
This mouse has the M1 chip, meaning the connection to your laptop is seamless. It's rechargeable with a USB-C cable and comes in different metal finishes to match that of your MacBook. It also features optical sensors for accurate and quick tracking
Aluminum Bluetooth Keyboard ($79.99; satechi.net)
This full-size keyboard adds arrow navigation keys as well as a number pad. It connects to your laptop via Bluetooth and is rechargeable with a USB-C cable. The battery should last you up to 80 working hours, and the standby battery life is up to 100 days. It's available in a sleek Space Gray or silver option.
Apple Magic Trackpad ($129; amazon.com)
An edge-to-edge glass trackpad, this pick from Apple is wireless and rechargeable; a charge should last you about a month. It'll pair automatically via Bluetooth with your MacBook so you're ready to get working right away.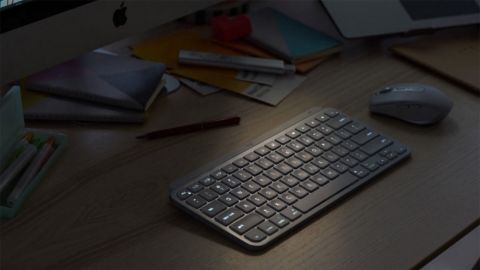 Logitech MX Keys Mini for Mac ($99.99; logitech.com)
This external keyboard was designed with Mac users in mind, making it an excellent choice to get more out of your MacBook Pro (or Air). It has a Mac key layout and has an added emoji key for quick access to your favorite emojis. It's rechargeable, and without keyboard backlighting, one charge should last you up to five months.
Dongles and adapters
While the newest MacBook Pros will have plenty of port access, you might want a boost for the older models and the MacBook Air. These dongles and adapters conveniently help add extra ports to your laptop.
Apple Multiport Adapter ($43.95, originally $49; amazon.com)
This multiport adapter adds a USB-C port, a VGA port and a USB-A port. It's a small but handy adapter to keep around, especially if you find yourself using VGA cables for external displays.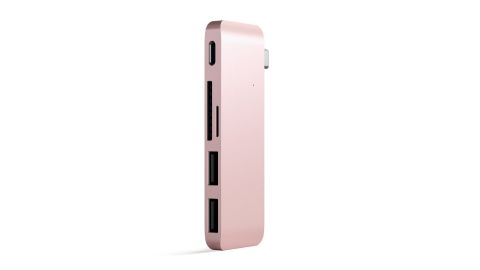 Type-C Pass-Through USB Hub ($44.99; satechi.net) 
Losing the cable, Satechi's USB hub plugs into both of the USB-C ports of your MacBook and sits pretty attached to the laptop. It adds a USB-C port, a micro SD and SD card readers, as well as two USB-A ports. We like that it's wireless and plugs right into your laptop, and you can choose from metallic finishes to coordinate perfectly with your MacBook.
Anker USB-C Hub Adapter ($45.99; amazon.com)
This 5-in-1 port expander plugs into your MacBook and adds Ethernet and HDMI ports as well as three USB Type 3.0 ports. It's small and lightweight, so it will easily fit in your bag, or you can tuck it into your laptop sleeve pocket.