Jabra just might be the best-kept secret in the world of wireless earbuds. The company's in-ear headphones have proven capable of beating the likes of Apple and Samsung in our tests and can often be found for cheaper than their top rivals. The excellent Jabra Elite Active 75t have long been our best wireless earbuds pick for working out and even got us to ditch our AirPods Pro for a while. And now that Jabra's earbuds run the gamut from the affordable Elite 3 to the higher-end Elite 7 Pro, there's something for everyone in the lineup.
Picking the right pair of Jabra earbuds has gotten a little more tricky as the lineup has grown. Fortunately, we've tested all of Jabra's current buds extensively and are ready to make that decision easy for you.
Whether you want quality sound for cheap or are willing to invest in something built to last from the gym to the office, here are the best Jabra earbuds to buy now.
What you need to know about Jabra earbuds
Before you pick up a pair of Jabra earbuds, there are some key things to keep in mind about the entire range. The company's buds are fairly platform agnostic — they pair well to both iPhone and Android devices via Bluetooth, with a free Sound+ app that lets you do things like adjust sound profiles or activate special features. Some Jabra buds — like the Elite 4 Active — have Android-exclusive features (i.e., Google Fast Pair and Alexa support), but they still work very well on all types of phones.
Virtually all Jabra buds offer a HearThrough mode, which amplifies the world around you to help you stay aware of your surroundings (think Transparency mode on Beats Fit Pro or AirPods Pro).
And save for the Elite 3, almost all of Jabra's recent earbuds have active noise cancellation (ANC), which we've found to be very reliable for blocking out unwanted noise when working or out on a walk. Jabra earbuds also generally excel at calls, with all of the below models holding up well during phone chats and work meetings.
Jabra Elite 3: Great sound on a budget ($79.99; amazon.com and bestbuy.com)
Jabra earbuds haven't historically been the cheapest, but the Elite 3 finally buck that trend with an $80 price tag that frequently drops below that during sales. And fortunately, they don't cut many corners at this low price. The Elite 3 offer very good sound quality, a superb fit with multiple ear tips and around nine continuous hours of battery life — that's some of the best we've tested on any pair of buds. You even get the same HearThrough mode found on Jabra's more expensive buds for amplifying the outside world when you need to stay alert — it's perfect for when you're walking through a city or at the airport.
The big trade-offs here are that the Elite 3's plastic case feels a little cheap compared to its more premium siblings, and the bass doesn't pop the same way it does on other Jabra buds. You also won't get ANC, which isn't a feature we expect at this price but one you'll find on other cheap options like the EarFun Air Pro and TCL MoveAudio S600. But you'd be hard-pressed to find a higher-quality set of earbuds at this price — especially considering we've seen them as low as $60.
Jabra Elite 4 Active: Good for working out with ANC ($119; amazon.com and bestbuy.com)
If you're willing to spend more than $100, the Jabra Elite 4 Active are a great option for working out — and some of the best overall earbuds you can buy at this price. The Elite 4 Active sound very good, are IP57 rated to handle up to a meter of dust and water and, most importantly, are the cheapest Jabra buds with active noise cancellation.
We've found the Elite 4 Active's ANC to be very good for the price, even holding up to expensive rivals like the $199 Beats Fit Pro in some scenarios. You also get a reliable HearThrough mode, and all of the sound customization benefits of Jabra's Sound+ app. The real drawbacks here are that the Elite 4 Active's controls aren't quite as responsive as those of the other models on this list, and that the plastic case feels a bit flimsy. But if you're seeking something more workout-friendly than the Elite 3 — and want solid ANC without having to pay a ton — the Jabra Elite 4 Active are a superb value.
Jabra Elite Active 75t: Still the best for the money ($99, originally $179; amazon.com and bestbuy.com)
The Jabra Elite Active 75t are a bit on the older side, but they continue to hold up against newer competition — and they're cheaper than ever these days at $99. The Active 75t currently sit as our best workout earbuds pick, thanks to great sound quality, an incredibly comfortable design and just about the best feature set you'll find for their often low price.
The Active 75t's active noise cancellation is some of the best we've tested, even drowning out more sound than the AirPods Pro in many scenarios. The earbuds' HearThrough mode is similarly stellar, outdoing Apple's Transparency mode with six levels of ambient noise that gives you control over how loudly you want to hear your immediate surroundings. They also offer a strong six hours of battery life and pair a secure fit with IP57 water resistance rating, making them ideal for the gym.
It's worth noting that Jabra has a newer set of premium workout buds in the Jabra Elite 7 Active, which have a sleeker design and what Jabra calls "ShakeGrip technology" for staying extra secure in your ears. But while the Elite 7 Active felt great to wear in our testing, we haven't noticed a significant difference in terms of how well the newer buds stayed in our ears. If you don't mind the look of Jabra's older earbuds, the Active 75t are arguably the best overall value in wireless earbuds — especially when they drop below $100.
Jabra Elite 7 Pro: High-end sound and call quality ($199; amazon.com and bestbuy.com)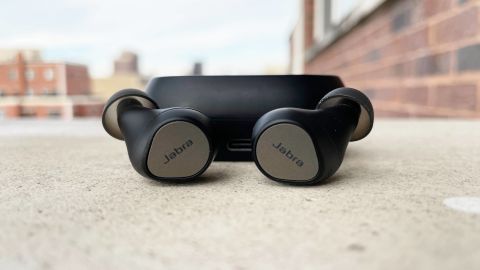 Currently sitting at the high end of Jabra's lineup, the Elite 7 Pro offer all of the same benefits of the other buds on this list but are especially ideal for calls. These buds feature "MultiSensor Voice" technology, which uses four microphones and a custom sensor to eliminate unwanted background noise (such as wind) while aiming to pick up your voice as clearly as possible. We've found this to translate well in everyday use, as the 7 Pro were among the most reliable earbuds we've used throughout weeks of calls. And during voice recording tests, they did a better job separating our voice from background noise compared to Jabra's cheaper buds, even if they weren't quite as crisp as our top pick for calls in the Galaxy Buds Pro.
Equally impressive, the Elite 7 Pro have some of the most adjustable active noise cancellation and HearThrough of any Jabra earbuds, with five levels of each that you can toggle based on how much noise you want to block out or let in. They're also some of Jabra's longest-lasting buds with a rated runtime of eight hours of nonstop listening that matches what we've seen in daily use. The Elite 7 Pro are on the pricey side at $199, but they hold up well to rivals like the $249 AirPods Pro on sound quality and features. And if you spend most of your day on calls, you just might find them worth the premium.