An iPad keyboard case can successfully transform your iPad into a small laptop. But how do you choose the right one?
Holden Watne at Generation IX Technologies in Culver City, California, recommends considering budget, durability and use when choosing the best iPad keyboard case.
"If budget isn't a concern, I recommend the Apple Magic Keyboard, since it turns your iPad into a powerful laptop and is a great experience," Watne says. For more budget-conscious consumers, he recommends the Logitech Rugged keyboard for its general capability and protection.
In addition, Ashu Singhal, president at Orion Network Solutions in Washington, DC, recommends looking at such factors as weight and power rating. "Weight matters a lot, since you will be carrying it around and want to make sure it's not bulky."
And if you're using the iPad on the go, Singhal says it's important to find a keyboard that's not power-hungry: "Typically going with a good brand will ensure this, but it's best to keep an eye on power rating to avoid wondering why you have to keep charging your iPad every four hours."
After considering these and other factors, such as popularity, ease of use and outstanding reviews, as well as some we personally tested, we've rounded up the best iPad keyboard cases you can buy.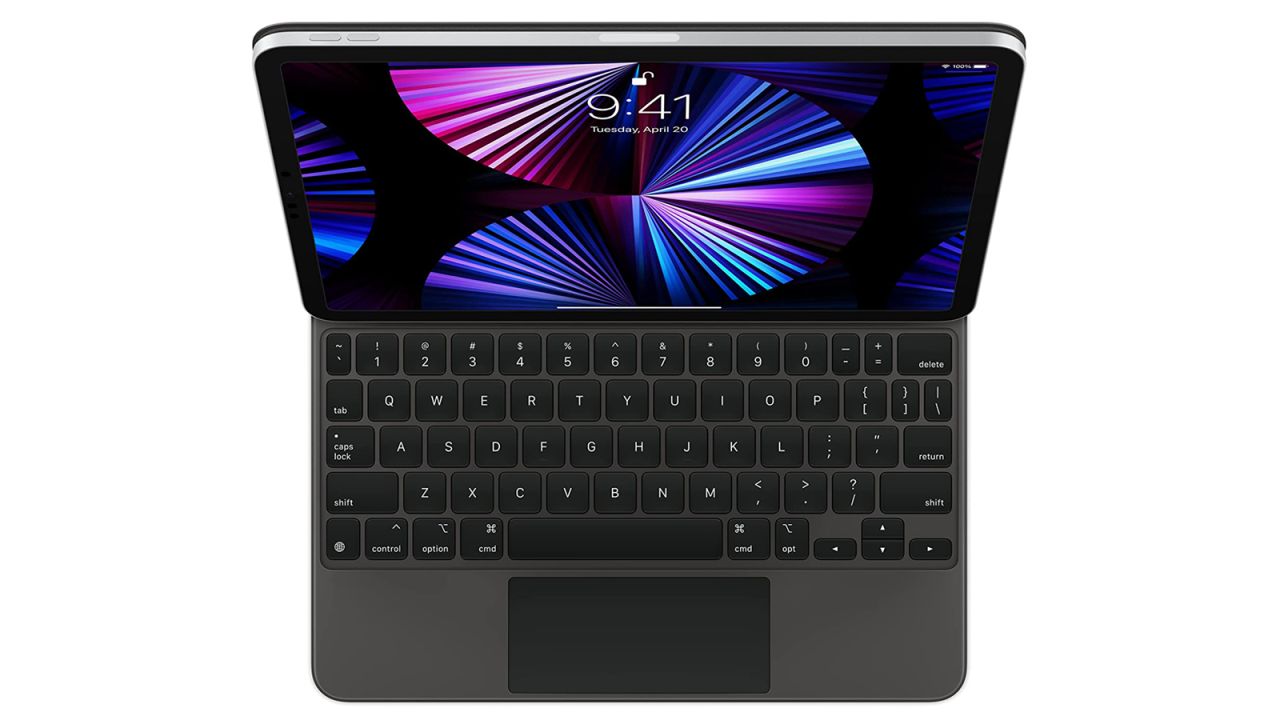 This Apple Magic Keyboard, which we've reviewed and recommended, perfectly fits an 11-inch iPad Pro (1st, 2nd or 3rd generation), or an iPad Air 4th generation. The keyboard attaches and pairs magnetically and you can smoothly adjust the keyboard cover for the best viewing angle. It also has full-size backlit keys and a trackpad that help mimic the experience of typing on a MacBook. There's a USB-C charging port, and the entire product folds into its case for secure protection from dust and other debris. The keyboard cover is available in either black or white.
$149.99 $129.95 at Amazon or from $159.99 at Logitech
If you have a 7th, 8th or 9th generation iPad, the Logitech Combo Touch is versatile enough to meet all of your needs — and it's also one that we've reviewed and highly recommend. It pairs and powers on using the smart connector (so there's no battery) and the lightweight keyboard is similar to the one on your laptop, and we also appreciate that the keys are backlit and the lighting is adjustable. It even has those familiar iOS shortcut keys and a trackpad. The keyboard's kickstand has 40 degrees of tilt, so you can change the angles for typing, sketching, viewing and reading, and there's even a holding loop at the top to store your Apple Pencil. The smooth fabric exterior will also protect your iPad from scratches.
$99.99 $79.99 at Amazon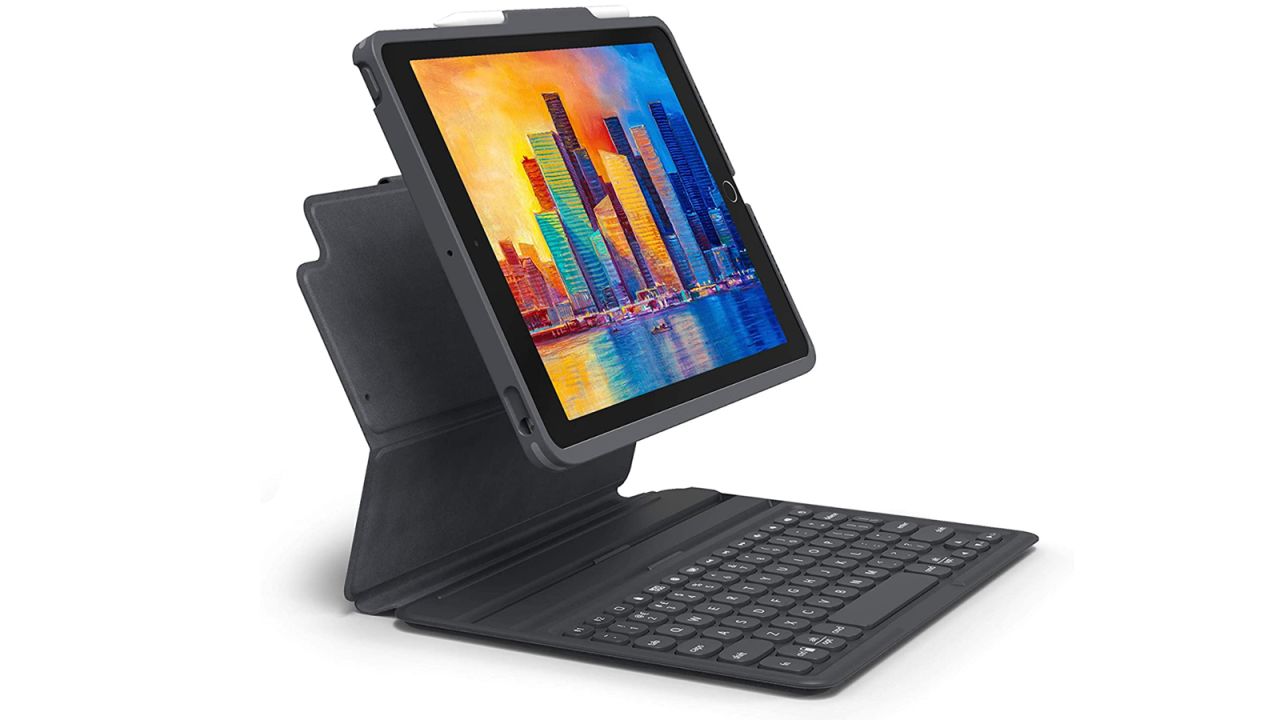 One of our picks for the best iPad accessories, the Zagg ProKeys Keyboard Case is compatible with iPad 9th Gen and iPad Pro 10.2-inch models. The keyboard and case are detachable to suit your needs at any moment and the case uses a magnetic closure system to provide drop protection from 6.6 feet. We also appreciate that it can pair with two devices, so you can use it with your iPad and iPhone at the same. In addition, the battery is rated to last a year before it needs to be recharged.
$349 $299.98 at Amazon
For iPad owners with an iPad Pro 12.9-inch 3rd, 4th or 5th generation model, this Apple Magic Keyboard has full-size backlit keys and a trackpad to help you easily navigate the iPad's screen. The keyboard cover attaches magnetically and you can adjust viewing angles for comfort. The keyboard charges via the USB-C port and the cover provides protection when it's closed. This version of the Magic Keyboard is available in white or black.
From $119.99 at Logitech or $129.99 $116 at Amazon
The Logitech Slim Folio Pro is designed for 12.9-inch 3rd and 4th generation iPad Pro models. The rechargeable battery lasts for up to three months (assuming you use it two hours a day), and after setting up the connection the first time, you can connect wirelessly. The keyboard is backlit with comfortable keys and has a row of shortcut keys at the top. The keyboard case has rubber bumpers on all four corners, plus a magnetic latch to store an Apple Pencil. In addition, the keyboard case provides three use modes: typing, sketching and reading.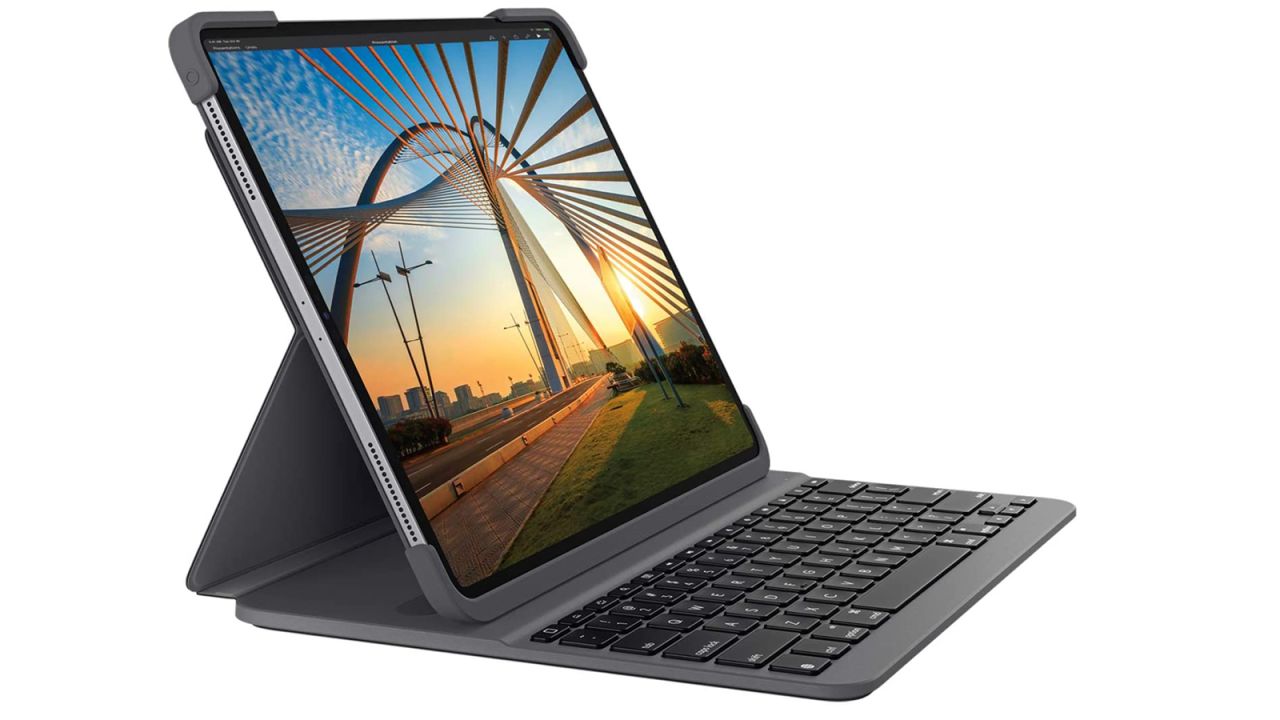 If you're concerned about dropping your iPad or, say, spilling your hot beverage on it, the Logitech Rugged Folio provides shock-absorbent protection that exceeds military-grade standards. It's designed for 7th, 8th and 9th generation iPads, and the sealed keyboard is designed to resist spills and dirt. The keyboard promises a quiet typing experience, and instantly pairs and powers on. The magnetic latch provides a secure closure and has space for an Apple Pencil.
For 6th generation iPad Minis, the Boriyuan iPad Mini 6 Keyboard Case has a keyboard that attaches magnetically and can be detached when you're not typing. You can also choose between seven different backlight colors and three levels of brightness. The keyboard case is made of polyurethane leather with a soft silicone shell to protect it from bumps, drops and scratches. There's also a slot on top to hold an Apple Pencil. The keyboard case can charge wirelessly and it goes to sleep when not in use to conserve power.