For console gamers, Game Pass, PlayStation Plus and Nintendo Switch Online serve three very distinct communities within gaming. These online services from Microsoft, Sony and Nintendo are all required to enjoy certain features of their respective consoles. In addition to the nearly half-decade-old Switch from the house that Mario built, the newest consoles from Microsoft and Sony have also evolved their approach to online since their initial launches..
Nintendo Switch Online is the cheapest and most child-friendly, while Game Pass allows gamers to stream or play natively on multiple devices. Meanwhile, Sony's Game Help — included with PlayStation Plus — has helped make gaming more approachable than ever. If you have to pick just one, we're here to break down some things that should be considered.
At a glance
Get Microsoft Game Pass if you are looking for one of the biggest catalogs of games from the past and present that can be played on multiple devices.
Get PlayStation Plus if you're looking for a huge amount of daily, weekly and monthly sales on games, plus member-focused features
Get Nintendo Switch Online if you're looking for affordable plans for individuals and families alongside one of the safest online environments available.
Get Microsoft Game Pass if…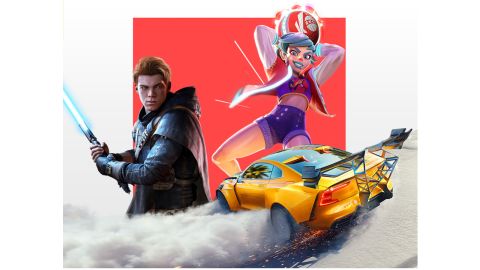 You want access to Microsoft's first-party lineup going all the way back to the original Xbox 
The ability to play a large majority of Microsoft's first-party lineup dating back to the original Xbox, released over 20 years ago, is worth the price of admission alone for Game Pass. Sure, day-one releases of modern blockbusters like Forza Horizon 5 and Halo Infinite ensure the console can arguably compete with Sony's exclusives. However, the ability to enjoy Xbox 360-era releases such as the original Gears of War trilogy or original Xbox games like Crimson Skies hits all the nostalgia boxes.
That doesn't even count the vast amounts of Bethesda titles added since Microsoft acquired them — from several games within The Elder Scrolls series to more recent titles like Doom Eternal. Other Xbox Game Studios releases in the future include Forza Motorsport, Senua's Saga: Hellblade II and Fable. And Game Pass is a ticket to playing those on day one.
You don't mind rotating high-profile third-party releases
First-party Microsoft releases aren't the only games available for Game Pass: High-profile third-party games rotate in and out of the service as well. The amount of titles representing various genres and console generations might be a bit overwhelming to some.
For starters, gamers looking for more mainstream releases can enjoy everything from Aliens: Fireteam Elite to Dirt 5. The library extends pretty well into niche indie game territory such as SkateBird and Firewatch. Games including PAW Patrol Mighty Pups Save Adventure Bay and Race With Ryan mean the service also features releases that are absolutely kid-friendly.
You would pay $5 extra for Xbox Live Gold, streaming across various platforms and EA Play 
Unlike PlayStation Plus and Nintendo Switch Online, Game Pass alone doesn't grant Xbox users access to play multiplayer games online. Outside of free-to-play games, Xbox Live Gold is required for those who want to play online multiplayer. For $14.99 a month, the Ultimate tier of Game Pass delivers the perks of Game Pass, Xbox Live and much more.
By itself, Xbox Live lends gamers two free games per month and discounts in addition to online play. Having Game Pass Ultimate allows buyers deep within the Xbox ecosystem to game natively across Xbox and PC while even extending to game-streaming across those platforms and mobile devices. Those 100-plus games divided between first-party and third-party releases also get even larger with the included membership of EA Play.
Get PlayStation Plus if…
You are looking to try at least two free games per month on the PS4 or PS5 
On a base level, being a member of PlayStation Plus allows users to play online multiplayer. Since the PS3 era, though, Sony's online service has provided two perfectly curated games for subscribers a month. As 2021 closes out, PlayStation Plus members can get Lego DC Super-Villains and Mortal Shell along with PSVR games including The Walking Dead: Saints & Sinners.
PS5 owners also get access to the PlayStation Plus collection featuring several dozen PS4-era games made up of first-party exclusives and third-party releases. Though the current slate for Sony's most recent games isn't the biggest, those who unfortunately skipped the PS4 can try out games including Last of Us Remastered, God of War, Ratchet & Clank, Until Dawn, Detroit: Become Human and more.
You eventually may need some serious discounts on games 
Many gamers understand the feeling of paying full-price for games at release and regretting the decision later. The best thing about PlayStation Plus is how generous discounts are for members of the service. Between newer and older releases, downloadable content and various in-game currencies, the reduced price for subscribers really does ease those feelings of buyer's remorse.
You want to try ancillary features like Share Play and Game Help 
Two of the most recent additions to PlayStation Plus since the PS5 release are Share Play and Game Help. Share Play grants PS5 users the opportunity to let their friends with either PS5 or PS4 consoles view their game screen or try PS5 games. This allows users who may lack a game or PS5 to stream games from their friends console or play co-op games together.
Meanwhile, Game Help makes games a bit more accessible. Supported on games including Ratchet & Clank: Rift Apart and Oddworld: Soulstorm, the feature gives players hints on how to complete difficult objectives. Think of them as official game tips that don't require gamers to leave their screen for an online guide or a YouTube video. All players have to do is press the PS button on the DualSense controller and access the feature through the Control Center.
You have an extra $9.99 to spare for PlayStation Now
Playstation Plus simply doesn't offer the same sheer amount of available games as the Game Pass and Nintendo Switch Online. However, for $9.99, PlayStation Plus subscribers may want to look into adding PlayStation Now. The service grants members the ability to play a large collection of games stretching all the way to the PS2 era via streaming. This allows gamers to play everything including the earlier God of War entries and Dark Cloud games, and is currently even the only way to play Metal Gear Solid IV: Guns of the Patriots.
Besides the ability to stream PlayStation Now on PS4 and PS5, the service works on PC if users have a PS4 controller. It doesn't even matter if users stream or download selected games natively on consoles, subscribers of the service get full access to online multiplayer modes as well. Similar to Game Pass, saved games through PlayStation Now do transfer between PS4, PS5 and PC.
Get Nintendo Switch Online if…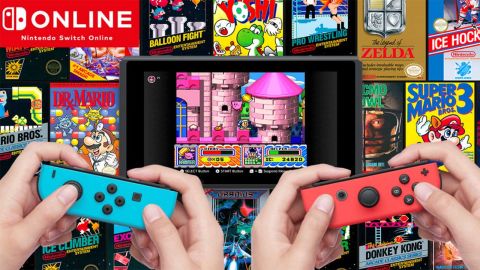 You care about a safe environment for children to play online 
Nintendo has gotten a lot of criticism for how it handles online multiplayer. However, for a brand that's considered more family-friendly than Microsoft and Sony, it makes sense for the Japanese giant to take extra precaution within the space. Though extremely tedious, the friend code system of linking up with fellow gamers makes it harder for children to interact with random strangers.
This stretches into communication as well. Outside of free-to-play games like Fortnite and Warframe, most games, including all of Nintendo's first-party releases with online play, require the Nintendo Switch Online app (available on Android and iOS) for voice chat. It helps that Nintendo Switch Online also has family plans that allow monitoring of various accounts.
You want to play some of Nintendo's classic back catalogue
Having a Nintendo Switch Online subscription gives you access to several dozen games from the Nintendo and Super Nintendo eras. Besides first-party classics like Super Mario Brothers and Donkey Kong Country, the subscription also features very niche third-party offerings as well.
There are also enhancements to the gaming experience, including the ability to rewind gameplay at will, instant saving, cloud saving and even online multiplayer for selected titles. For a flat $49.99 a year, users get the Nintendo Switch Online + Expansion Pack. This not only includes classic titles in addition to Nintendo 64 and Sega Genesis games, but also unlocks downloadable content for games like Animal Crossing New Horizons.
You are looking for the cheapest way to play online 
Nintendo Switch Online is also the cheapest online service compared to Game Pass and PlayStation Plus. By itself, the service is only $3.99 a month. At this price, users can play games online as well as enjoy the current selection of Nintendo and Super Nintendo-era games. As an added feature, many compatible games feature the ability to save game data to the cloud alongside various special offers. Individuals looking to dip their toes in the world of online multiplayer have a great starting point with this service.
Bottom line
Choosing between Game Pass, PlayStation Plus and Nintendo Switch Online all comes down to the type of gaming experience you're looking for.
If you want a large library of games to play that's continuously growing and stretches across various console generations, then Game Pass makes sense. We'd recommend opting for Game Pass Ultimate since it includes Xbox Live Gold. Playstation Plus is great for casual gamers who don't buy a lot of games and may need help from time to time. Meanwhile, parents concerned about their child's online gaming habits can rest assured that Nintendo Switch Online will provide a safe experience for a very affordable price.