CNN Underscored is bringing you the best of CES 2022 all week — be sure to check out our coverage hub for the biggest tech products worth getting excited about.
If you combined the portability of a Microsoft Surface with the power of a gaming laptop, you'd probably get something a lot like the Asus ROG Flow Z13. Billed as the "world's most powerful gaming tablet," this two-in-one has a detachable design for easily shifting between work and play, as well as enough muscle to run modern games at respectable settings. And it comes with a splash of RGB lighting, because of course it does.
The Flow Z13 just got revealed at CES 2022, and we got to spend some time with it before it launches later this year. Here's what we think of this uniquely compact gaming PC so far.
Meet the Surface for gamers
The Asus ROG Flow Z13 is essentially the Surface's bigger, edgier sibling. Nearly every inch of this gaming laptop brings Microsoft's popular two-in-one to mind, from the detachable keyboard cover to the adjustable kickstand for finding the right viewing angle.
That being said, the ROG Flow Z13 stands out from other detachables by being distinctly a gaming machine. We especially love the small window on the back that provides a peek at the laptop's internals bathing in RGB light, and the entirety of the PC is marked with the futuristic-looking etchings that we've come to expect from a ROG device.
The Flow Z13's keyboard feels similar to the latest ROG Zephyrus laptops we've tested, with deep travel and snappy feedback that made long hours of typing feel comfortable. Its keys can glow all kinds of colors via the preloaded Asus Armoury Crate app, and the entire thing snaps on and off magnetically just as easily as a Surface keyboard does. And here's the real kicker — unlike Microsoft's Type Cover keyboard, the Flow Z13 keyboard actually comes with the device.
The tablet portion of the Flow Z13 is pretty thick (0.7 inches) and feels a bit heavy (3.2 pounds), particularly when you're using it with a keyboard on your lap. But considering that this thing packs up to an Nvidia RTX 3050 Ti — an entry-level graphics processor that can handle 1080p gaming fairly well — into what's essentially a tablet, we can live with a bit of heft.
Asus's hybrid PC covers the basics when it comes to connectivity as well, with two USB-C ports, a microSD card reader, an HDMI 2.0 port and a USB-A port that will come in handy for most of your controllers and older peripherals. It can also connect to Asus's external ROG XG graphics card dock, which can essentially transform the laptop into a much more powerful gaming PC with up to a top-of-the-line RTX 3080. So while the Flow Z13 is largely built for 1080p gaming on its own, connecting a ROG XG would allow you to play modern titles like Cyberpunk 2077 or Guardians of the Galaxy in 4K on an external monitor.
A stunning display and gaming-grade specs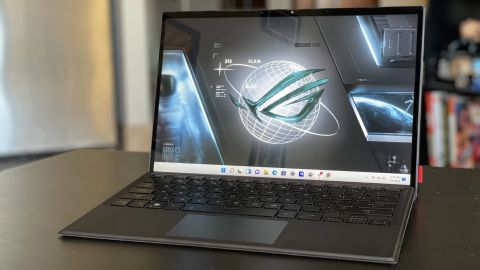 As striking as the Flow Z13's design is, it's the laptop's display that really grabbed our eyes. Our preview unit featured a gorgeous 13.4-inch 4K 60Hz touch screen, which featured bold blacks that really stood out while writing up documents and plenty of color that allowed the lush oranges and greens of an 8K nature video to really pop. If you prefer smoothness over sheer detail, you can also opt for a 1080p display option with a faster 120Hz refresh rate for extra-fluid scrolling and gaming.
The Flow Z13 packs some pretty impressive specs into its highly portable frame, including the latest 12th Gen Intel processors with your choice of a Core i5, Core i7 or ultra-speedy Core i9. You're also getting up to 32GB of RAM for heavy multitasking and up to a 1TB solid-state drive for storing your favorite PC games. The laptop ships with your choice of an Nvidia RTX 3050 or RTX 3050 Ti — these are Nvidia's latest entry-level mobile graphics cards, but still have plenty of muscle to run modern games at decent settings.
Let's recap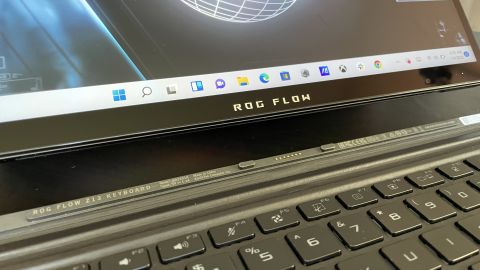 The Asus ROG Flow Z13 has a lot of potential for a specific type of gamer who wants something more compact and versatile than a traditional gaming laptop. We can see its stand-up display being perfect for tabletop multiplayer sessions (a la the Switch), and it doesn't hurt that it doubles as a standard (albeit thick) tablet for watching movies in bed.
The Flow Z13 won't get you the ultra-powerful performance of a traditional premium gaming laptop, but you're getting all of the perks of a detachable two-in-one in exchange — including a keyboard that actually comes in the box. And since it can connect to Asus's ROG XG external graphics dock, it can transform into a proper gaming PC with the right setup.
Of course, we'll have to see how well the ROG Flow Z13 actually runs games — and how it stacks up to the best gaming laptops on our benchmarks — to truly determine whether it'll be worth the money for on-the-go gamers. It's currently a gaming laptop finalist for our Best of CES 2022 awards, and we look forward to putting it through its paces in a full review.