This article is part of our series Battle of the Brands, in which we compare category-leading products to their counterparts to determine which are actually worth your money.Editor's Note:
Since the introduction of the Apple Watch Ultra and the Samsung Galaxy Watch 5 Pro, it's been clear that the latest wave of high-end everyday smartwatches is meant to compete for the wrists of more serious athletes. But can a flagship smartwatch beat the top-of-the-line wearables from fitness measurement specialists such as Garmin, Suunto and Polar?
To find out, we sorted through a clutch of powerful flagship smartwatches and worked out with the leading adventure watches, then put the two top contenders — the Apple Watch Ultra (the top of the heap smartwatch) and the Garmin Epix Gen 2 (possibly the most refined and full-featured specialist sports watch yet) — into our everyday workout rotation for several months to find out which one can really do it all.
| | | |
| --- | --- | --- |
| Bezel/display | 49mm OLED color touchscreen, always on | 47mm AMOLED color touchscreen, always on |
| Fitness device connectivity | Bluetooth | Bluetooth, ANT+ |
| Physical buttons | 2 + digital crown | 5 |
| Battery life | 36 hours (everyday use, always on), 12 hours (GPS) | 6 days (everyday use, always on), 30 hours (GPS) |
| Case materials | Titanium | Stainless steel or titanium (+$100) face/bezel, polymer case |
| Charging | Apple MagSafe | USB (Garmin proprietary connector) |
| Price | $799 | $899 |
Workout performance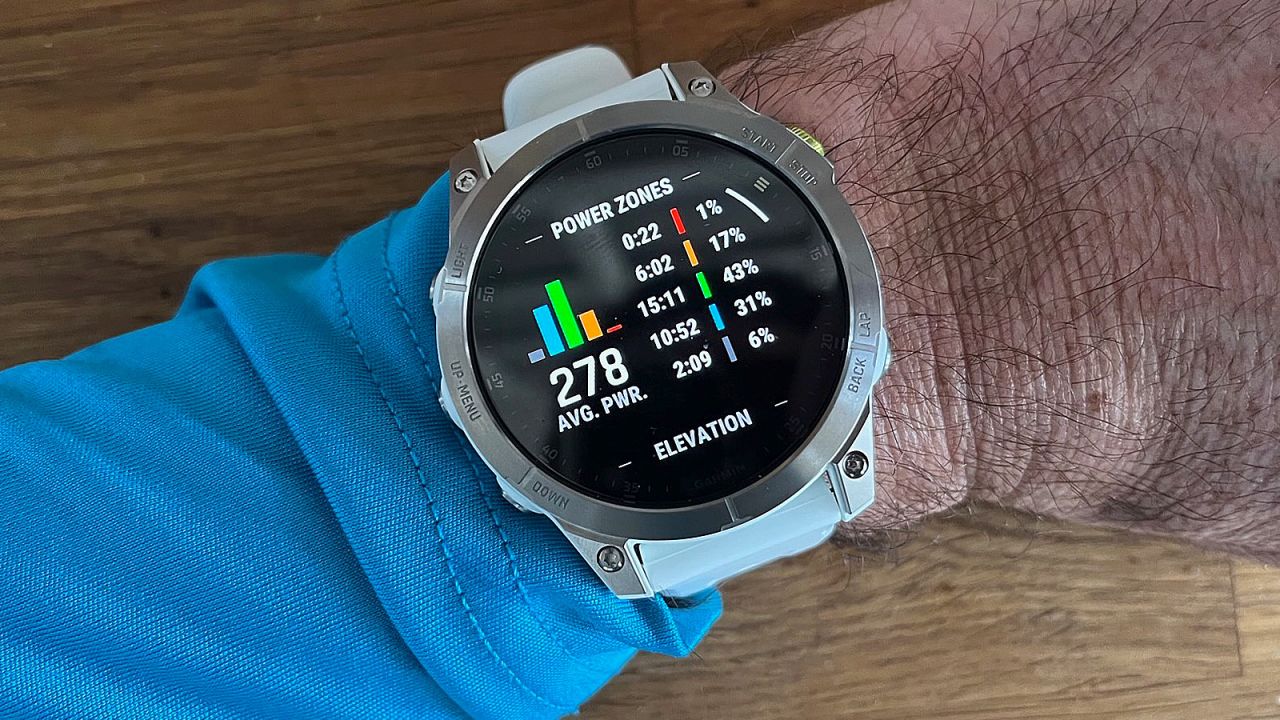 While the Apple Watch Ultra shines in a few specific areas, for the most part the Garmin Epix is overall a better specialized exercise companion. It's simply better equipped to handle the pressures of interaction while you're working hard, often under difficult conditions. Both devices gather a ton of useful data (and interface with their corresponding mobile apps to offer endless opportunities for analyzing that data, whether you're just looking for a great fitness tracker or if you're really into quantifying your performance) but the Epix is simpler to deal with while you're in motion.
Some of that's to do with software — and Garmin just gives you more data and more ways to display and analyze it — but a lot of it comes down to the interface. Touchscreens, to be honest, can really suck when you're in motion, or wet, or sweaty or cold. And sometimes you don't really want to take your eyes off the road to log the end of a lap or kick off an interval. The answer is physical, tactile buttons, and the Epix wins hands-down here.
The Apple Watch Ultra does have a new, second assignable button that comes set up out of the box to trigger workouts and features within workouts, like interval and lap marking. But the Epix gives you five buttons that let you navigate the vast majority of its functions. You can go out and complete a fairly complex interval workout and navigate your workout playlist without even really looking at your wrist, let alone hunting and pecking at a tiny display while avoiding traffic or staying in your lane.
We ran and cycled with the Epix through a New England winter and early spring, and had no difficulty navigating simple and complex workout routines, even wearing gloves, regardless of the weather. Each workout type offers a wider variety of immediately accessible and actionable data screens than the corresponding workouts within Apple's Workouts app.
Garmin's training metrics, analysis tools (both on the Epix itself and within the Garmin connect app) and race and performance prediction tools are very useful and actually make a good guide for beginner and intermediate competitors. And Garmin gives you things like visual feedback of ascents and descents that don't really have a parallel on any Apple device. Garmin also incorporates all of the wellness data it gathers — sleep quality, heart-rate variability, recover status and so forth — and uses that information as part of its fitness tracking. On the Watch Ultra, you'd have to put all of that together with third-party apps. Garmin (and the Connect App) make it easier to get an overall fitness profile that you can work with.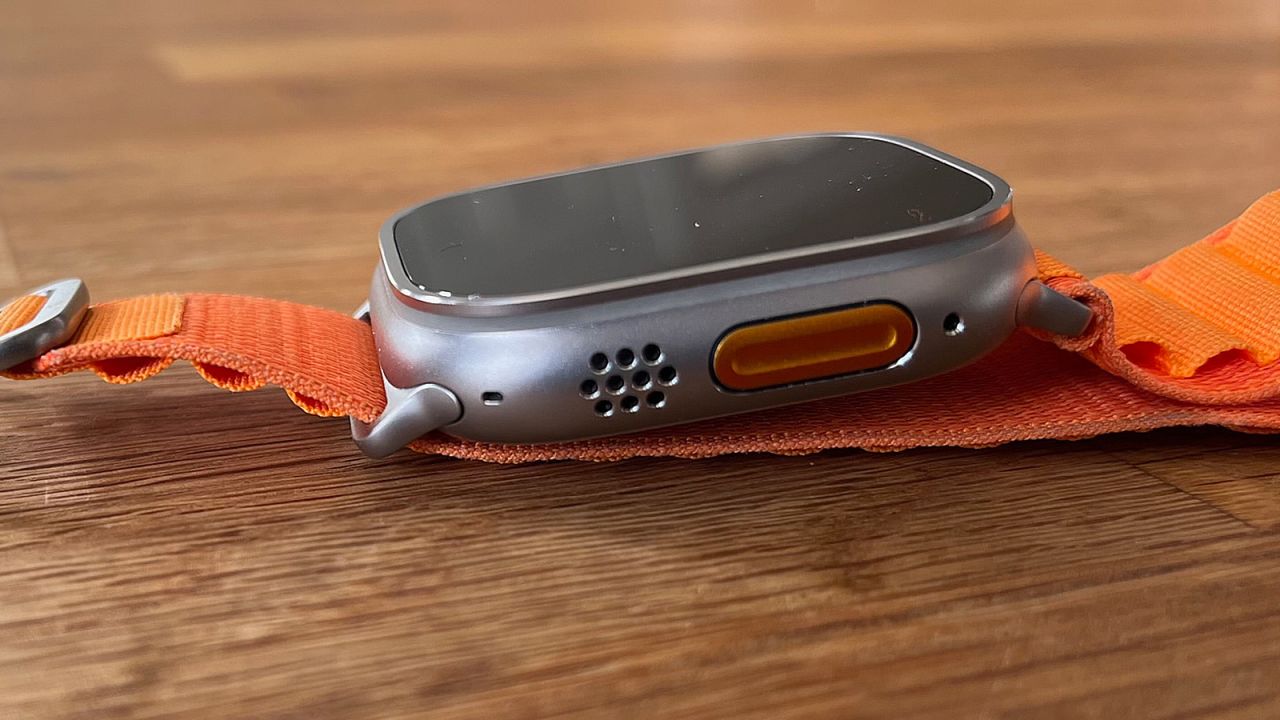 The Watch Ultra was more difficult to manage while wearing gloves or in the rain or cold. Simple things like ending a workout or managing a workout playlist require at least a tap to activate the display plus a swipe, or a dual press of the crown and the second button. It's just not as easy to manage while doing things like trail running, where you'd rather keep an eye on your surroundings.
While both watches interface with sensors (from heart-rate monitors and foot pods to bicycle speed and cadence and power meters on up to ergometers and exercise bikes), the Watch Ultra only supports Bluetooth/BLE connectivity, while Garmin supports both Bluetooth and ANT+ connections, giving it access to a wider range of devices (especially on the cycling end of things). It's not a deal breaker for Apple here, since the industry is moving towards Bluetooth, but these things are expensive and users end up investing heavily in them.
If you're a multisport athlete into cycling (indoor or outdoor) and you just want a single fitness computer, the Epix really has the edge here. Garmin's integration with its cycling products (the company also makes cycling-specific computers, but the Epix and Fenix watches can easily serve in this role, and the Epix's display is very visible on the bars) and seamless connection with and control of everything from lights and radar and cameras on the road to smart trainers indoors is something Apple doesn't offer at this point.
Smartwatch features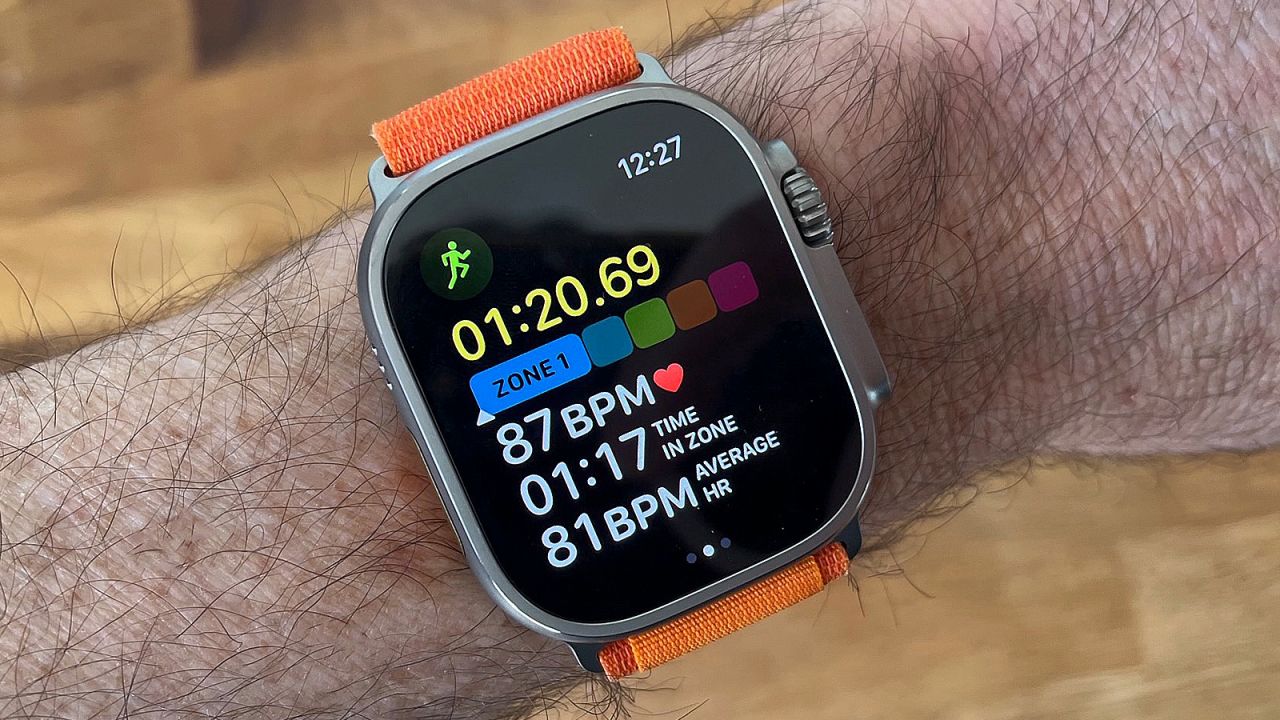 As Apple has added more and more advanced health and fitness tracking features, Garmin has countered with more smartwatch features, streamlining their looks while adding app stores, all kinds of integrations, highly customizable touchscreens and even payment platforms.
Apple's watchOS 9 remains unbeatable for plain old everyday use, and it means the Apple Watch — whether you get the Ultra or stick with the Series 8 — is still the best smartwatch you can buy.
If you're looking to interact with your phone from your wrist; use timers, alarms and the calendar; respond to calls or texts from your watch; or just interact with the vast range of apps that offer watch support, Apple's watch and app platform is clearly better than anything out there. Configuring and using pretty much any app you like, no matter how esoteric, takes a couple of swipes. It's where the touchscreen interface really shines, and Apple's tight control of what app developers are able to distribute pays off with across-the-board ease of use.
With the Epix (or with any other premium fitness/adventure/outdoor wearable) you give up tight system integration. You get all the alerts you'd need, since the Epix can mirror your phone's notifications. But you can't, for instance, respond easily to texts from your wrist as you can with the Apple Watch Ultra. Garmin doesn't offer an LTE option either, so you can't use the Epix as a standalone communications device as you can the Watch Ultra. If you want to stay in touch, you'll need to take your phone along.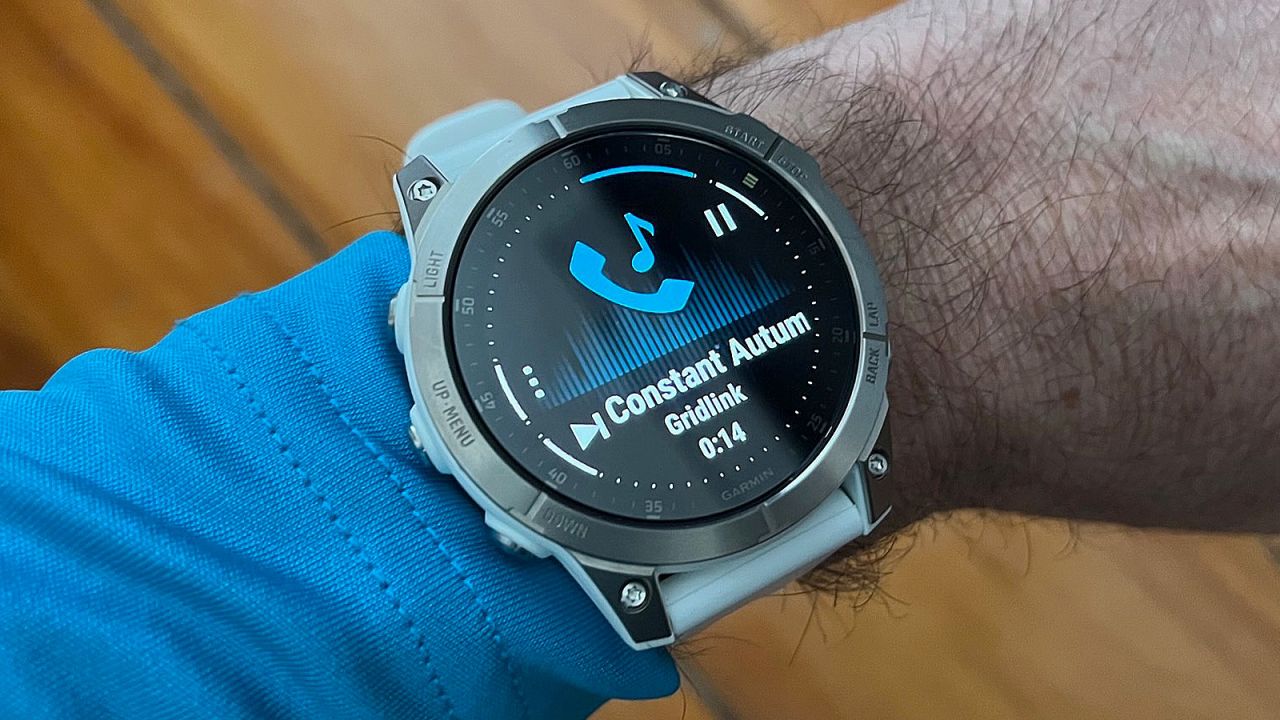 Overall, using the Epix as a daily driver is possible, but it takes a little more doing. Alarms and timers are a couple of menus deep, you can't integrate functions into watch face complications as easily and you've just got more limits overall on what you can accomplish. The Watch Ultra, on the other hand (and this goes for any current Apple Watch running watchOS 9) almost lets you dispense with a phone altogether for many tasks.
Garmin's app store focuses almost exclusively on fitness applications, data analysis and metrics, with a few nods to everyday pursuits like music services and productivity timers. But you won't find a host of recipe, smart home, productivity or gaming apps here.
That said, with the Epix, you get some nicely thought-out fitness and wellness features out of the box that would take more doing to set up via apps with the Watch Ultra. Garmin's sleep tracking is fantastic, with an elaborate "morning report" that proved a surprisingly useful planner for daily exercise routines.
On the wellness front, both watches have effective, accurate heart-rate monitors and pulse ox sensors, but Apple gets the edge with the combination of onboard ECG, fall detection and LTE with international emergency calling/SOS options, making it a better device for both everyday monitoring and dealing with potentially sticky situations near or far from home.
GPS and navigation features
Garmin's maps are more complete and detailed and will likely be the choice of most dedicated outdoors enthusiasts. But realistically, for anyone trying to choose between these devices, it's kind of a draw here, and a matter of what you're used to and how you're going to use it overall.
Both the Apple Watch and the Epix support all of the current navigation satellite networks and lock up fast when you're headed out on a run — a marked change from previous generations of adventure watches, which could leave you waiting for several minutes as they got a bead on the necessary satellites. I didn't experience any significant difficulties on- or off-road, regardless of tree cover or weather, and got consistent mapping from both devices.
That said, maps on the Epix load faster, because they live on the watch — so long as you download the maps for your region to the watch, which can be a little time-consuming. Apple's mapping depends more on the wealth of mapping information already on your phone, so there isn't as much prep required on your part. If you're into setting routes with third-party services, both devices let you define and upload routes using the services of your choice. Though as usual with Apple, this will likely involve relying on multiple apps; Garmin incorporates more of these features into its core applications.
The Watch Ultra is perfect when used as a navigation extension of your iPhone, of course, with tight integration that gives you turn-by-turn directions for any map you're following in Apple Maps on your device. It's a particularly nice option to have while driving, but really, it's part of the suite of features that makes the Watch Ultra a stronger smartwatch.
Both the Watch Ultra and the Epix offer emergency-oriented "breadcrumb trail" waypoint finding (Apple calls this "Backtrack") using a series of map markers (you'll have to drop these manually as you pass landmarks) that you can retrace using the watch's compass should you lose connectivity. We tried these, disabling the GPS and finding our way back out of the woods easily enough, though it wasn't incredibly straightforward in either case to use these features. On the Watch Ultra especially, you end up navigating just using the compass, which can be a little confusing, while on the Epix you follow your waypoints on the map you've likely already gotten lost using. While these features can certainly help, you're going to want to have a pretty developed set of backcountry skills to get out of a real jam, and it's not clear to me that either device will make the difference on its own.
Battery life
Battery life is where we found a real difference. The Epix's battery life in daily use is a significant step up from the Watch Ultra. In short, you'll get close to a week (and even two if you optimize) out of the Epix versus a day and a half out of the Ultra.
Wearing the Epix every day, we regularly went 10 days between battery charges — that's setting the display brightness to increase with a wrist turn, and with all-day use, short workouts on a daily basis and long runs on the weekend. With GPS and navigation running continuously during workouts, battery life is reduced to around 24 hours — still longer than any consumer smartwatch and nearly double what you'll get out of the Apple Watch, which gives you about half a day. (These are out-of-the-box defaults, by the way — you can of course fine-tune performance on either watch to improve battery efficiency, tailoring app-by-app usage or reducing display brightness).
It's great to just not really have to worry about daily charging, and it makes it easier to rely on the Epix for all-day and -night fitness and wellness tracking. During the time I used the watch, I never found myself having to charge it at night rather than wearing it to get sleep data; this came up multiple times with the Apple Watch Ultra. Both devices charge quickly, but having the concern eliminated for practical purposes is a real boon to usability.
That said, the Apple device offers fantastic battery performance for an everyday wearable — we regularly got a couple of days without charging in ordinary use, and a full day using GPS and navigation features for long runs and bike rides. It's much better than previous Apple Watches, and impressive given the bright, easily readable screen.
Going to extremes
Surprisingly, Apple has the edge in one demanding outdoor application. The company has really gone after divers with the Ultra, with the Oceanic+ app turning the watch into a simple-to-used dive computer aimed at the recreational scuba aficionado. Apple's upped the ante a bit by providing depth and water seal testing on request, so they're clearly serious. While it's a fairly basic dive computer (it can't interface with tank air pressure gauges, for instance), the diving interface is designed by Huish Outdoors, who have long experience in the pursuit, and there's likely to be further improvements on the way. All reports indicate that it's a very serviceable tool for recreational divers.
The Epix, on the other hand, is designed for swimming, but is not a qualified dive watch. (Garmin makes the specialized Descent watch for divers, which does more than the Apple Watch Ultra but costs double the price and would be overkill as a daily driver.)
Bottom line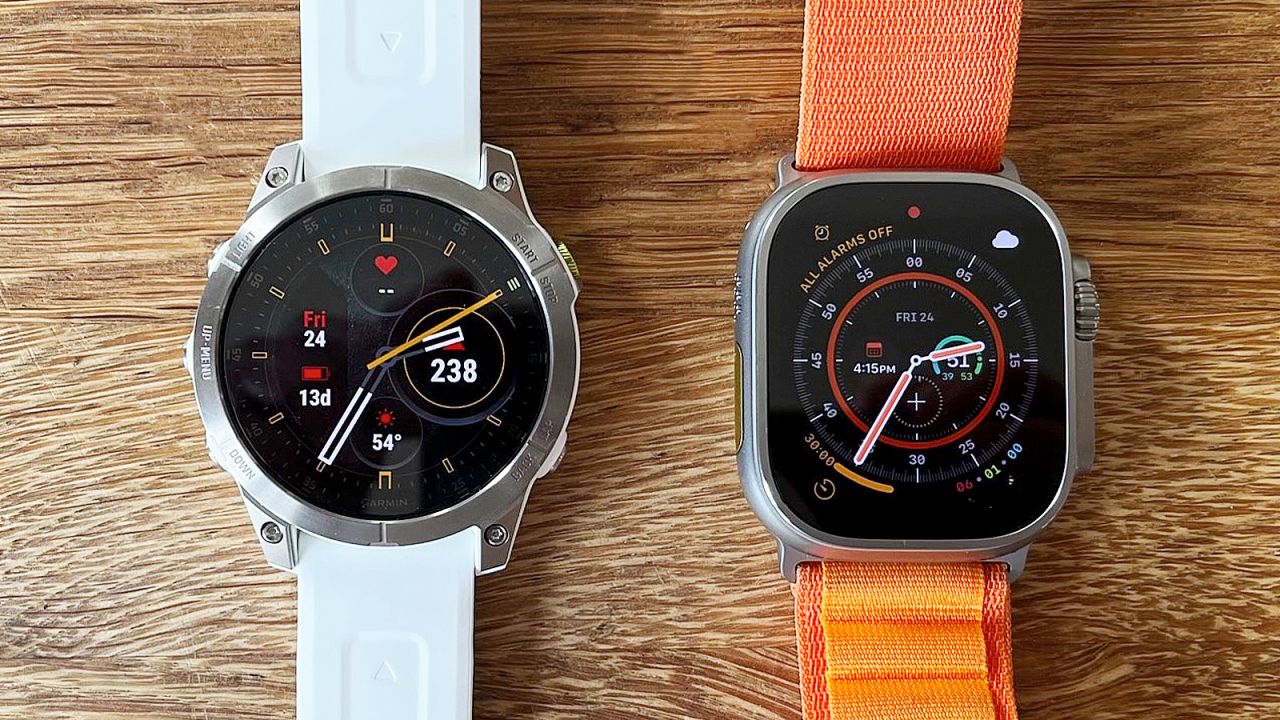 Garmin's platform has evolved to the point where for most uses it's very competitive with traditional smartwatches as a compelling choice for daily wear, while the Apple Watch Ultra has made serious inroads in adventure functionality. Both the Epix and the Watch Ultra have great fitness and smartwatch features, easily readable displays, wayfinding features that may be able to get you out of some sticky backwoods situations if you're careful to keep track and plenty of everyday utility. You really can't go wrong with either one.
But that's the thing. Given the price of these devices — depending on options, finishes, bands and accessories, it's pretty easy to spend $1,000 in either case — you're likely to buy only one of these things, and you're definitely going to want to get the most out of it. The decision really comes down to figuring out exactly what you need out of your wearable.
If what you're looking for is something that's a great smartwatch first and gives you a satisfying set of fitness features second, the Apple Watch Ultra is the device for you. Apple's watchOS 9 is by far the best smartwatch OS, with a vast universe of useful apps, among them the revised Workout app that offers plenty of workout options. They may be simplified compared to Garmin's (or Suunto's or Polar's) offerings, but are for the most part very competitive with what the specialist fitness brands have to offer. The additional assignable button gives you just enough control over workouts that you'll be able to manage things when you can't easily access the touchscreen.
The other clear argument for the Watch Ultra is if you're looking for a smartwatch that doubles as a dive computer. The Epix simply can't compete on these grounds, and you'll have to spend considerably more to get dive features in a Garmin device.
If you're a serious runner, swimmer or multisport athlete — that is to say, if being an athlete is central to your identity and you structure your day around workouts rather than fitting your workouts into your day — it's hard to beat the Garmin Epix Gen 2, which gives you fantastic fitness features and does double duty as a great everyday smartwatch. The combination of a bright display that's visible under pretty much any lighting or environmental conditions, with the five-button tactile interface and Garmin's wide compatibility with a whole universe of ANT+ and BLE sensors and training equipment, puts it well ahead of the Apple device in terms of everyday exercise usability. A touchscreen-first interface doesn't really cut it for complex interval workouts and isn't really the best for those who don't want to have to look at their wrists to manage things, but still want the best data out of their workouts.