CNN —
We've already declared the Apple Watch Series 5 the best smartwatch. Furthermore, we've reviewed it, we've broken down how to trick out your watch face and how to be an activity expert. But what about just general tips that can help you do more and get more out of your Apple Watch?
Well, you've stumbled on our guide just for that. Here you'll find tips and tricks for the Apple Watch.
Be a secret agent with Walkie-Talkie
One of our favorite Apple Watch favorites is one of the sneakiest. Did you know you can walkie-talkie your fellow Apple Watch wearing friends? The Walkie-Talkie app is built into the smartwatch and will let you connect with friends. Simply open it and select one of your contacts. You can tap their name, request to be a friend, and once they accept, you're set. Then it's just a tap and a long hold away to send a message. Your friend will hear a small chirp (you can customize this) and hear your message.
Take a moment for yourself
The Breather app on your Apple Watch will remind you to slowly breathe and take some time for yourself. The app comes loaded, and after opening it, you can select how many minutes and how many breaths you want to aim for. After you hit start, the Apple Watch will guide you and incorporate haptic feedback on your wrist so you can keep on track.
Ping your Apple Watch
If you ever misplace your phone, you can ping your iPhone with your Apple Watch. Your iPhone then plays a tone to help you find it. It's similar to how Find my iPhone works. Just swipe up from your watch face and hit the icon that has an iPhone with waves coming out on either side. You'll see "Pinging iPhone" appear at the top, and your phone will start chiming. Repeat as necessary and happy searching!
Clear your notifications with a tap
Sometimes you just want to clear all your notifications with just a tap. And if you get a lot of pings throughout the day, you likely don't want to dig through all of them. Simply swipe down from the top of your Apple Watch screen and "Force Press" (aka a hard press) on your screen. A "Clear All" button with an X will appear. Just tap it and your notifications will disappear.
Reply with your voice or a quick message
Messaging from your wrist is a great feature of the Apple Watch. There are several ways to respond. For starters, you can send an audio message or dictate a message. You can also scribble each letter, which is fun and engaging. But you can also send pre-written messages, like Yes or No. But did you know you can customize these? From the Apple Watch app on your connected iPhone, tap Messages and then "Default Replies." You can add as many as you'd like to the list, so your quick replies can be in your voice.
Palm cover to dismiss or mute
Whether you have an always-on Apple Watch Series 5 or a raise-to-wake Series 4 or older, your palm can come in handy. Whether you want to quiet wrist tapping from a notification or silence a ringing incoming call, you can just cover your watch screen with your palm. It comes in handy for those dreaded unexpected rings in meetings. You can customize this on the connected iPhone within the Apple Watch app and "Sound & Haptics." It's found under "Cover to Mute."
Check out the App Store from your wrist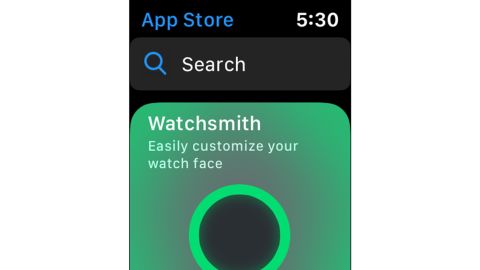 Like an iPad or iPhone, there's an App Store for the Apple Watch. And it no longer lives within the Apple Watch app on the connected iPhone. It's now on your wrist. You can search, browse and install all with just a few taps. It's a similar experience to the classic App Store and even suggests apps specific for watch uses. Sleep tracking, group activities and calendar management are just some examples. It's neat.
Keep checking back as we add more updates!
Note: The prices above reflect the retailer's listed prices at the time of publication.