The new Mac Studio is shaping up to be one of the most powerful computers ever. It's also now the third traditional desktop in Apple's current lineup alongside the Mac Mini and Mac Pro, which means you might be scratching your head over which model is right for you.
The Mac Studio looks to occupy a middle ground in Apple's PC family, blending the compact look of the Mac Mini with the expansive connectivity and pro-level performance of the Mac Pro. But there are lots of other differences between these three Macs that make them ideal for specific budgets, setups and use cases.
In the market for a new desktop Mac? Here's how the Mac Studio, Mac Mini and Mac Pro all stack up.
At a glance: Who are these Macs for?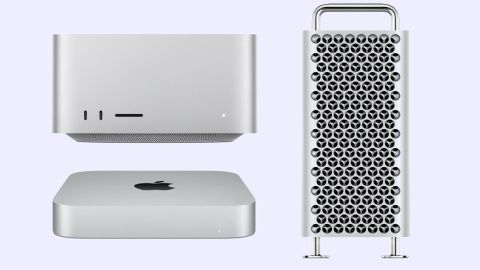 Mac Studio (From $1,999 at Best Buy and Apple): For creative professionals who want true high-end performance in a compact design.
Mac Mini (From $699 at Best Buy and Apple or from $649 at Amazon): For everyday users and creatives who want great performance within an extra-compact design for an attainable price.
Mac Pro (From $5,999 at Apple): For folks who want a high-end tower that they can upgrade and tweak as they see fit.
You should get the Mac Studio if…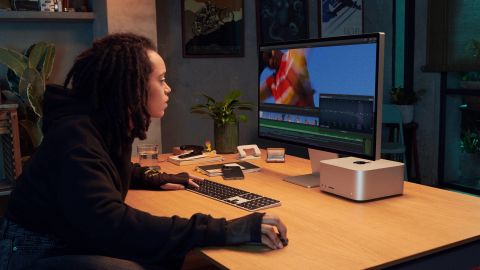 You want Apple's most powerful processor
One of the Mac Studio's biggest selling points is that it offers a choice of M1 Max or M1 Ultra processors, which are Apple's most powerful CPUs, designed to outperform nearly every other Mac when it comes to heavy creative work.
According to Apple's claims, an M1 Max-powered Mac Studio is up to 3.7 times faster than a Mac Pro with a 16-core Xeon processor for transcoding video, while an M1 Ultra Mac Studio is up to 5.6 times faster than a 28-core Mac Pro. The M1 Ultra Mac Studio can play 18 streams of 8K video at once, a feat that no other computer is currently capable of, according to Apple.
You can also outfit the Mac Studio with up to 64GB of unified memory on M1 Max models and up to a massive 128GB on M1 Ultra configurations. That's exponentially more than the maximum of 16GB of unified memory you'll get on the Mac Mini, making the Studio an ideal pick if you want tons of breathing room for intensive multitasking and memory-draining graphics work. We'll have to put all of the Mac Studio's performance claims to the test, but on paper, this model will offer Apple's absolute best processor.
You want a compact computer
Despite packing what is likely Apple's fastest chip ever, the Mac Studio is still a pretty compact (and dare we say cute) computer. It's not quite as slim as the Mac Mini, but its 7.7-inch-by-7.7-inch-by-3.7-inch frame should fit on most desks just fine, whether you want to have it out in the open or tuck it discreetly behind your monitor. And with a max weight of about 8 pounds, you shouldn't have a problem lugging this PC around when it's time to bring your workstation on the go.
You should get the M1 Mac Mini if…
You want Apple's most affordable desktop
The Mac Mini isn't just Apple's most affordable desktop — it's the cheapest Mac you can buy right now, period. This small square of a PC starts at just $699, which gets you an Apple M1 chip, 8GB of RAM and a 256GB solid-state drive (SSD). That's a perfectly good configuration for everyday computing, especially when we've found even the base M1 chip to offer ridiculously fast speeds for general multitasking and strong overall performance for photo and video editing.
You'll need to supply your own mouse, keyboard and monitor (only the Mac Pro includes a mouse and keyboard by default), and we'd recommend investing in extra storage since a 256GB drive will fill up fast. But even with those extras factored in, the Mac Mini is still more attainable than many high-performance desktop PCs.
You want a really compact computer
If desk space is at a premium — or if you want a cleaner work area — the Mac Mini is the Mac for you. It has the same 7.7-inch-by-7.7-inch width as the Studio but measures a much shorter 1.4 inches, meaning you can easily sneak it under your monitor, stuff it into a shelf or even put it in your entertainment center.
You should get the Mac Pro if…
You have the budget to go all out for true pro performance 
As its name implies, the Mac Pro is for true professionals who want the flexibility of a computer that they can max out with all kinds of high-end components — and don't mind spending upward of five digits to do so. Apple's tower offers a staggering amount of configuration options, including five increasingly powerful Intel Xeon W processors, as much as 8TB of storage and as many as two dedicated Radeon graphics cards. It also offers far more maximum memory than any Mac, with up to a whopping 1.5TB of RAM. That's a lot of fancy jargon to say that the Mac Pro can be outfitted to handle heavy workloads better than any Mac, barring one small exception that we'll get to in a moment.
Just note that all of this power doesn't come cheap. While the Mac Pro starts at an already steep $5,999, the cost can quickly jump well beyond $20,000 once you start making some upgrades (including the oft-mocked $400 wheels that you can add on for easy transportation).
You want to make your own upgrades
Whereas the Mac Studio and Mac Mini are compact, plug-and-play desktops that aren't meant to be tinkered with, the latest Mac Pro is a customizable behemoth. Apple's giant, cheese grater-esque chassis can be easily opened up with a quick twist of the lid, revealing eight PCI express expansion slots for adding things like SSD storage drives and graphics cards (you can view a list of compatible models here). You can also swap out the processor and add in more RAM via the system's memory modules. This all gives you the flexibility to upgrade the computer with more power as your needs evolve, giving the Mac Pro more future-proofing than most other Macs.
You want as many ports as possible
Unsurprisingly, Apple's biggest computer also has the most connectivity options. The Mac Pro gets you up to 12 Thunderbolt 3 USB-C ports as well as two standard USB 3 connections. That's enough to power as many as 12 4K displays, six 5K displays or six of Apple's Pro Display XDRs at once, which is far more monitors than you'll be able to plug into the Studio or Mini.
There is one caveat here, however: The Mac Studio and Mini use the newer Thunderbolt 4 standard, which offers benefits such as faster charging power and the ability to power two 4K displays from a single cable. So while the Pro will get you more ports, the Studio and Mini's are newer and a bit more capable.
You can live without an M1 processor
Speaking of caveats, here's a big one: The Mac Pro is the only Mac desktop that doesn't currently offer one of Apple's M1 processors.
We've found that M1-powered Macs have offered a notable leap in overall performance and efficiency compared to their Intel counterparts, since the hardware and software is all coming from Apple. The company even teased that M1 is coming to the Mac Pro at its recent Apple event. So while you can currently max out Apple's tower desktop with enough power to get you through years of heavy creative work, keep in mind that there will eventually be a new model that will likely be even more powerful and efficient if you're willing to wait a bit.
Apple Mac Studio vs. Mac Mini vs. Mac Pro specs
| | | | |
| --- | --- | --- | --- |
| Processor | Apple M1 Max or M1 Ultra, up to 20-core CPU | Apple M1, up to 8-core CPU | Intel Xeon W, up to 28-core CPU |
| Graphics | Up to 64-core GPU | Up to 8-core GPU | Up to two AMD Radeon Pro W6800X Duo GPUs |
| Memory | Up to 128GB | Up to 16GB | Up to 1.5TB |
| Storage | Up to 8TB | Up to 2TB | Up to 8TB |
| Ports | Four Thunderbolt 4 ports (M1 Max)/six Thunderbolt 4 ports (M1 Ultra); two USB-A ports, two USB-C ports (M1 Max), HDMI, 10Gb Ethernet, SDXC card slot | Two Thunderbolt/USB 4 ports, two USB-A ports, HDMI, Gigabit Ethernet | Up to 12 Thunderbolt 3 ports, two USB 3 ports, dual 10Gb Ethernet, eight PCI Express expansion slots |
| Size and weight | 7.7 x 7.7 x 3.7 inches; up to 7.9 pounds | 7.7 x 7.7 x 1.4 inches; 2.6 pounds | 20.8 x 8.6 x 17.7 inches; 39.7 pounds |
| Keyboard and mouse | Sold separately | Sold separately | Magic Keyboard with Numeric Keyboard; Magic Mouse or Magic Trackpad |
| User upgradeable | No | No | Yes |
| Price | $1,999 | $699 | $5,999 |